City Shred shared with us this Revitalizing Crunch Spring Tempeh Salad recipe, perfect for the beginning warm season. Dig into this nutrient-packed, antioxidant-rich medley of asparagus, cucumber and radishes to mint, hemp hearts and tempeh to help you revitalize from the inside out.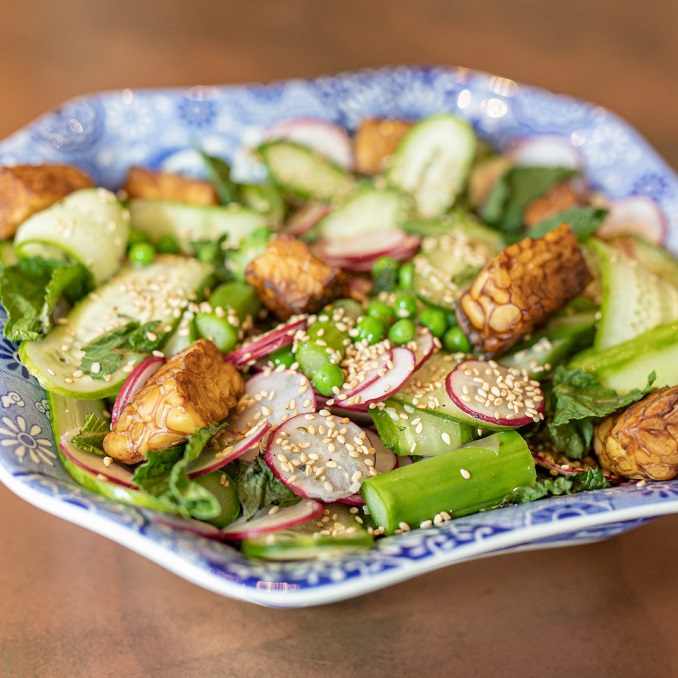 Revitalizing Crunch Spring Tempeh Salad
Ingredients:
For the 2-2-2 Tempeh:
1 package tempeh
2 tbsp maple syrup
2 tbsp balsamic vinegar
2 tbsp tamari
For the Salad:
1-2 bunches of asparagus
1 package (6) baby cucumbers
1 cup radishes
2 cups frozen peas
1 bunch mint
For the Maple Mustard Dressing:
¼ cup oil
2 T maple syrup
2 tsp fresh lemon juice
½ tsp Dijon mustard
½ tsp salt
½ tsp pepper
For Toppers, optional:
2 tbsp hemp hearts
2 tbsp toasted sesame seeds
Directions:
For the Tempeh:
1. Mix the marinade ingredients together, and rinse the tempeh with water. Pat dry completely.
2. Cut the tempeh into cubes or strips.
3. Add tempeh to the bowl and ensure marinade is covering it. Marinate for at least 20 min. Note: continue to salad prep while this is marinating.
4. Preheat oven to 400 and line a baking sheet with parchment.
5. Place the tempeh on the baking sheet.
6. Bake 15-20 min, flipping halfway through.
For the Salad:
1. Add water to a medium-sized pot and toss in salt to taste. While water heats up, dice the asparagus into 2" pieces. Allow it to come to a rolling boil. Lower the heat and add the asparagus to the water. Note: make the dressing now.
2. Steam for 3 minutes and strain. Pour ice water over and add to a bowl of ice to retain crispness and green colour.
3. Add peas to a small pot and allow to boil for 2-3 minutes. Once softened but still bright green, strain and place into a bowl of ice.
4. Slice the radishes into thin rounds- using a mandolin if that's accessible to you.
5. Slice the cucumbers into long strips or cubes.
6. Clean and dry the mint thoroughly. Slice it into strips, leaving some whole leaves over for garnish.
Dressing:
Whisk all ingredients together.
Assemble:
Combine cucumbers, radishes, asparagus, and peas. Pour dressing over. Gently combine the sliced mint. Once tempeh has cooled, add to salad. Top with mint garnish and optional sesame seeds and hemp hearts.