If you are looking for summer campfire recipes to include on your next outing, be sure to try this Campfire Chili Dogs recipe that was sent to us by the meal kit delivery company Chefs Plate.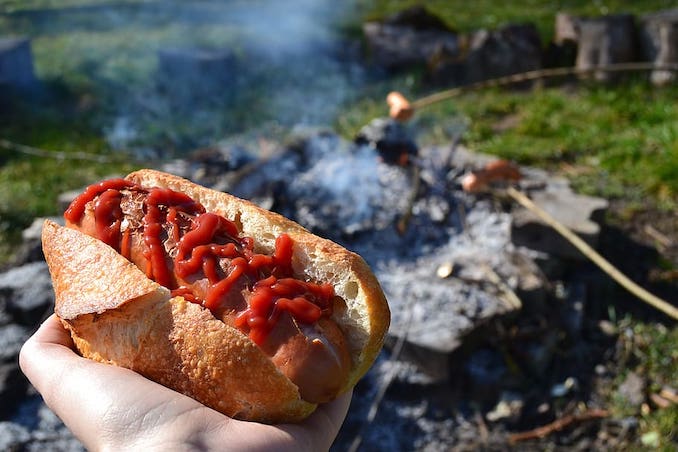 Campfire Chili Dogs
Ingredients:
6 hot dogs
12 strips of bacon
6 hot dog buns
1 cup chili (homemade or store-bought)
1 cup shredded cheese (cheddar or your preferred type)
Your favourite condiments (e.g., ketchup, mustard, onions, etc.)
Directions:
1. Preheat your campfire until you have a good bed of hot coals.
2. Wrap each hot dog with two strips of bacon, securing the ends with wooden skewers or long roasting sticks.
3. Hold the bacon-wrapped hot dogs over the campfire, rotating them occasionally, until the bacon becomes crispy and the hot dogs are thoroughly heated. This should take about 5-7 minutes.
4. While the hot dogs are cooking, warm the chili in a pot or over the campfire until it's hot and ready to serve.
5. Toast the hot dog buns over the campfire for a few seconds, just enough to give them a light char and warm them up.
6. Assemble the campfire chili dogs by placing a bacon-wrapped hot dog into each bun. Top each hot dog with a generous scoop of chili and a sprinkle of shredded cheese. Add your favourite condiments to taste.