With a focus on direct delivery of programming and services to people with Parkinson's disease, the Parkinson's Resource Centre aims to give back some control and hope over a lifelong, degenerative disease. After the start-up was featured on CBC's The National in 2016, their flagship program, Rock Steady Boxing, grew across Canada with 27 affiliates joining on.
We got a chance to talk to them about what they do and how our readers can help.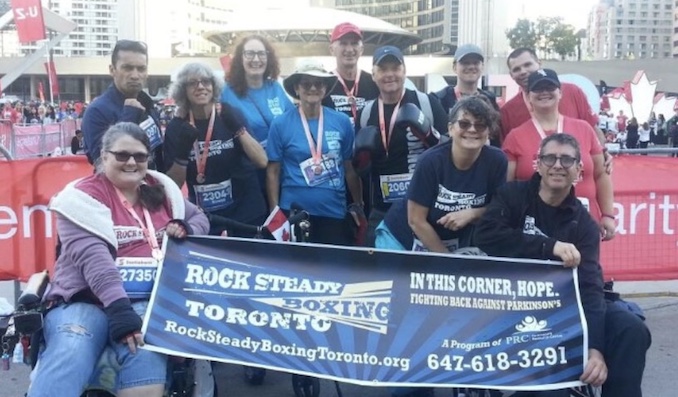 Describe your charity/non-profit in a few sentences.
The Parkinson's Resource Centre (PRC) is the only Parkinson's charitable organization in the GTA that focuses on delivering direct programs and services to help individuals and families with Parkinson's disease live well every day. Our flagship program is Rock Steady Boxing Toronto (RSBT), the first Canadian affiliate of the unique and successful non-contact boxing program for people with Parkinson's.
What problem does it aim to solve?
Most Parkinson's organizations are focused on raising funds to help find a cure. While searching for new and better treatments is important, more and more people are being diagnosed with Parkinson's at younger and younger ages. With Young Onset Parkinson's Disease (YOPD) affecting people in their 30s or 40s, we wanted to help offer programs and services that would give back some control and hope over a lifelong, degenerative disease.
When did you start/join it?
We founded the PRC in early 2016 and launched our first Rock Steady Boxing Toronto classes in April 2016.
What made you want to get involved?
Mary (the founder and current Executive Director) has had a friend since university who was diagnosed with Young Onset Parkinson's at the age of 50. He found there were no programs available in the GTA that were appropriate for him, geared to addressing his Parkinson's symptoms, and focused on maintaining his health and fitness and on staying social and active.
What was the situation like when you started?
There was definitely a gap in active programs and services for people living with Parkinson's. In 2016, we were the first Rock Steady Boxing affiliate in Canada.
More people are diagnosed with Parkinson's every day. Awareness is growing slowly, but the demand for programs and services continues to grow quickly.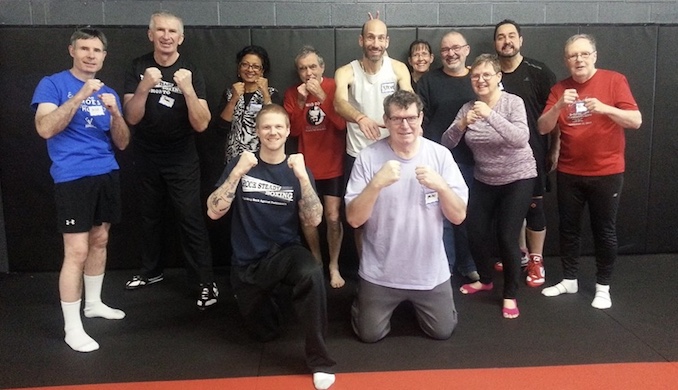 How has it changed since?
The PRC has over 120 registered Rock Steady Boxing Toronto boxers attending six ongoing classes at two gyms in the GTA. Since we launched as the first Canadian affiliate in 2016, and after our start-up was featured on CBC's The National, Rock Steady Boxing has grown in Canada to include 27 affiliates across the country.
The PRC has delivered free educational workshops and have developed Nutrition and Cooking and Stretching and Yoga classes. We've presented to movement disorder clinics throughout the GTA, at the 2016 World Parkinson Congress in Portland, and at the inaugural Rock Steady Boxing Coaches' Conference in Philadelphia.
What more needs to be done?
The PRC would like to deliver more programs to help people live well, including regular Nutrition and Cooking classes, an ongoing Stretching and Yoga program, and more educational workshops for both individuals with Parkinson's and their families and care partners. To support the growth and demand of Rock Steady Boxing Toronto, more coaches are required and that requires recruitment, training and certification costs.
Our long-term goal is to establish a physical Parkinson's Resource Centre, where individuals and families living with Parkinson's can come for support and services, from diagnosis through later stages.
How can our readers help?
We need and welcome volunteers and donors! People can volunteer their time as RSBT coaches or volunteer with the PRC to fundraise or be a Board member or help with events. We keep our program costs low and we never turn participants away due to financial reasons, so we always welcome donations to help keep our programs going.
Donations can be made at CanadaHelps (charitable registration number: 783660525 RR0001) or by contacting the PRC at info@parkinsonsresourcecentre.org.
Do you have any events coming up?
Yes! On Sunday, October 21, we have over 20 participants registered for the upcoming Scotiabank Charity Challenge [http://canadarunningseries.com/2018/07/shane-mcphee-2018-scotiabank-charity-challenge/]. Runners and walkers include our coaches, boxers, corner-persons, and volunteers. Most are doing the 5K walk, while several are registered to run the half marathon. Our goal is $40,000 and we're over 3/4 of the way there. All funds raised will go to support PRC programs and services.
Where can we follow you?
PRC Facebook | RSBT Facebook | RSBT Twitter | PRC website | RSBT website