Siobhan Marie dedicated herself to empowering marginalized students in rural areas by founding Stepping Stones, a healthy living program to teach substance use prevention, mental wellness and physical health. Whether it is through creating an Indigenous Literacy Revitalization Campaign to provide diverse Indigenous resources to local students or offering recreational programming free of cost for families in need, she has dedicated herself to helping those around her in unique and creative ways. We got to speak with her to find out more about the work she does.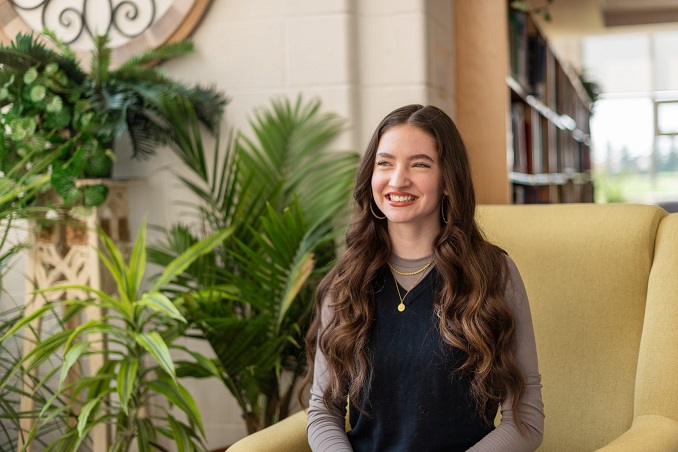 Describe your charity/non-profit/volunteer work in a few sentences.
I am most passionate about involving myself in education-specific efforts that make meaningful and sustainable changes in the lives of local youth. I have particularly focused on supporting students with disabilities by volunteering in a local elementary school's Special Education Resource classroom, writing grant proposals to provide local schools with modern, diverse Indigenous literature, and founding my community's healthy living program, 'Stepping Stones', to support the wellbeing of families in need, among other efforts.
What problem does it aim to solve?
Through my humanitarianism, I have worked to promote educational inclusivity. I believe that everyone deserves equal opportunities in education, and I have worked to fulfil this belief by establishing greater pathways for marginalized students. My passion for promoting equity in schools and the broader community has motivated me to ensure that youth in my community can access the resources they need to thrive, and I have worked to achieve this through my leadership.
When did you start/join it?
For as long as I can remember, I have been an active member of my community. At the age of three, I began showcasing my talents as a singer, Ottawa Valley step-dancer, and musician to raise money for local causes. When I entered high school, I sought out opportunities to help those in need. Throughout high school, I have tracked over nine-hundred hours of community service, founded clubs like Model United Nations, and represented over fifteen-thousand students at the PVNCCDSB as a Student Trustee.
What made you want to get involved?
My community has shaped me into the person I am today, and I am grateful to be able to give back to my community in recognition of the immense support they have shown me. As a result, I am motivated to be as involved in my community as possible. Paying it forward to younger generations has been an absolute pleasure of mine and I look forward to continuing my community leadership!
What was the situation like when you started?
I have been lucky enough to grow up in a community that is extremely generous. Whenever someone is in need, my community always comes together to support that person and their Internal family, and this inspired me to follow their example of offering a helping hand whenever possible. When I noticed that there was a need for diverse Indigenous resources within local schools, my community was at the heart of what I accomplished. My humanitarian work in my community has given me the confidence to continue leading, and I cannot wait to bring my passions with me to university.
How has it changed since?
Through my leadership, I have made a meaningful and lasting difference in my community! Following my efforts, I have discovered that youth in my community are now more empowered to speak out when they see issues affecting the community, they can easily access new educational opportunities and resources, and they are equipped with the learning resources necessary to succeed in their education and beyond.
What more needs to be done?
Although I have made strides to promote the importance of wellness and Indigenous representation in education, I recognize that there is still more that needs to be accomplished. Before we can reach a state of total inclusivity, it is essential to collaborate with one another. Sharing our unique gifts with one another in order to work towards a common goal can make anything achievable.
How can our readers help?
If I were to give advice to someone who wants to become more involved in their community, I would tell them to identify a local need that can be resolved with their help. Focus on something that you're passionate about! When you love what you work on, it doesn't feel like work at all.
Do you have any events coming up?
Currently, I'm working towards enhancing my projects through collaboration with other community leaders. When I attend university in the fall, I plan on bringing Stepping Stones with me to continue to help youth in an educational context.
PAY IT FORWARD: What is an awesome local charity that you love?
An amazing local charity is the Women's Resources of Kawartha Lakes. This non-profit organization is run by an incredible group of women who work tirelessly to protect other local women.