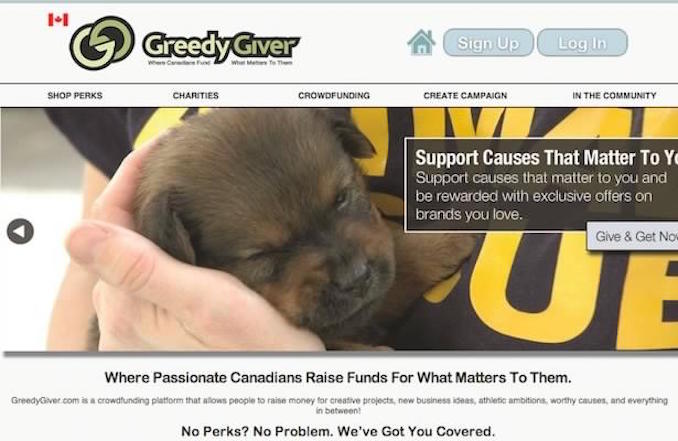 I am a big fan of crowdsourcing sites that use the internet to raise awareness and funds for their projects and charities.
I recently found out about a new one that is based out of Toronto and put a new spin on things.
GreedyGiver.com allows you to crowdsource your next project while supplying the perks for you.
Usually it is up to the organizer to provide perks for different levels of donation. A person donating to a music project may receive a free CD when they donate $10; a charity may list you as a donor on their website if you donate $100. GreedyGiver.com profived perks for you such as massages or weekedn getaways.
The company partners with companies and organizations to provide the perks which in turn provide more incentive for people to donate. It is a combination daily-deal site and crowdsourcing platform.
I got to chat with the company about their business in Toronto.
Who founded the company?
Apostolos Sigalas founded GreedyGiver.com in 2012.
What are their backgrounds in?
Apostolos has been involved in banking & finance for over a decade. Formerly a Senior Business Adviser at CIBC and the current owner of West Liberty Financial, Apostolos has been involved in the funding & growth of various start-ups, business expansions, and major commercial projects.
When did you launch?
January 2012 – Interesting story
The site originally started as a daily deal model with a philanthropic hook. You had to donate to unlock the savings.
At the time we were only accepting registered canadian charities.  As we started to get traction, we had a number of people approach us asking to use our rewards-based model to raise money for their own initiatives or as a 3rd party charity fundraisers.  At first we turned them away stating that it wasn't part of the intended model.  But in 2013, with the emergence of crowdfunding out of the US, we decided to redesign and relaunch the site as a crowdfunding platform. Today, GreedyGiver is the only crowdfunding platform that actually provides perks for its campaigners. We're essentially a hybrid model – merging the worlds of daily deals with crowdfunding.
What are the most popular type of campaign? (charity, art/music, health)
charity + art initiatives
What are the most popular chosen perks? 
Our most popular perks are 50-80% off local restaurants, spas, and national brands like Milestones, Kelsey's, Hudson's Bay
How do you choose the perks and partners you work with?
Many of the brands approach us.  We look for quality local businesses & popular national brands that have great online reviews.
How do you choose the charities you work with?
Any Canadian Registered charity can be permanently listed on our site. So although they may not have a campaign they can be collecting donations. All permanent charities can also run crowdfunding campaigns on our site.
How can we add our favourites?
To have a favourite charity listed, just send us your recommendation to fundraising@GreedyGiver.com – we'll reach out to them directly.
What is the best part about doing business in Toronto?
Toronto is full of socially responsible brands looking for ways to give back. And there are so many wonderful & diverse causes to be a part of too – there are a million ways to get involved.  Toronto is also packed with passionate do-gooders looking to make a difference. It's the perfect breeding ground of a business like ours.
What are some of your favourite Toronto businesses? (besides greedygiver.com)
We love working with restaurants and spas, however we just launched a series of rewards that are 50% off Unique Experiences like Niagara Wine Tours Getaways, Gun Shooting, White Water rafting, and Toronto Raptor games.