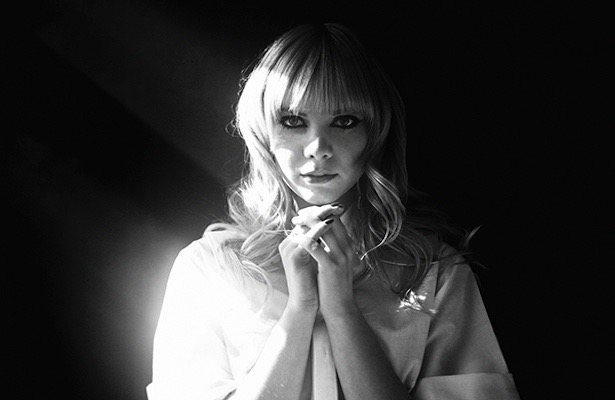 Kandle has just released her solo full-length album In Flames via Dare to Care Records. Co-produced by Sam Goldberg (Broken Social Scene) and Neil Osborne (54-40), the album is filled with haunting vocals, insightful lyrics and features cameos by Béatrice Martin (Cœur de pirate) and powerhouse Sam Roberts.
The album has a darker tone and really grabs your attention. I couldn't help but listen to the whole record, top to bottom. It's definitely one of my faves for this year so far.
Since the release of her previous EP, Kandle has been building momentum touring extensively through Europe, North America and performing at many top festivals, including Osheaga and CMJ.
She performs this Tuesday night at the Drake and it is definitely not to be missed. I had the chance to speak with Kandle about her new album and the things she loves about Toronto.
Congrats on the new album "In Flames." What inspired the songs?
There is no common "theme" to the songs though I'm always inspired and every song is about something different. I mostly write about people…but really I have no control over my writing. I get ideas at all times: on the bus, in a movie or even in my sleep and I just race to find a guitar and get it down before I forget it!
A sad song is always easier to write than a happy one in my experience. Did you have to go through heartbreak to write this album?
Some of the album was written pre-heartbreak, some mid…and some post. And heartbreak pertaining not just to romance.
Tell us about the recording process of this new album and where it was recorded.
Well first Sam (guitarist/co-producer) and I met up with my old man at "Greenhouse studios" for a week in Vancouver to track all the beds. I had the songs ready for ages so laying them down was fairly breezy. After that I spent some time doing vocals and editing with my dog and dad at his studio in Victoria while Sam edited and worked on his parts over in Montreal, emailing each other files back and forth. Essentially a long distance relationship via OkCupid. When I returned to Montreal we asked some incredible musicians like Sam Roberts and Coeur de Pirate to sing on certain songs. Following that we went slightly insane obsessing over details before I returned to Vancouver to mix with Warne Livesey. It's always in the details…
Is there a focus track or do you have a personal favourite that is close to your heart?
My current favourite is a track called "Gimme A Pill" which is a very literal moody song about suffering with chronic pain and the frustration of having no relief. I somehow managed to write it when I was having quite the episode, popping every painkiller I could find before giving up and grabbing my guitar instead.
You can check out Kandle's video for Demon here and watch a spooky teaser to the second single Control Me below:
Your dad joined in as co-producer on your new album "In Flames." I'm a big fan of his music. Do you plan a collab track at some point?
Oh I'm sure we will! I'll probably have to force him to do it, like the record, but I tend to get my way.
If you had to collaborate with one Toronto band, who would it be and why?
Does Drake count? If not, I would say Austra. Those vocals give me chills every time.
You have a summer jam you've been listening to? Alexander Ebert- Truth
Top 3 artists that have inspired you in your life? PJ Harvey, Tom Waits, Mazzy Star
Favourite place to eat in Toronto? School
Favourite thing about the city? The babes
Favourite hang out in TO? Squirly's
Random Rapid fire:
Sneaky Dees Nachos, Hey Meatball Spaghetti? sneaky dees
Queen or College St? Queen
Trinity Bellwoods or Highpark? Trinity Bellwoods
Early bird or night owl? Night owl – don't believe in mornings
What do you think of physical vs digital album sales? Do you have a preference? Any thoughts for the future?
People will always want to buy "souvenirs" at concerts therefore I believe the demand for the physical copy will continue. I don't really have a preference, I love the accessibility of digital and find myself discovering more music via the internet but I certainly do enjoy holding on to a record and admiring the art of it. I honestly don't know what the future will bring… maybe cassettes will make a come back!
What is one thing people don't know about you that they wouldn't expect? 
I used to be a cheerleader.
What's next for Kandle?
Releasing the album, touring France and ideally playing everywhere I can, every day I can!
Keep up to date with Kandle through her Facebook page.