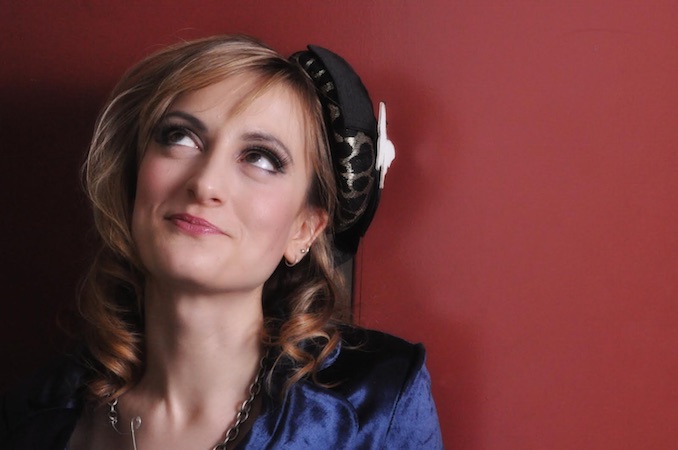 Toronto's Angela Saini has just released her second EP "Leap," writing about songs of self-renewal, empowerment, love and life. Angela delves into humanistic and honest themes combined with catchy hooks and memorable melodies. The title of the EP "Leap" was named after committing to the recording process without knowing how she was going to finance it. The album was produced by Thomas McKay (Joydrop, Nightcrawlers) and involved a successful fan-funding campaign. Comparing her musical style to Feist and Sheryl Crow, this singer/songwriter has just got off a Canadian tour Via Rail and her first tour of the Netherlands. I got a chance to chat with Saini about her new EP and things she loves about Toronto.
F: Congrats on your new album Leap. Where was it recorded and tell me a bit about the process.
I recorded Leap at Revolution and Exeter Sound Studios with producer Thomas McKay. I did a fan-funding campaign to cover costs of recording while simultaneously making the record. It was a crazy busy schedule but extremely fulfilling. Making and recording music is awesome fun! I have a lot of people to thank for helping to make it happen.
F: I find that albums often represent a chapter of time in a person's life. What was the theme around this album?                                                                                                                                       
Say Yes. Go for it. You can do anything. Songs revolving around self-renewal, love and life.
F: Why LEAP?
That is what I did! I returned from an L.A. trip a year ago with the motive to record and I had no idea how I was going to do it. I put the intention out there and within 3 weeks I had solidified the producer, studio, players, timeline and budget. The only thing left to the universe was how I was going to pull it off!
F: Hope your current Canadian tour is going well. Why did you choose to travel via Rail and how's it going?                                                                                                                                    
Thanks! This is the fourth time I have performed on VIA Rail on "The Canadian" and it is the most fun way to travel west. I play for the passengers on the train, make friends, eat a lot, sleep, sell CDs and most importantly look out the window and appreciate this amazing and huge country! I have made friends all over Canada and have a great relationship with the folks at VIA. Super fun. My Alberta shows have went well so far, including a sold-out show in Calgary. I will be heading back east for shows in Peterborough, Ottawa, and Montreal.
F: You recently came back from performing some shows in Europe. Was this your first time? How does it compare to Canada touring besides the shorter drives between cities?                                
I recently came back from my first international tour to The Netherlands. Europe is very compact compared to Canada which is a huge plus when you are trying to hit a bunch of cities. The transportation systems are very efficient and I appreciated that immensely. There are a few different customs that you have to get used to, (for example, paying for tap water and restroom facilities) but I really appreciated that almost everyone in Holland speaks English. I did not find that in Germany and Austria. Language is big.
F: What would you recommend to anyone performing overseas?                                                     
Have a tour manager that speaks the language. Even if it's a friend, it will make your travel, shows, and everything in between that much smoother. Being that far from home in a foreign place is already hard as an artist, so make sure you have someone with you at all times that knows exactly where you are and where you are going next! As an artist that books and executes most of my own tours, I really appreciated not having to worry about the details.
F: What are 3 must album haves on your ipod/computer?                                                              
Right now I can't get enough of all my Arcade Fire albums (Reflektor is awesome.) I never leave for a trip without Rilo Kiley (my favourite is Under the Blacklight) and Bon Iver is often on repeat.
F: A musician's life is both rewarding and stressful. What do you do to keep sane?
Yoga is my lifeline.
Here is Angela's music video for "U Turn"
F: If you had to collaborate with one Toronto band, who would it be and why?                             
I absolutely love Public Animal. I saw them at NXNE this year and am hooked. Badass riffs and awesome harmonies.
F: As a singer, are you careful with your diet such as eliminating acidic foods and dairy or do you consume the same foods you have always had?                                                                                  
On show days, I do avoid dairy as much as possible and am pretty strict about not eating 2-3 hours before I hit the stage. I also don't drink beer or eat spicy foods before I sing. Any other time, I eat whatever and whenever I want!
F: Top 3 artists that have inspired you in your life?                                                          
Amanda Marshall: at a concert at the Calgary Stampede when I was 14, I had an epiphany that I wanted to be a professional singer. That led me to starting a rock band that I fronted for over a decade. Foo Fighters: their first 4 albums were very influential to me; their live set and stage transitions are legendary and I took ideas from their shows in terms of set list and flow in concert. (I have seen them 7 times!) Death Cab for Cutie: the songwriting from this band, from clever lyrics, memorable melodies, emotional nuances and singable guitar licks drive me to write better and better songs.
F: Favourite place to eat in Toronto?                                                                                           
Two Bite Saloon on Bloor. Yum. In two bites or less.
F: Favourite thing about the city                                                                                                      
I can eat any food from anywhere in the world and see live original music any night of the week!
F: Favourite hang out in TO?                                                                                                    
The Drake Hotel.
Rapid fire:
F: Sneaky Dees Nachos or Hey Meatball Spaghetti? Nachos
F: Queen or College St? Queen
F: Trinity Bellwoods or Highpark? High Park
F: Early bird or night owl? Night Owl
F: What are your thoughts of today's age of downloading free music's purchasing music.
I get it. Don't practice it myself.
F: What do you think of physical vs digital album sales? Do you have a preference? Are CD's almost extinct?
I thought they were and was pleasantly surprised to realize that physical CD sales are alive and well in certain demographics. I personally do not collect physical CDs. I prefer the digital counterpart for my own musical consumption, but avoid MP3s when I can because they sound terrible.
F: What is one fact people about you that people wouldn't expect?
I am half Indian. My father was born in New Delhi.
F: What's next for Angela Saini? World Domination.
Angela Saini Website.