Nestled along the Elora Gorge a two-hour drive west of Toronto, the village of Elora has proven a hotspot ever since lockdown-era rules encouraged Ontario-bound "staycations". Elora, with its gorgeous walking trails, lovely waterfalls (just be careful when you're tubing!), and burgeoning food and arts scene, is one of our places to visit for a day or weekend road trip. This week, it's also playing host to one of the hottest Canadian music festivals of the season.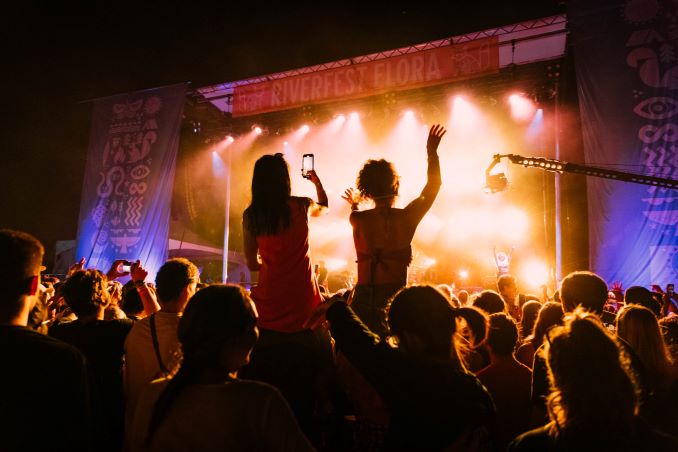 Starting this Friday, August 18, 2023, Riverfest Elora kicks off with performances from country duo The Reklaws, new wave band Spoons, and Toronto's own renforshort, among others. Artisanal vendors who will be up and running starting Friday, and throughout the three day festival, include StrayStones jewellers, Rare Olive woodworking studio, and others. You can see the initial list of vendors here.
Saturday ups the stakes – and the crowds – with headliner performances from Maestro Fresh Wes, L.A.-based reggae group The Aggrolites, and none other than Envy Adams herself, Emily Haines with rock superstars Metric. Haines – along with fellow Broken Social Scene bandmate Feist, who will close out the festival Sunday – is the big draw of the weekend, demonstrating how Riverfest has quickly grown into a festival to be reckoned with. Oh, and there's a band named Fake Shark performing Sunday afternoon as well. Fake Shark is an awesome name for a band. Go see Fake Shark.
As mentioned, Sunday winds up with Feist's 8:30 pm performance on the main stage. Other acts performing Sunday include rapper SonReal, multiple prize-winning singer-songwriter Charlotte Cardin, and up-and-coming rapper Boslen.
Riverfest isn't just about the music, either. There are the art vendors to check out, the many food stands, and the various official and unofficial afterparties. Of course, Elora itself is a beautiful place to visit, and visitors should definitely take the time for a hike down the gorge, maybe even get in some swimming and/or tubing if the waters aren't too choppy. Follow the rules, stay safe, enjoy Elora!
***
For everything Elora Riverfest, including a festival map and Frequently Asked Questions, click here.