The Toronto International Film Festival was full of opportunities to not only see films but also to gain insight from the filmmakers and actors directly. Grey Goose vodka hosted a series of 'Cocktails & Conversations' brunches during TIFF as part of their ongoing commitment to supporting the best in world cinema. This was a rare opportunity for by-invitation only media to sit down with cast members to delve deeper into the films premiering at the festival.
On a beautiful morning during TIFF, we were invited to the outdoor rooftop oasis at Lavelle to meet with the cast of DISOBEDIENCE. Stars Rachel Weisz (Ronit Khruska), Rachel McAdams (Esti Kuperman), Alessandro Nivola (Dovid Kuperman) and filmmaker Sebastian Lelio were greeted by a small group of journalists from France, Germany as Canada.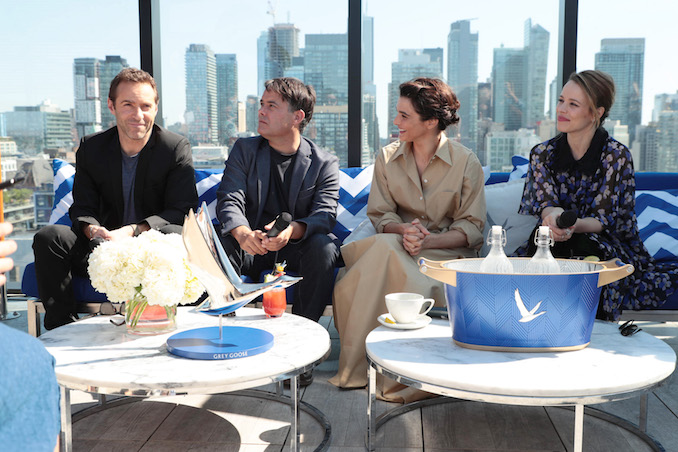 The film is one that has stirred up some controversy already. Based on the novel by Naomi Alderman, the story begins with a New Yorker who returns to her Orthodox Jewish home in London, UK after learning of the death of her rabbi father. She feels out of place in the small community she had once left behind and stirs up controversy when she shows interest in an old childhood friend.
Weisz explains that the story had a very universal themes of faith as well as forbidden love in a context where it's very much taboo. "What really grabbed me about the novel was the theme of transgression in the modern world where there is almost nothing taboo anymore," said Weisz in the production notes.  "The term disobedience means very little unless you find the right community to set it in, like the small Orthodox Jewish community in North London. If you find a story of transgression within an ordered old fashioned society, I think you have a great universal drama that anyone can relate to." It also was appealing as the story had not one, but two complex and fascinating female characters who are intelligent and determined and not just there to support a male character.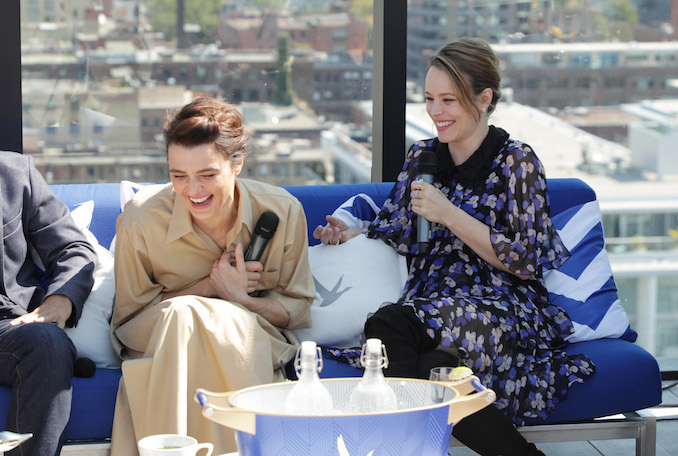 During the Grey Goose event, Rachel Weisz gave praise to her co-stars, "the other Rachel" and Nivola, for their in-depth research of the private Orthodox community as well as learning Hebrew for their roles.
Rachel McAdams mentioned that is was one of the richest research journeys she had ever embarked on. "It started in Los Angeles and I tried to go undercover in the Orthodox community," said McAdams. "that didn't work out so well but people were very warm and welcoming." She went on to tell us that although it felt like they were tiptoeing in this closed community but they were brought into homes and fed food.
When we asked if anything else surprised them from their research, Nivola shared, "Everything was surprising to me from the moment that I stepped foot into that community. Living in Brooklyn, you walk through heavily Hasidic populated areas a lot. You always feel like a complete outsider and that there is something intensely serious."
He noticed that  people didn't even look at him. "Men seem to be walking at great clip without looking up and holding texts in their hands with a firm grip. You might as well not be there. Just from the perspective as a complete outsider, it feels sort of joyless, incredibly serious and relentlessly and obsessive in terms of  these texts and there is no life beyond that," said Nivola. "I think that we both had the experience of once we were invited into these house, it couldn't have been further from the truth. In fact, Shabbat dinners were this kind of joyous and almost raucous occasions."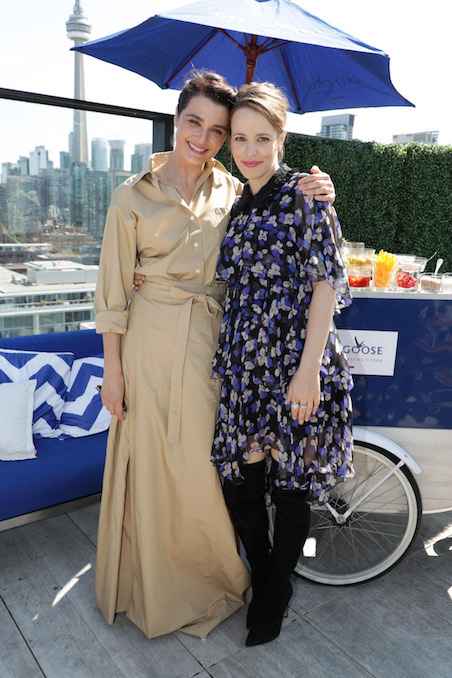 He noticed that there were no electronics or devices that made him reflect on his personal life and how everyone around him everyday seems so distracted by modern technology. "For this one day a week that's gone and all ages are sharing this time together and it just didn't feel stiff and uptight at all," Nivola shared from his research experience.
The film's controversy lies in the story line of Ronit and Esti rekindling their relationship. Esti is married to Rabbi Dovid. There were moments in the film that were surprisingly quite intimate. Weisz mentioned that Lelio was very detailed about trying things and McAdams thought of these scenes as choreographed dances. "We were just following along in step like we knew the dance. It was so easy." She went on to tell us that they would discuss the scenes in the beginning of the production and they supported each other. "We really had each other's backs and that's a form of love," said Weisz. "And a form of love that all three loved each other since they were children. It should have been very challenging, but the actual work came really easily. I couldn't have done it with anyone else, she was such a joy to work with."
DISOBEDIENCE had it's world premiere at TIFF 2017.
Thank you to Grey Goose Vodka for inviting us join in the 'Cocktails & Conversations' series.