From the standing ovation Toronto gave American comics Lewis Black and Kathleen Madigan during their Live Nation 49th Parallel Tour at Massey Hall, as well as the comedian's adoration for Canadians, the almost three hour show felt like a cozy comedy love-in. Beyond Black's and Madigan's appreciation for Canada they didn't hold back the piercing barbs when it came to stupid people, millennials and old folks. However, the mental ill were spared the skewer.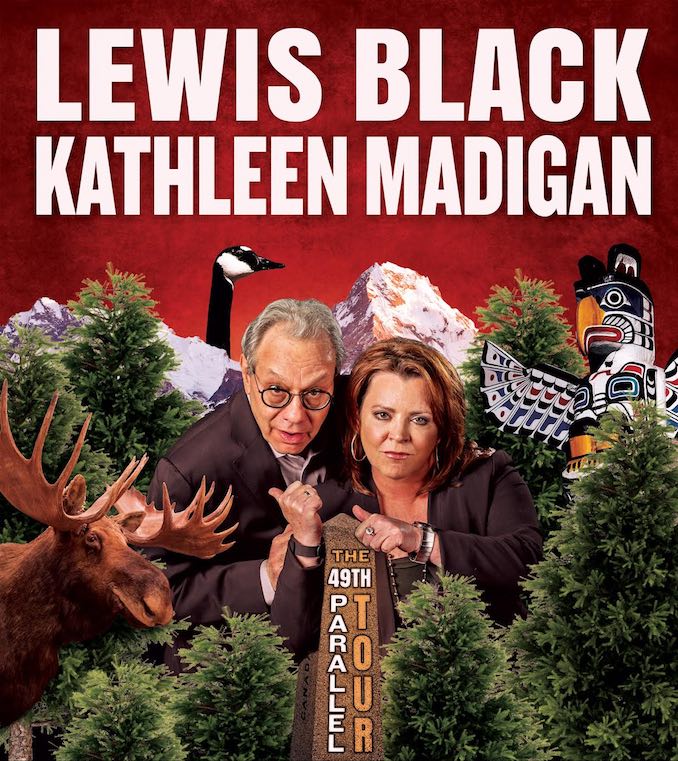 Lewis Black Is A Compassionate Guy
It's generous of Carnegie Hall to share Grammy award-winning, stand-up comedian Lewis Black with us here in Toronto. In today's volatile political climate it's impossible to think that someone hasn't heard of the combustible and ornery Mr. Black. This powerhouse of a man performs more than 200 nights annually, to sold-out audiences worldwide, including shows at Carnegie Hall, Lincoln Center and the Mirage in Las Vegas. He is probably best known for his late night appearances on The Daily Show working himself up into a fanatical rant over the absurdity and stupidity of our world. Through jokes Black has this uncanny ability to give his audience a cathartic release from their pent-up anger and disillusionment. In a way, he takes all the rage and pain on himself, heaps it all on, then spontaneously combusts. Now that's the funny part! That's what people love and appreciate about Black; his passionate, pissed-off performances. You kinda wonder if he's gonna have a stroke in the midst of his exceptional rants.
The 49th Parallel Tour opened with Lewis Black wishing he was half as happy as us Canadians. Continuing to be apologetic about US politics, Black lamented being saddled with almost 40 years of Trump jokes, with no end in sight. He joked US politics was simultaneously making his job both harder and easier, questioning the Massey Hall audience with: "You really had to come see me do this?" Black then took to one of his classic lashings of Hillary, Trump, Ted, Rick, Kellyanne, Sarah, and Ben Carson. It's at the intersection of reality and satire where Black makes his astute comic revelations. Black can however weld his humour compassionately, for instance when joking about dating mentally ill women he used the opportunity to point out mental illness is no joking matter. Sure Mr. Black can be a nice guy, but he has no compassion for stupid people. Big difference!
Kathleen Madigan Has High Praise For Sneaky Canadians
During the 49th Parallel show it seemed obvious people came out to Massey Hall mainly for Lewis Black, but after Kathleen Madigan's stand-up endurance performance she clearly won the hearts and minds of all in attendance. The standing ovation said it all. That's because Madigan is a big deal; she's performed on nearly every late night show ever made including Leno, Letterman, Conan and Ferguson. She's won the American Comedy Award for "Best Female Comedian" and the Phyllis Diller award for "Best Female Comedian." So why does her name seem so familiar to Canadians? Madigan has filmed six Montreal Gala Shows at the Montreal Comedy Festival for Canadian television.
Like Lewis Black, Kathleen Madigan shared her enthusiasm for Canada, especially for Justin Trudeau's good looks. Madigan was also impressed with Canada's stealthy invasion of the United States citing our slow takeover of Florida by using the elderly. She called us sneaky Canadians – her message to US Immigration was Wake Up! Mexicans are not the issue!
Madigan didn't have similar enthusiasm for US politics. Madigan compared Donald Trump to a Macy's Day Parade float that had been cut loose and was careening wildly around New York City. She mocked Bernie for always appearing like he's been in a car accident with his whiplash hair and perpetually crumpled suit. She criticized the US administration for attempting to bring back coal mining jobs for a new generation of workers with: "Have you met a millennial!" Making it clear that unless iGen can Snapchat  at the earth's core there was no way this employment initiative was going to succeed. Kathleen Madigan's humour is excelled by her shrewd life observations and the surreal twists she gives her targets. She mocks and mimics like a pro. Madigan's contribution to the show was huge; she had a massive amount of brilliant material, so much material, it's impossible to go over all of it here. Just make sure you don't miss her next appearance in Toronto!
49th Parallel Tour Kills With Comedy
Lewis Black and Kathleen Madigan are perfectly paired on this comedy tour. It's clear they both enjoy crossing over the Canadian border dragging the carcass of political issues and domestic affairs they have repeatedly harpooned with lampoon. They are proud to share with us their fresh kill. A most enjoyable and hilarious show!  
***
The 49th Parallel Tour with Lewis Black and Kathleen Madigan took place at Massey Hall in Toronto on Thursday, September 14, 2017.
Live Nation Entertainment is the world's leading live entertainment company comprised of global market leaders: Ticketmaster, Live Nation Concerts, Live Nation Advertising & Sponsorship and Artist Nation Management. For additional information, visit www.livenationentertainment.com
For upcoming shows at Massey Hall Toronto please visit: https://www.masseyhall.com/
More About Lewis Black
Lewis Black is more pissed-off optimist than mean-spirited curmudgeon. His appearances on The Daily Show have led to comedy specials on HBO, Comedy Central, Showtime and Epix. In 2001, he won Best Male Stand-Up at the American Comedy Awards. He has released eight comedy albums, including the 2007 GRAMMY Award-winning The Carnegie Hall Performance. He won his second GRAMMY Award for his album Stark Raving Black and has published three bestselling books: Nothing's Sacred, Me of Little Faith and I'm Dreaming of a Black Christmas.
More About Kathleen Madigan
In 2014, Madigan was nominated for an American Comedy Award for Best Concert Comic and her third one hour special, Madigan Again, was named one of iTunes Best Comedy Albums. She's released 5 CDs and 3 DVDs and starred in 2 HBO specials, 3 Comedy Central specials and her previous one hour special, Gone Madigan, premiered on Showtime and is available on Netflix.