The 2016 Fight to End Cancer annual gala and charity boxing match had their biggest and most successful year raising over $150,000 for the Princess Margaret Cancer Foundation, solidifying it as one of the biggest Canadian charity events.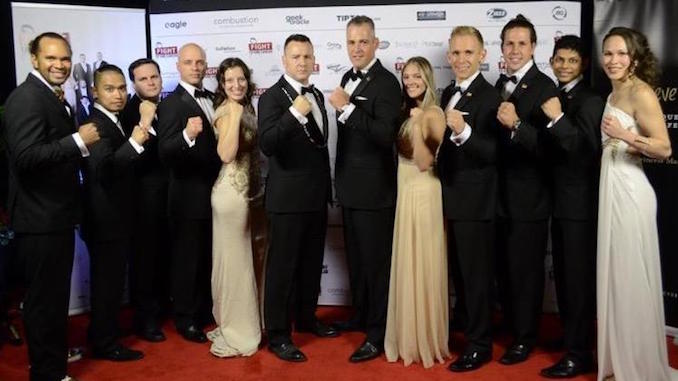 Each year, white collar men and women sign up to train in boxing while raising funds for the cause. The fighters train at Kingsway boxing in an intensive routine that prepares them for the final event that takes place at the Old Mill Inn in Toronto. Money is raised through their personal efforts as well as through corporate sponsors and raffles and auctions at the event.
Kingsway boxing owner and international boxing referee Jennifer Huggins is the founder of the charity event that has grown very quickly since its inaugural event in 2012. At this year's event, celebrities and notable Canadians took part to push the event further into the spotlight. The host of the event this year was CTV Etalk's Ben Mulroney and there was a special appearance by Canadian boxer Mandy Bujold, who presented the Co-Main Event (the female bout of the night's entertainment).
"It was an honour to present the awards to these ladies who had the courage to step into the ring and fight for this amazing cause. I take my hat off to all the the fighters who took part in this event. I will say the girls fight was one of the most entertaining bouts of the evening. These girls put it all on the line and put on a really skilled bout for the crowd." Said Bujold.
To date, the Fight to End Cancer has raised over $500,000 for the PMCF and aims to have an even bigger year next year.
The founder, Jennifer Huggins, had this to say about the event last week.
"The feeling on Saturday was surreal. I wish I could bottle the energy, passion and ultimate 'togetherness' that could be felt. It connected every fighter, guest, staff and volunteer in the room – over 700 people, all fighting for the same cause. We have all outdone ourselves this year, yet we feel nothing but inspired to do even more. We are unstoppable. Together, we will knockout cancer in our lifetime – Defeat Is Not An Option!" 
If you want to get involved with the organization, get in touch with them through their website. Next year's event is scheduled for May 27th, 2017 and there has already been strong interest from people wanting to fight, or be involved in fundraising and sponsorships.