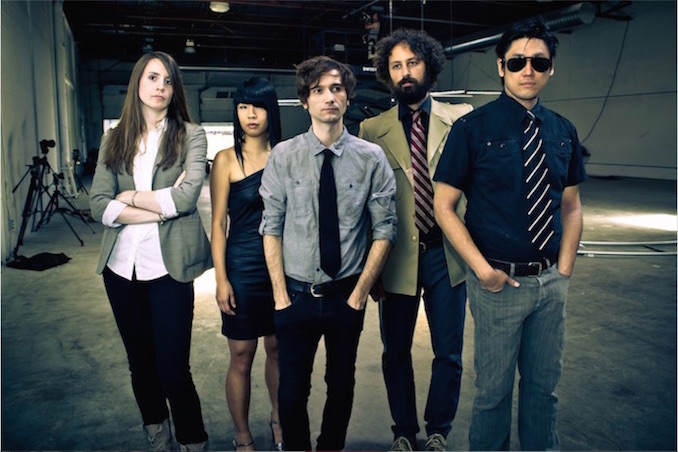 Coming off a jam packed week at North by Northeast Music Festival, Toronto's Papermaps are keeping their momentum going by premiering their new single "There Are Wolves," preparing for their EP release Inferior Ghosts for August (on Sparks Music), and getting ready for a month-long residency at the Drake Hotel's Underground venue. It hasn't all been smooth sailing either. Lead singer, guitarist and songwriter Dean Marino, citing increasing rent and a diminishing music scene, was forced to close his eminent Toronto studio, Chemical Sound, which had played host to an incredible array of musicians. Tokyo Police Club, The Born Ruffians and The Black Keys were just some of the artists that recorded at Chemical Sound during its run. Papermaps has preserved the legacy of Chemical Sound with their forthcoming EP, Inferior Ghost, one of the last recordings to be done at the beloved Toronto studio.
The band has been dealt a bad hand in recent months, but that only seems to fuel the fire this young group already has. Not a band to stand still, even in the balmy days of summer, audiences can expect a huge flurry of activity from Papermaps in the coming months. Their Drake residency is a perfect place to start, and promises to bring the band's music to more and more listeners. Bandleader Dean Marino took a few moments to speak to me about the band's new EP, life, and some of his favourite things about Toronto.
You have a new EP "Inferior Ghost" slated for release in August. What can fans expect from the new record?
This record has a darker mood, overall than the self-titled debut. There are still a few upbeat songs and we've been playing them at shows but no one has heard the recordings yet.
Your first single "There are Wolves" seems to be stylistically different than your previous material. Was this a conscious change or
a natural progression for the band?
This is a natural shift.  I like the stylistic shift that "Wolves" takes, but it was not done in any conscious or preconceived way.  Our process is too slow and reductive to allow conscious shifts in genre or style. Basically, I'll write what comes to me and if a song survives with me we'll work on the arrangement as a group, and if the arrangement is working the song will survive with the group and then we might record the song, if the recording is good we'll add the song to the live show. About 10% of my songs make the cut. It's a process of elimination, really.
A recent press release said "The band has rallied around their new EP as a symbol of their ability persevere though difficult times." Tell us a bit about that regarding  your studio shutting down.
Chemical Sound was a recording studio that survived in name for about 20 years.  I and my business partner Jay Sad took over the name and the studio equipment in 2005.  We relocated the whole studio because the original spot got demoed for condos. We built the new studio from scratch. During our run we worked with some great Canadian and international bands but we were a first-come-first-serve business – we just couldn't survive any other way. I think I engineered well over 100 records in a 6 year period and as the those years went by the budgets got smaller and smaller (basically more work for less money). Although bands need good quality recordings in order to promote themselves online and in the physical world, the record industry is suffering and that's where we used to get most of our work from.
I and my business partner made the decision to close the studio months before it actually happened.  We were officially moved out June 1st – but the studio actually stopped functioning sometime in April.  It was unfortunate, but to be honest I was getting very tired of playing the commercial studio game – in this day and age it's an incredibly tough business.  My goal, as a record producer, was to move into a smaller space with a much smaller overhead so I could cherry pick the bands I work with, work with smaller budgets and allow for more personal use of the studio.  What was scary was finding a new place in such a short period of time – we have a lot of gear.   We found our current location (which is a secret, BTW) by pure luck. Our space is still under construction, but we can rehearse there. In a few months I hope to be recording there. Meanwhile, a producer named Lorne Hounsell has taken over the Chemical Sound space and that's where I mixed our new record.
Where do you plan on touring after the August release?
We will be traveling to the East Coast (Halifax) and playing shows along the way and then back again.
Do you use a papermap or go the electronic route with a GPS while on tour? (Sorry I had to haha)
Actually, on our last trip out to the East Coast (last October) we had no paper maps in the van! I thought we could rely on GPS, but it was a big mistake! The GPS went out while we were looking for the Holland Tunnel to get us to our CMJ showcase at Arlene's Grocery (Lower East Side of Manhattan).  We were nearly late for the show – basically we ran onto the stage with our guitars and keyboards as soon as we arrived!
Having recently played at a few NXNE showcases here in Toronto, what were some highlights?
I would have to say it was our first ever in-store performance at Of A Kind (College/Dufferin).  It was our last show of four at the festival and we were surrounded by friends and family.  My 5-year old nephew got to see me play!
You must be excited about your local residency at The Drake in July. Tell us a bit about it.
We want to over-saturate Toronto before we hit the road!  In all honesty, Mondays nights are our usual rehearsal time, so we thought, why not kill two birds with one stone?  We'll play 5 shows before the tour and be "tour tight" before we even leave town. I'm especially excited about all the guests we have invited for these 5 shows.
Favourite venue to perform at in Toronto?
That's like asking which child/sibling is your favourite.  I'm not sure, we only play small venues like Rancho Relaxo, the Rivoli, the Drake or the El Mocambo.  I think what makes a good venue is the people who attend more than the actual place – although the Of A Kind record shop is gorgeous.
What is your favourite thing about living in Toronto?
Coffee shops and long walks.
Preferred method of getting around the city: bike, street car, and by foot?
I'm a happy pedestrian.  I don't even think twice about walking from Queen and Spadina to Bloor and Bathurst.  Sometimes I'll take the TTC if I have to go far.  I have a car but use it mostly for in-town gigs.
Lastly, what is one thing about each band member that people may not know about you guys?
Dean: "I started the Internet's obsession with cats."
Wendy: "4 out of 5 of us wear wigs. not telling who."
Bobby: "Hahaha love the wigs. Bobby was birthed in a sensory deprivation tank sometime in the late 60's. His mother still resents him for interrupting her trip."
Todd: "Todd's softball strengths are catching the ball and hitting for placement. He cannot throw with any accuracy, however, and cannot hit a ball further than the near outfield, nor pitched to him at any speed besides "slow." Beer-league slo-pitch teams seeking a first baseman should contact Todd by carrier pigeon (they'll know where to find him)."
Betty: "I don't wear a wig."
____________
*Check out Papermap's current single "There Are Wolves" on the band's website and catch them live on the dates below with their special guests:
July 2 //  w/ Soi Disant (TOR)
July 9 // w/ Jay Sad (TOR)
July 16 // w/ Purpine et Goodralph (MTRL) // Wendy Versus (TOR)
July 23 // w/ JF Robitaille (NYC / Montreal)
July 30 // w/ Jenn Mierau (MTRL)
For now, enjoy their video for "Complicate Things.".