Over the past decade, the annual National Women's Show at the Metro Toronto Convention Center has evolved into this city's biggest trade show bonanza of free beauty, food and fashion giveaways where over four hundred and fifty different businesses essentially compete with each other to give away the best stuff and make the biggest impression on the crowd. The gift bag alone is worth sixty bucks.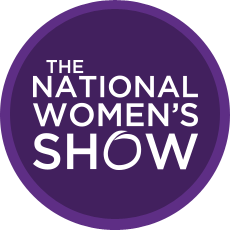 Its no secret this show is a milk cow for attendees. Large crowds of people show up early with empty laundry bags and backpacks to carry off their bounty. And they show up hungry too as the entire east side of the hall is dedicated to dispensing free food to fill their empty stomachs. Honestly, I couldn't believe the value that each attendee gets for fifteen dollars, the price of admission. They get a massive amount of free food, clothes and beauty products, all in the hopes they'll return to that particular store, or pick that brand of a shelf somewhere later in life.
At no point in human history, and at no other place in this city is it possible to see so much, eat so much, and receive so many free promotional items for only fifteen bucks.  Children under twelve get in free!
The 2015 National Women's Show in Toronto happened October 16-18, 2015 in the Metro Toronto Convention Centre (South Building). Upon entering it feels strangely like a casino, with bells and carnival sounds, and fast food aromas filling the air.  An overhead PA system bellows news of each fresh speaker taking a distant stage, and hundreds, literally hundreds of booth attendants try desperately to make eye contact before they call out to you in pitches designed to reel you into their 'booth experience'.
Beauty and Anti Aging Skin Care Products
Believe it or not, the science section of the show was just as popular as the fashion and food areas with plenty of people pondering new digital entertainment delivery technologies, and breakthroughs in health and beauty.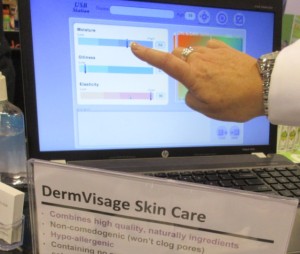 One of the more popular 'interactive' science exhibits was the DermVisage Anti Aging Skin Care Products booth where Ursala Eshragi and her staff worked tirelessly all day long using their free skin analysis tool, a laser gun connected to a laptop, that could read out each subject's skin type. The analysis focused on three factors, moisture, oiliness and elasticity.  I was given a free sample of anti aging cream for men a high tech skin moisturizer, after it was discovered that I have very dry skin.  My booth experience ended with me giving up my email to enter a draw to win a free prize.
Down the aisle, the science fades and the glam re surfaces, as each booth in the center corridor (presumably the most expensive to rent?) had music and lights and some high value giveaway for participants.
 Cut Throat Shaving co had a sweet corner spot and a really eye catching brand on a big poster above a sample table filled with affordable toiletry products… for men.

Alison Nice lived up to her family name when she posed for my camera holding some of the soaps and lotions they were dispensing, shaving accouterments that would please any husband or boyfriend who may inquire about where their wife disappeared to all day long.
Supplements anyone? There were literally millions of pills and thousands of products to peruse. Here's Deborah from Body Logix holding some of her company's prepared foods which are perfectly formulated for humans who believe that healthy slim athletic bodies will never go out of style.
TC Vintage Addiction put together a unique booth experience serving up some stunning retro fashion apparel which stopped younger females in their tracks.  TC Vintage is the market leading Toronto retailer of 'timeless' clothes, and they are proud of their extensive collections of retro and modern couture designer fashion for both men and women.  They also sell antique furniture, and cool home decorations.
One of the messages they were imparting at the show was the launch, or rather the growth of a custom vintage clothing service.  For a small fee, TC Vintage Addiction can clothe folks in one of a kind fashion (worth a fortune) for just one night, or a weekend or however long you need.  And so its the perfect solution for a red carpet events or high school reunions for example.
Food Services Dominated the Show
There was a food truck right in the middle of the food area and it was absolutely thronged with hungry foodies – the only price was their names and email addresses collected through an innovative floor mounted menu that promised free food for personal data. Hundreds signed up and the truck made grilled beef, pork and chicken 'sliders' all day long.
Here's Keith Jasper of Bounce Ideas who markets a food truck event in Whitby each year . He couldn't resist getting a free pulled pork sandwich at the show.  Keith's company specializes in communicating with female consumers and so he spends plenty of time here each year just soaking it up as part of his lifelong quest to better understand women.
Here's a video I shot at the 2015 National Women's Show in Toronto in the main exhibitor's area at exactly 1:40 pm on Friday Oct 18th.
In addition to accommodating over four hundred and fifty exhibitors, the National Woman's Show' also hosts workshops with experts in their fields, and stages live performances with celebrity speakers who share their knowledge about something amazing. The hustle and bustle on the main stage on Friday afternoon was all in preparation for nutritionist and homeopathic doctor Bryce Wylde, set to appear in person at five pm. Even more exciting, the Toronto Fire Fighters were on the bill right after him, ready to perform a fashion show wearing Club Monaco brand apparel!