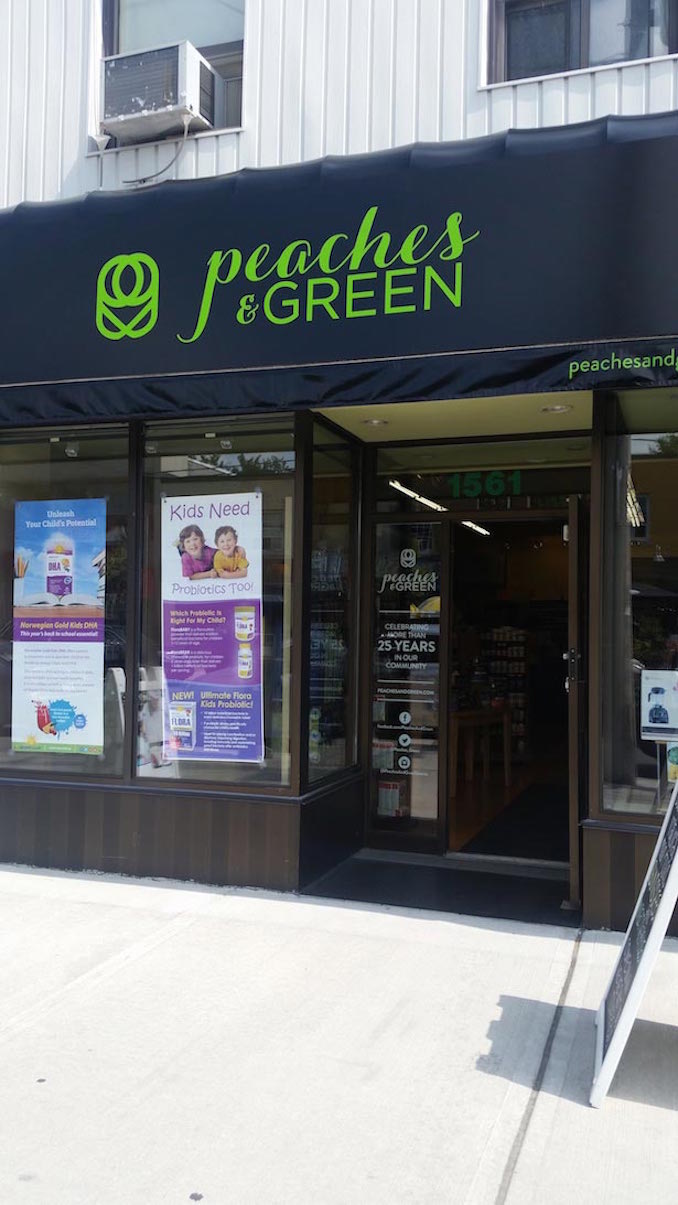 In the heart of the Leaside community lies a quaint health food store called Peaches & Green. From the outside, it resembles what many health food stores look like – grocery items, health and beauty products and, of course, supplements. But once I started digging deeper, I realized what made this little gem sparkle still after 25 years in the business. The people.
On the day I popped into the store for a visit, I arrived early so neither owner, George Chow, nor store manager, Elizabeth Ronan, were expecting me yet. I watched as they answered questions from shoppers with genuine care and knowledge. Later, on my tour of the shop, I would experience this high level of customer service for myself. And that's what I find lacking these days in retail. I frequent health food stores but rarely do I get the attention and education that Peaches & Greens provided.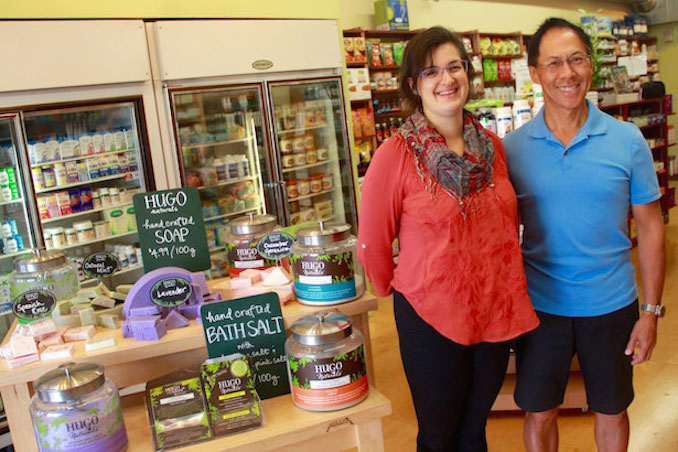 I would literally point at a product and say, "What's this?" and George or Elizabeth would answer with unwavering confidence exactly what the product was, how it worked, why it worked, who it worked for, etc. I was amazed. Sure, many of these products are also carried elsewhere but I know in the future, I'll be returning to Peaches & Green because they are far more helpful and informative than any other store I've been to.
They stocked me up with some great products to try like the Hugo Naturals handcrafted soap in Oatmeal Mint. This soap is so nice! It's not drying at all and leaves the skin feeling smooth and soft. Elizabeth even said you could use the soap to shave! In keeping with soft skin, I also tried the Essential Botanicals Rosa Rubiginosa oil. Elizabeth had recommended it for my dry skin with occasional acne. The oil absorbs quickly without leaving any residue. I've worked the oil into my daily regime and have found it also helps with discolouration of my skin tones.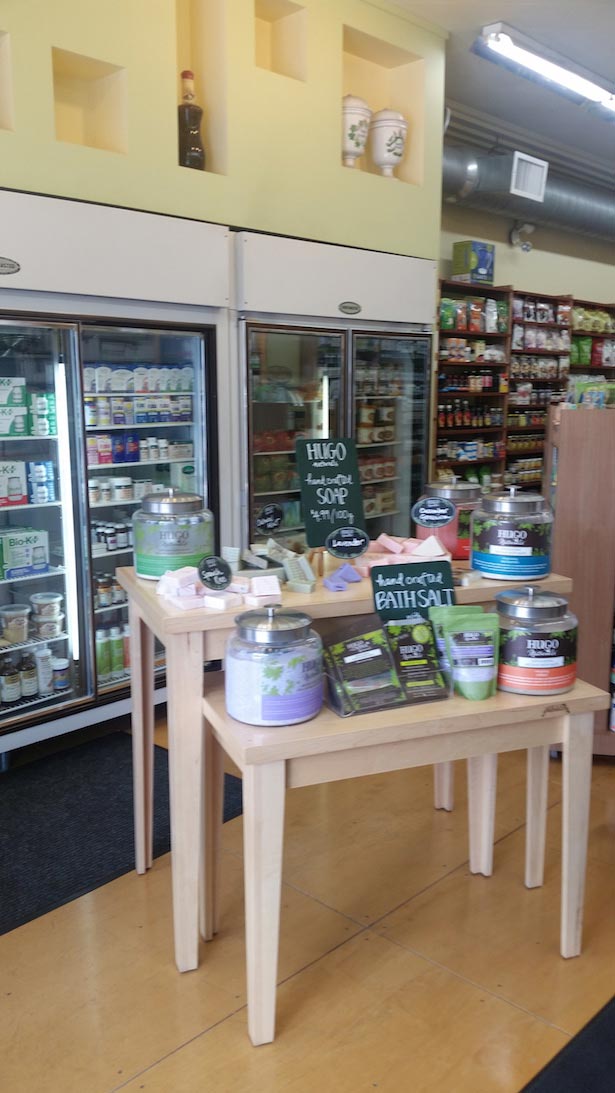 A great product that I sampled was the Lainnir Tub & Tile Cleaner. A local company that makes all natural cleaners for hardwood, glass, tile and more. I loved the lavender smell and felt good that I wasn't breathing in toxins while scrubbing my tub. More on them later…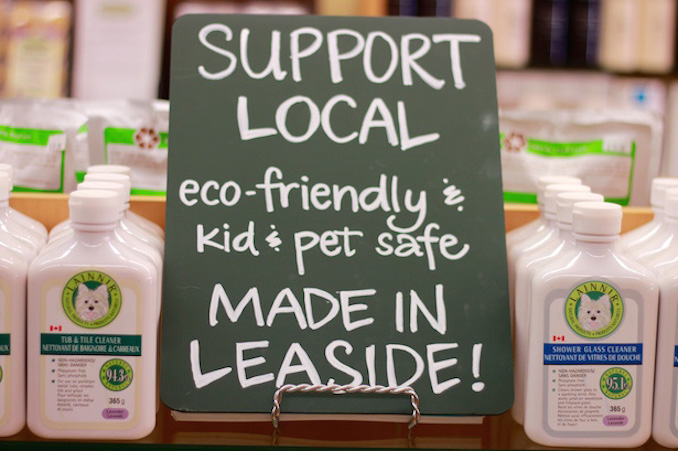 Food-wise, I had the Small Batch Co. Chocolate Banana Granola. It's wheat-free, gluten-free and vegan. Delicious on my yogurt and with some almond milk too. The real bits of banana were my favourite part! To drink, I tried the Live Kombucha tea brewed right here in Canada. Full of probiotics and naturally carbonated, Elizabeth had to open the bottle for me because the lid could pop off (that's how "live" it is!). The Lemon Ginger flavour is the perfect balance of zing and spice.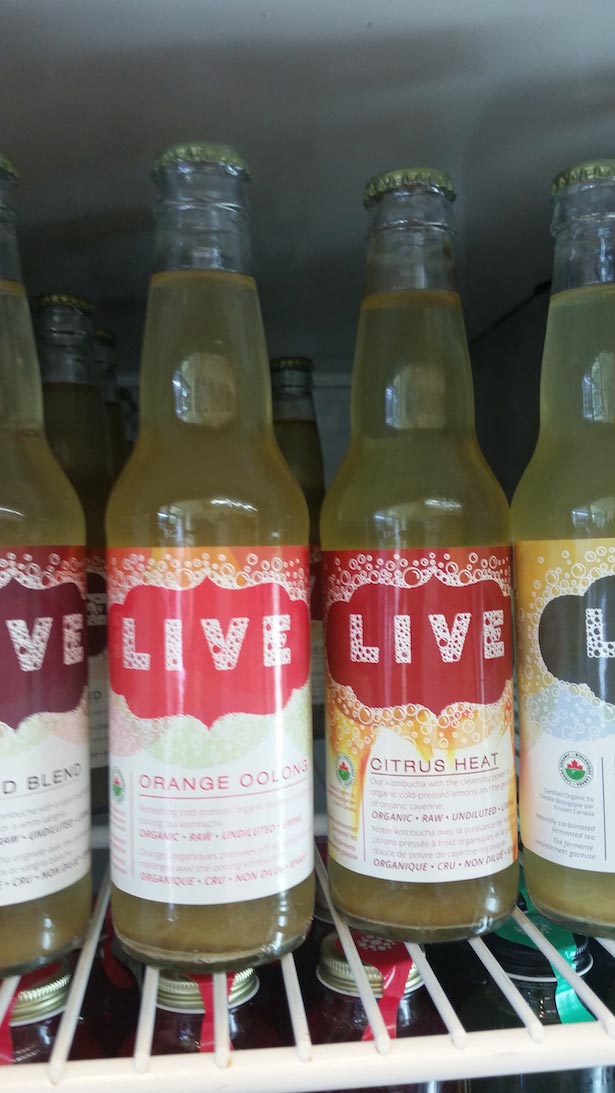 Everything in the store has its own story and we can rest assured that George and Elizabeth have done their research to ensure we are getting the best possible products for our needs. I would highly recommend you pay them a visit even if it's just to try some of the tasty snacks they carry. You will leave with so much more knowledge!
To find out more check out Peaches & Green online and read on for my interview with Elizabeth.
Peaches & Green celebrated its 25th anniversary this year. Congratulations! Why do you think you've been so successful in such a niche market?
Thank you very much! Our focus has always been on education and building relationships with our customers. We make an effort to network with a variety of doctors and therapists in our community, and support their patients. Most importantly, we have an amazing team of caring, well informed staff. Peaches & Green has become a destination for trusted expert knowledge.
Tell us how Peaches & Green has evolved over the past 25 years. Any lessons along the way you'd like to share?
One of our main focuses when we first opened was catering to the needs of those with restricted diets, for example, those with gluten intolerances. We quickly discovered there was a quite a demand for a reliable source of information about supplements and nutrition. People were interested, but unsure where to go for good advice. Today, it is even more relevant. We are bombarded by all kinds of messages about our health. Each of us need to play a personal role in our path to wellness. Our role at Peaches & Green is to be a partner to our customers in that process, to help our customers truly make informed decisions for themselves and their families.
How did George start Peaches & Green?
George opened Peaches & Green back in the early 90s, long before it was trendy to sip Kombucha and impress your friends with the many ways you use coconut oil. He saw it as an opportunity to connect with people in the community, to be a trusted place where people could come to learn about health and find good quality specialty foods and supplements.
Knowledge is power. The staff at Peaches & Green seem to know EVERYTHING about everything! How do you do it?
Haha, well maybe not quite everything, but thank you! We are all practitioners, with a variety of backgrounds, so we learn a lot from each other. We participate in ongoing trainings, and try to keep up with current research. Most significantly though, is that we live the lifestyle and want to continue to learn. We take our customer's health concerns and questions very seriously. If we don't have the answers, we go out of our way to research to find the best solutions. It all contributes to our ability to be so informed.
Tell us how you source your products.
We are very thorough in our 'screening' process. We ask a lot of questions of our suppliers and manufacturers. We're looking for clinical research, and the purity of ingredients in supplements. We prefer to support local, Canadian companies, and love it when we discover independent, small businesses that offer unique products, especially for our food and skin care categories.
Health food stores no longer carry only supplements. What else do you stock?
In addition to nutritional supplements and botanical remedies, we carry specialty whole foods, natural skin care and cosmetics, earth friendly cleaners, and books. Later this fall, we'll also be introducing an amazing, local yoga mat company!
You've built partnerships with many healthy local businesses; what are some of your favourites?
One of our favourite local supplement companies is Progressive. They are produced right here in Toronto! All products are formulated with the help of renowned Naturopathic Doctor, Dr. Mikhael Adams. Their formulas are comprehensive, and tailored to meet the needs of the individual. They have supplements for the whole family: from multivitamins, to probiotics, to protein powders.
Another terrific company is Lainnir, an eco friendly cleaning product company. They are manufactured right in our neighbourhood, Leaside. Cleaning product companies are not required to give full ingredient listings. Lainnir is completely transparent with their formulas – all natural, safe for your family, pets, and the environment.
What one product in the store is a must-have for Torontonians?
Torontonians are a busy, active group! If we had to choose one product, it would have to be Progressive's VegEssential. One scoop give you your multivitamin, protein, greens, antioxidants, fibre and Omega 3s. Just pop it into your morning smoothie! It's quick and easy, great for keeping your blood sugar balanced, keeping your energy up, and protecting you from things like pollution. A must have for sure!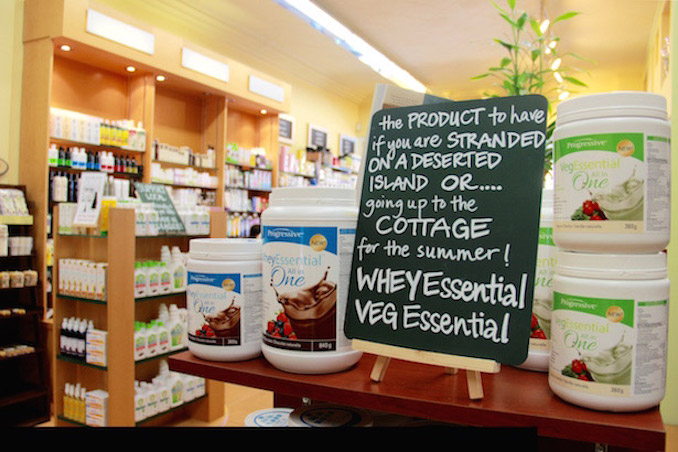 Often people think health food stores are overpriced and carry very similar products to mass grocery chains. How do you combat that?
Not all products are created equal! It's really easy to market an attractive product at a cheap price, but you almost always get what you pay for. A conscientious manufacturer will not cut corners, but rather source good quality ingredients, formulate with current research, and partner with retailers who are able to provide the education required to properly sell a health based product. We work with companies that prioritize producing excellent products with proven efficacy.
Anything else you'd like to add?
Thank you so much for the opportunity to share what we are doing with Torontonians! There is no easy path to wellness – you have to be mindful, and work hard to achieve it. Hopefully we are able to help make that journey more enjoyable!