Another incredible film festival takes place in Toronto and it's viewed by over 1.2 million people each day when it happens. The Toronto Urban Film Festival (TUFF) is North America's first, largest and longest-running commuter international Film Festival that happens on TTC platforms and screens in public spaces from September 10 to 18, 2016.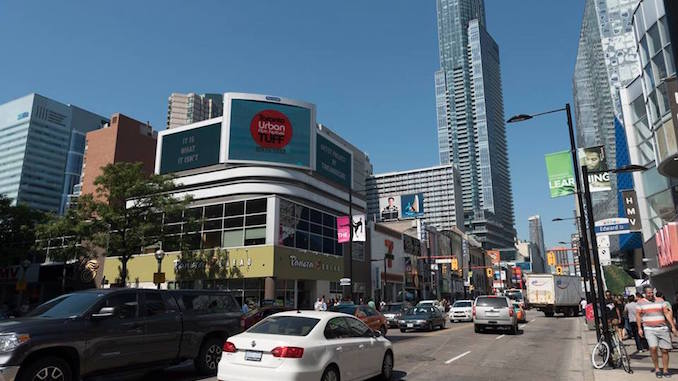 TUFF features silent, 60 second film video and animation to commuters. This year, the Festival received 485 submission from 60 countries, includes 216 from Canada — 104 of which are from Toronto. In addition, the Festival offers recognition with annual awards. This year's guest judges includes Zaib Sheikh, City of Toronto's Film Commissioner & Director of Entertainment Industries. Previous judges include Atom Egoyan, Bruce McDonald, Guy Maddin,Patricia Rozema, Deepa Mehta, Don McKellar, Mark McKinney, Jeremy Podeswa and Jennifer Baichwal.
We had a chance to chat with Sharon Switzer, TUFF organizer and founder to find out more.
Why did you start this? Why the subway as a venue?
10 years ago the Onestop advertising screens on the subway were fairly new, and people weren't used to this new form of out of home advertising. I saw the screens as an opportunity to give independent artists an huge new audience of people who might not otherwise find their work. Not many independent artists can say they have an audience of over 1 million people. It was also a way to give Toronto something to entertain them while they went about their day. So, the subway has always been the home of TUFF – it was created for the subway. We have so many film festival in Toronto. Toronto loves film… and this is the only festival that brings film directly to the people. It's a perfect urban cultural experience.
How did you start sourcing filmmakers in the early years?
When we started out, 1-minute films were unheard of, so we couldn't just go looking for films to screen. We had to get filmmakers to create work specially for us, and we had to do it without much of a budget. We also had to convince artists that a festival like ours, with the venue actually on the subway platform, where their work would be seen alongside advertising, was a legitimate and worthwhile opportunity. So, I reached out to all of my filmmaker and video artist contacts in universities and colleges, asking them to help get their students excited about TUFF. I also invited these same professors to be on our juries over the first few years (we used to have juries instead of guest judges). This really helped get the word out about the festival, and it grew from there. These days, short formats like 1-minute are much more accepted, and social media has enabled us to extend our call for submissions around the world.
Some well-known names in the film industry have been involved over the years in various capacities from judging ot filmmaking. Can you tells us about a few and what they've done.
We have been incredibly lucky to have had the support of so many well known talents over the years, including Deepa Mehta and Bruce McDonald, who both have world premiers in TIFF this year, and Don McKellar who just won the Order of Canada. They were all our guest judges for an edition of the festival, viewing all of the official selections and awarding the top 3 or 4 awards each year. To celebrate our 10th year of entertaining the city, Zaib Shaikh, actor, director and Film Commissioner for the City of Toronto, is our guest judge. We have also been lucky enough to have had the support of the amazingly talented filmmaker John Greyson, who has acted both as sounding board and cheer leader for the festival since we began. Since 2007 we've shown incredible talented artist like Midi Onodera, who has been in every edition of the festival, as well as Stephen Andrews, Steve Reinke, Christina Battle and Public Studio, from all of whom we commissioned special artist projects.
Congratulations on 10 years! WOW! What would you love to see happen in the next 10 years coming for this film festival?
Although the life-blood of TUFF is the subway system, I'd love to see it continue spreading out from the subway into other public venues that serve the city. Last year we started a partnership with the Toronto Public Library, screening the TUFF line-up at the Toronto Reference Library, and this year we have expanded that partnership to include 15 branches across the city. So now even people who don't take the subway can watch the same films for free.
Finalists will also be featured on the TUFF website, where viewing and voting takes place during the Festival.
For more information and Festival schedule visit torontourbanfilmfestival.com