During Asian Heritage month, Thai Trade Toronto and DaiLo sent us this recipe for Chef Nick's Curry Rice Noodles. Thai rice noodles are made from rice flour and water and do not contain any wheat flour, meaning they are gluten-free and suitable for anyone with gluten intolerance or celiac disease. There are many varieties of Thai rice noodles – the difference is in the thickness of the strands of noodles, Chef Nick's recipe uses 3MM noodles. Thai rice noodles have a very short cook time of under 5 minutes for the thinnest strands, which is perfect for busy individuals.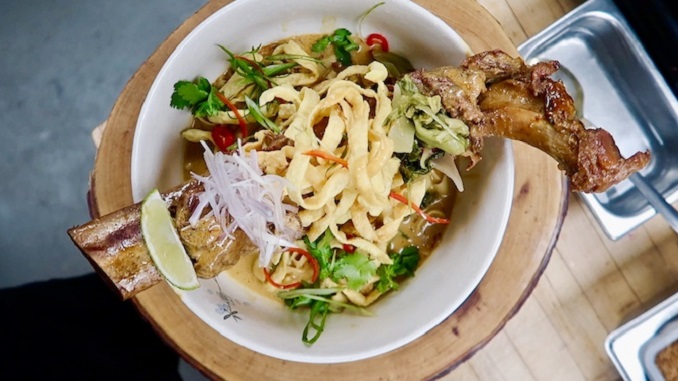 Curry Rice Noodle
Ingredients:
9 oz Rice noodles, submerged under boiling water (do this first before prepping anything else) – Use brand Kosa 3 MM Rice Noodle
2 tablespoons coconut oil
2 tablespoons red Thai curry paste
2 tablespoon yellow Thai curry paste
2 teaspoons ginger, fresh ground
4 chicken drumsticks
2.5 cup coconut cream
5 cups chicken stock
3 tablespoons fish sauce
1 tablespoon palm sugar or brown sugar
4 wedges of lime for garnish
Coriander leaves for garnish
Sliced chili for garnish
Sliced shallot for garnish
Directions:
1. Heat coconut oil in a pot on medium high heat. Add both curry pastes and the ginger and sauté while stirring for 1-3 minutes until fragrant. Add coconut cream, chicken stock, palm sugar, and fish sauce and bring up to a boil. Add the chicken legs and bring down to a simmer. Cook chicken for 30 minutes.
Something to try- at the start of this recipe you can make your own coconut oil by heating an additional 1 cup of coconut cream (the rest of the can) and reducing it until it splits. Then proceed with the rest of the recipe as written. This is the traditional way to start a Thai curry sauce.
2. Stain noodles in a colander and shake all excess water out. Place noodles in curry sauce and cook for 2-4 minutes.
Tip – for quickest noodle hydration results pour boiling water over rice noodle's and soak for 10 minutes, then soak in cold water. Do this before preparing the rest of the ingredients for this recipe.
3. In 4 bowls place one drumstick and equal amounts of noodles in each bowl. Ladle hot curry broth over the chicken and noodles. Enough broth to completely cover noodles.
4. Garnish with coriander leaves. Serve with lime wedges and chilli and enjoy!