On June 27th, Toronto's IncluCity Festival screened the Canadian premiere of Marcel the Shell with Shoes On, the inexplicably feature-length adaptation of a twelve-year-old viral video about a talking seashell with a single googly eye and a pair of tiny shoes. My review of the absolutely adorable Marcel below – but first, some comments on the IncluCity Festival, and its "parent" the Italian Contemporary Film Festival.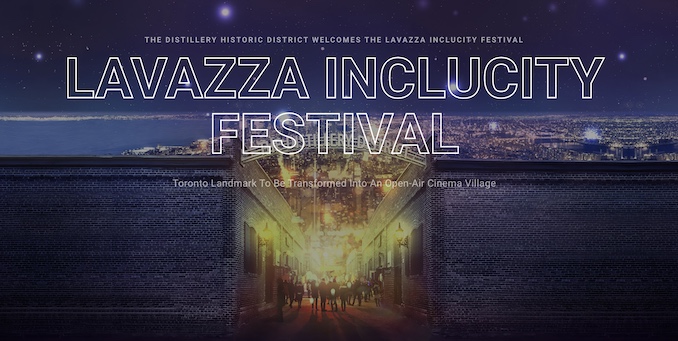 Now in its tenth year, the ICFF began as a showcase for Italian film, only to morph over the years into a broader international showcase. Today there are, in fact, two concurrent festivals: the ICFF, which retains an emphasis on the bel paese, and IncluCity, which features international programming. Running June 24 to July 16, the joint festivals showcase dozens of films from across twenty countries, with highlights including the Canadian premiere of the aforementioned Marcel, an epic three-hour documentary about fabled film composer Ennio Morricone, and Canadian coming-of-age comedy Drinkwater, starring Eric "Will &" McCormack.
Aside from the Italian focus – even Marcel features the legendary Isabella Rossellini! – the ICFF/IncluCity's standout feature is its location. Most films are screening at an outdoor cinema in the lovely red brick confines of the Distillery District, with inflatable couches taking the place of your standard uncomfortable plastic folding chairs. The experience of plopping down into one of the great big comfy sofas is almost worth the price of admission alone – just make sure you don't have any safety pins poking out of your pockets!
Whatever you call it, ICFF/IncluCity is a wonderful addition to the Toronto cinematic landscape, and a unique one at that.
Marcel the Shell with Shoes On
Marcel the Shell with Shoes On is the most innocent film I have seen in a very long time. The tale of one exceedingly adorable anthropomorphic shell (voiced by Jenny Slate) and his ageing Nana (Isabella Rossellini), it's a celebration of, quite literally, the small things. Marcel's teeny-tiny life, in which a dusty coffee table serves for a skating rink, and a lint ball for a pet, is the best-realized miniature landscape since Ant-Man, only with twice the humour and one hundred times the charm. The film's threadbare plot, consisting mostly of mockumentary style interviews of Marcel (conducted by a largely off-screen Dean Fleischer-Camp, who is the actual director of the film) interspersed with efforts by Marcel to track down his missing family, only adds to the sense that Marcel is more about atmosphere than it is about story.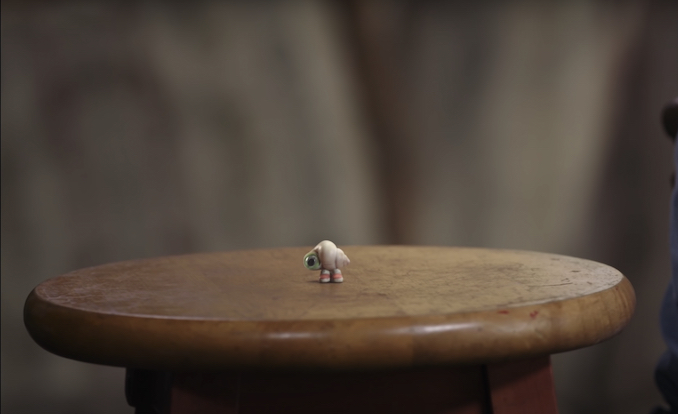 But what an atmosphere it is. The original Marcel, a 2010 viral video, instantly won over viewers with its kind-hearted depiction of a slightly confused, slightly overwhelmed, and entirely guileless stop-motion shell who just loves to talk about himself and his daily challenges. The Marcel of 2022 is much the same as the Marcel of 2010: adorably fumbling his words, sharing stories about home décor ("guess what I use for a beanbag chair? a raisin"), his adventures ("hang-gliding from a Dorito"), and his struggles ("one time I looked at a diamond and it gave me a sunburn".) In a field with stiff competition, Marcel may very well be the cutest thing on the Internet.
Marcel 2022's version of Marcel is different from the original in two key ways: the presence of his Nana, and the newly-invented "community" of similarly anthropomorphized tiny objects which has gone missing before the events of the film. Marcel's quest to find his missing friends and family offers the barest narrative momentum to Marcel, though in truth the film is so easy-going that it doesn't even bother suggesting anything other than a happy outcome. Director Fleischer-Camp knows, much like Marcel, that the joy of it all is in spending time together; asking questions of the little talking shell, watching him go about his daily routine, wiping a tear from the eye when a daydreaming Marcel says something accidentally poetic. (One of the best punchlines involves Marcel's wondrous description of the passing of the seasons, only for a (human) character to offer a dully prosaic account of the same passage of time.) Marcel's naïveté is so alien in the contemporary movie landscape that it may well take a viewer a moment to adjust to the film's complete lack of irony. I don't think Marcel would understand sarcasm, and I'd feel bad if anyone ever tried it on him.
Co-writers Slate, Fleischer-Camp, and Nick Paley have put together a film that essentially operates as a string of one-off jokes, punctuated by occasionally longer incident or anecdote. There's Marcel bizarrely stomping around in a pool of spilled honey, only for the camera to cut to him climbing the wall thanks to his newly sticky feet. There's Marcel rolling around the house inside his preferred means of transportation, a tennis ball he calls "Rover". (Possibly a Prisoner reference?) There's Marcel adorably struggling to pronounce names like "Mitsubishi" or "Wayne Gretzky." Seriously, just watching Marcel struggle with "Wave Binsky" will melt your heart. Once in a while, Marcel will hop around a keyboard to type out a message, not unlike a certain cockroach on a typewriter over a century ago.
I quite like how Marcel wraps up: neatly, tenderly, and unapologetically sentimental. Marcel's world may be small, but his challenges are just as big. Indeed, Marcel makes it impossible not to identify with Marcel, what with his heartaches, his fears, his triumphs, his loves.
In his own li'l way, Marcel is the everyshell, offering a soothing balm to a society living through deeply troubled times. (On an entirely unrelated note, I highly recommend checking out Jenny "Marcel" Slate's breakout film, the "abortion comedy" Obvious Child. It's a romantic comedy about a woman who decides to get an abortion while also pursuing a romantic relationship with the man who got her pregnant. In its own way, Obvious Child offers a kind, funny, and sympathetic account of a wayward soul trying to navigate a world that often seems like it's stacked against them. Not sure why I thought of it just now…)
*
Watch the original Marcel the Shell short film here.
Tickets for the ICFF and IncluCity film festivals can be purchased here. On now until July 16.