This year, Furniture Bank is celebrating 20 years of providing gently used furniture and household goods to people who have recently transitioned out of homelessness, women and children escaping abusive situations, refugees and other newcomers to Canada.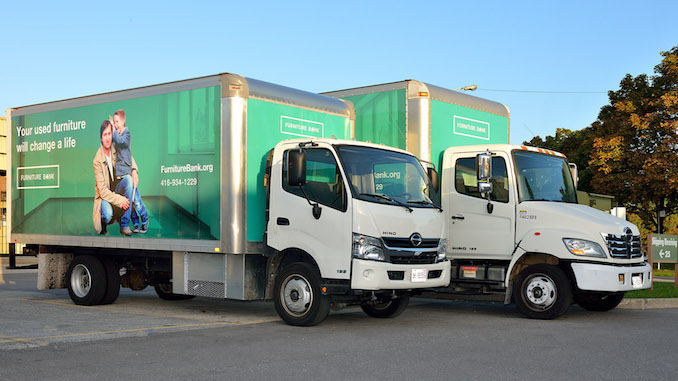 Last year, Furniture Bank helped over 10,000 individuals, a third of which were children. These recipients received 1500 tonnes of furniture and housewares which may have ended up in a landfill.
"2018 marks Furniture Bank's 20th Year of Community Service," states Dan Kershaw, Executive Director, Furniture Bank. "Over the years, we have built up partnerships with a growing list of social service agencies and shelters who play a critical role in ensuring anyone in need of a fresh start is invited to our showroom, and given the dignity of choosing the items of furniture they would like to have in their homes. The Furniture Bank movement is one of empowerment."
Back in 1998, Sister Anne Schenck was looking for a way to organize and facilitate the transfer of furniture and necessities from individuals disposing of items to homes in need of them. Many of her clients were in need and Furniture Bank became her solution to their problem. Volunteers, hours of pro-bono work and financial donations large and small helped Sister Anne formally incorporate Furniture Bank as a charity.
"I was asked by Catholic Immigration Services to visit one of their clients because they had no furniture," states Sister Anne Schenck. "When I arrived, I found a home furnished with a milk crate used as a table, and a pot which the dinner was cooked and served in. The residents ate and slept on the floor. On my way home I came upon a sofa that had been left out on the curb for disposal. This led to the creation of Furniture Bank!"
Looking to help out this awesome cause? Check out the information below.
Check out some of these great Client Stories to see some of the impact that they have had on our neighbours.
Accepted Items at Furniture Bank
Dining & Living Room
Chairs
Tables
End tables
Credenzas
Book shelves (no taller than 6 ft)
Sofas & love seats
Electronics
Flat screen TVs of any size
Tube style TVs (no larger than 32 in)
DVD/VCR players
Stereos & radios
Electric fans & space heaters
Small kitchen appliances
Kitchen & Housewares
Small kitchen appliances
Kitchen tables
Cookware
Bakeware
Cutlery
Tableware
Artwork
Rugs (no larger than 8 x 11 ft)
Bedroom
Dressers
Night tables
Desks (no larger than 4 ft)
Metal bed frames
Linens
Matresses & box springs
Clothing
Clothing
Purses
Hats
Footwear
Accessories
Curtains
Blankets
Pillows
Towels
Sheets
Linens
Draperies
Areas served
Scarborough, Pickering, Ajax, Whitby, Oshawa, Thornhill, Richmond Hill, Aurora, Markham, Vaughan, Woodbridge, Etobicoke, Brampton, Caledon, Mississauga, Oakville, Burlington and Hamilton.
Drop off location:
25 Connell Ct., Unit 1, Toronto, ON M8Z 1E8
Drop off hours: MONDAY – FRIDAY
That while they encourage drop off, should you have the need for help transferring your gently-used items to their showroom, they do, for a fee, offer a transfer service (movers and trucks).
Tax-receipt available for all donations (in-kind or otherwise).
PHONE NUMBER for drop off appointment, or to book a pick-up 416.934.1229
9 AM – 12 NOON
By appointment only
Please note: they require all dropped off items to be fully assembled.