In honour of the 103rd anniversary of Canada's first major UFO report – we will take a look at the most believable, and somewhat verified, Alien and UFO stories in Canada – over the last 100 years.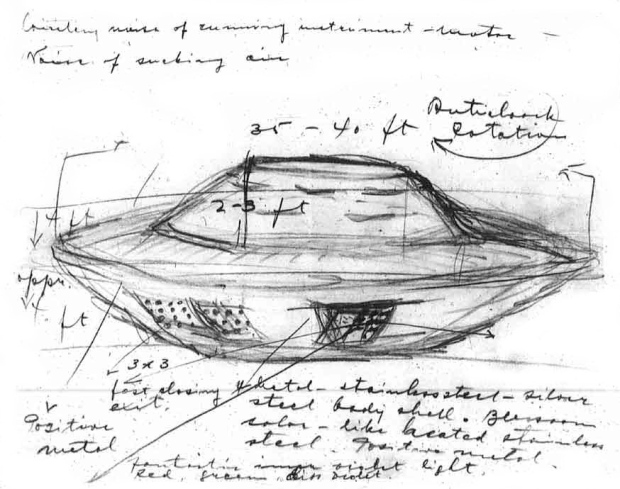 Stefan Michalak's drawing of the craft he saw.
***
1. Ottawa, Ontario February 15, 1915 –  The following was reported in The Globe  newspaper in 1915: In Brockville, Ontario, along the St. Lawrence River.  Constables Storey, Thompson and Glacier, and several residents became convinced that three or four UFO/aeroplanes had passed by the city, to the northeast, heading in the direction of Ottawa. The actual reports were vague, with the exception of "light balls" falling from the sky.  "The first machine was flying very rapidly and very high. Very little could be seen, but the unmistakable sounds of the whirring motor made the presence of the aircraft known." Five minutes later a second machine was heard, then suddenly three balls of light descended from the sky, plunging several hundred feet and extinguishing as they hit the river. A few minutes thereafter, vague observations of two more aeroplanes were reported to be passing over the city. As word of the sightings spread throughout Brockville, its inhabitants became "wildly excited." At 10:30 pm, the Brockville Police Chief sent an urgent telegram to Premier Sir Robert Borden, who summoned Colonel Percy Sherwood, Chief of Dominion Police, and after consultation with military authorities, all lights in the Parliament buildings were extinguished and every blind was drawn. Marksmen were posted at several vantage points on Parliament Hill, while the Prime Minister and Cabinet Ministers kept in close communication in the event of an attack during the night. News of the possible attack spread rapidly, and several Members of Parliament rushed to the roof of the main building to see if they could spot any aircraft. The scare in Canada was intensified the following morning, when the Toronto Globe implied that an air raid had actually occurred. Its banner, front-page headlines stated: "OTTAWA IN DARKNESS AWAITS AEROPLANE RAID. SEVERAL AEROPLANES MAKE A RAID INTO THE DOMINION OF CANADA. Entire City of Ottawa in Darkness, Fearing Bomb-Droppers. Machines Crossed St. Lawrence River. .. Seen by many Citizens Heading for the Capital-One was Equipped with Powerful Searchlights-Fire Balls Dropped." Read more about this event here!
***
2. Falcon Lake, Manitoba May 20, 1967  Stefan Michalak is prospecting near Falcon Lake, Man., when he spots two glowing objects hovering ahead of him. One takes off and the other lands just 150 feet away. According to Michalak, the silver craft is "35 feet in diameter and brilliantly lit". He's close enough to touch the object when it suddenly lifts off, knocking him flat on his back.  Over the next few weeks, he suffers from severe headaches, nausea, weight loss, blackouts, and diarrhea – symptoms pointing to a radiation exposure. But doctors can't find anything wrong. Nine months later he collapses and finds burn marks in a series of dots on his chest.  What made the Michalak case so interesting, is the detail and the documentation he had to back up his experience. Despite being scrutinized by countless doctors, scientists, RCMP, RCAF, the Federal Department of Health and Welfare, and the Manitoba Department of Health and Welfare, no one has been able to prove or disprove Michalak's extraordinary story. The Falcon Lake sighting remains one of the most credible UFO cases in the world.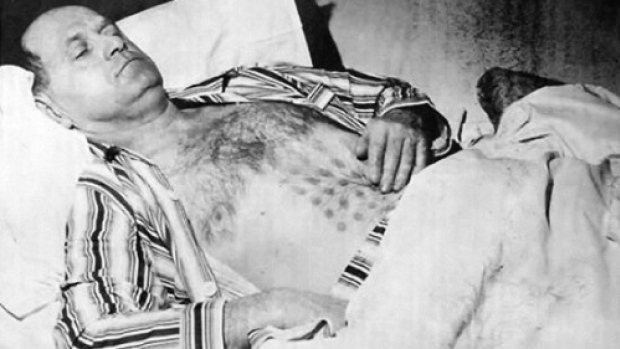 Stefan Michalak after grid pattern of burns appeared on his stomach.
***
3. Shag Harbour, Nova Scotia October 4, 1967  At about 11:20 p.m., it was reported that something had crashed into the waters of Shag Harbour. At least eleven people saw a low-flying lit object head towards the harbour. Multiple witnesses reported hearing a whistling sound "like a bomb," then a "whoosh," and finally a loud bang. The object was never officially identified, and was therefore referred to as a (UFO) in Government of Canada documents. The Canadian military became involved in a subsequent rescue/recovery effort. The initial report was made by local resident Laurie Wickens and four of his friends. Driving through Shag Harbour, on Highway 3, they spotted a large object descending into the waters off the harbour. Attaining a better vantage point, Wickens and his friends saw an object floating 250 to 300 m (820 to 980 ft) offshore in the waters of Shag Harbour. Wickens contacted the RCMP detachment in Barrington Passage and reported he had seen a large airplane or small airliner crash into the waters off Shag Harbour.  Here are the only remaining documents and reports from government agencies, regarding the sighting.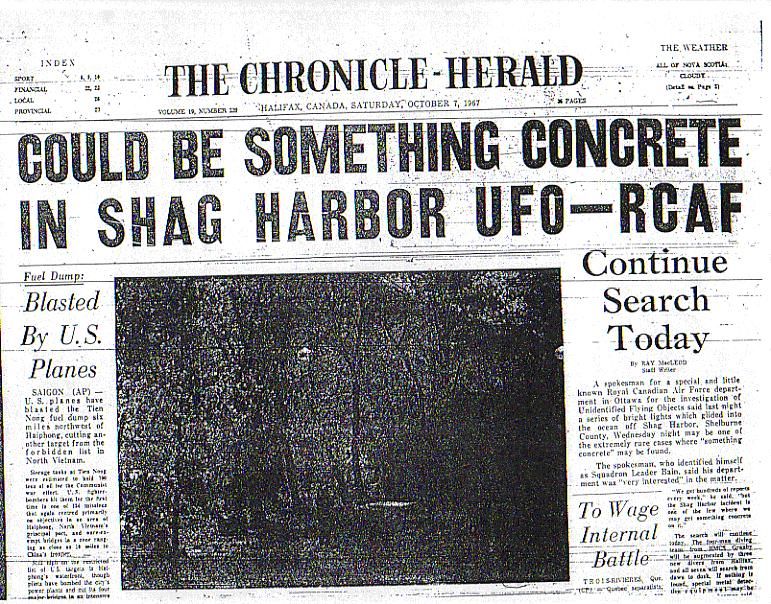 Halifax Chronicle Herald headline from Shag Harbor Incident
***
4. Carman, Manitoba May 13, 1975 One UFO was seen in Manitoba so often that locals named it "Charlie Redstar".  It has been seen by thousands of people over the period of a few months.  Ever since this sighting, Manitoba has become a hotbed for UFO sightings in Canada.  Here is an old news reel on the string of Manitoba UFO incidents.
***
5. Duncan, British Columbia November, 1980 Granger Taylor, a teenager who was a talented engineer, and student, was regarded as a "genius" by the members of his small town Duncan, B.C. on Vancouver Island.  He was so interested in aliens and UFO's that he built a replica in his back yard.  It is still there today.  As his interest became more enveloping – he became obsessed with UFOs – constantly talking to family and friends about them.  One day he confided in a close friend that he was in contact with aliens, and they were coming to take him away.  He was never seen again.  You can read more about this case here.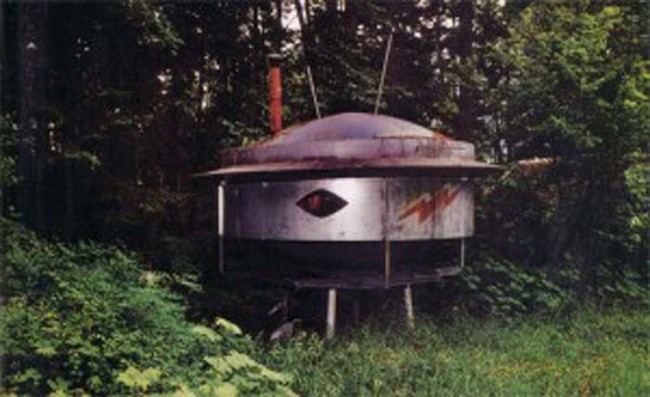 Granger Taylor's "UFO"
***