It's decided: the alpaca may just be our new favourite animal. We got up close and personal with the furry creatures last week at Haute Goat in Port Hope, Ontario. The activity-packed farm sits just an hour from Toronto and is open year-round.
In an event hosted by Air Transat, Haute Goat opened its doors to a group of media to acquaint them with the beloved animals (who we got to take on a walk through the sprawling property) and offer a taste of exceptional Peruvian cuisine from Toronto restaurant, Nuna.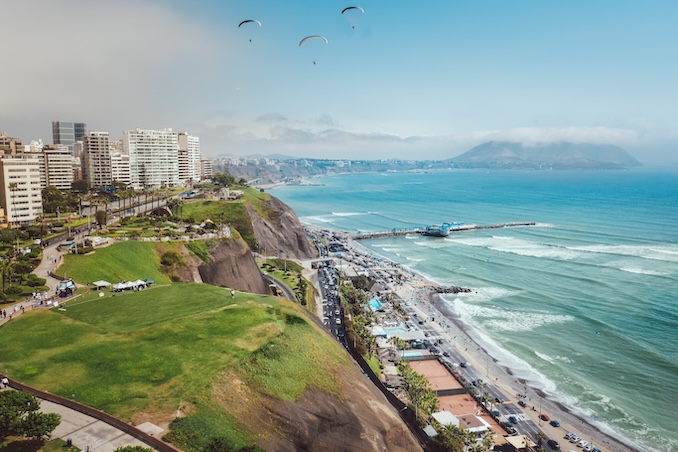 The occasion was a cause for celebration: Air Transat just announced a new destination – one that's on countless bucket lists. Direct flights will now be offered year-round from Toronto (and Montreal) to Lima, Peru. The Toronto–Lima flights will be operated twice weekly, on Wednesdays and Saturdays, beginning December 20, 2023.
Flyers will travel in style, in a top-of-the-line aircraft. The Toronto-Lima flights will be operated with new generation Airbus A321LR aircraft, featuring spacious cabins, state-of-the-art in-seat entertainment systems, and the lowest fuel consumption and greenhouse gas emissions (CO2 and NOx) in their class.
The long-haul flight will feature inflight services similar to those included on its flights to Europe, which include (among other services) a hot meal and snack. Those in economy class who opt for the Options Plus (like we did earlier this year on an Air Transat flight to Croatia) receive added perks like an additional piece of luggage included, seat selection, priority services at the airport, and on-board add-ons like a comfort kit, blanket, ear buds, and one alcoholic beverage.
The flight to Lima from Toronto takes about eight hours (so, the upgrades are well worth it).
That's not all: Transat – Air Transat's sister company tour operator – will also offer all-inclusive packages at selected hotel partners in Lima, as well as à la carte hotels in Aguas Calientes, Cusco, Urubamba and Puno. In addition, the company will soon offer a variety of excursions in different regions of Peru.
So, where do the alpacas come into play? Peru has the world's highest population of alpacas, with over half of the world's animals. The stunning animal is one of the main sources of income for high Andean families in Peru.
The allure of Lima, Peru (in addition to the alpacas found in the surrounding regions, obviously) involves stunning historical monuments, photo-worthy colonial architecture, and picture-perfect beaches. The city has also become a notable destination for the foodie set; its increasingly known for its world-famous restaurant scene and its status as South America's unofficial culinary capital.
***books ticket***