You might be surprised to hear The Ritz-Carlton in downtown Toronto is home to one of the top ranked hotel day spas in the world, Spa My Blend by Clarins. Forbes Travel Guide rated Spa My Blend one of the Finest 4-Star Spas in the world this year, and Canadian Spa & Wellness honoured it twice with Top Hotel Spa and Top 25 Spas in Canada awards.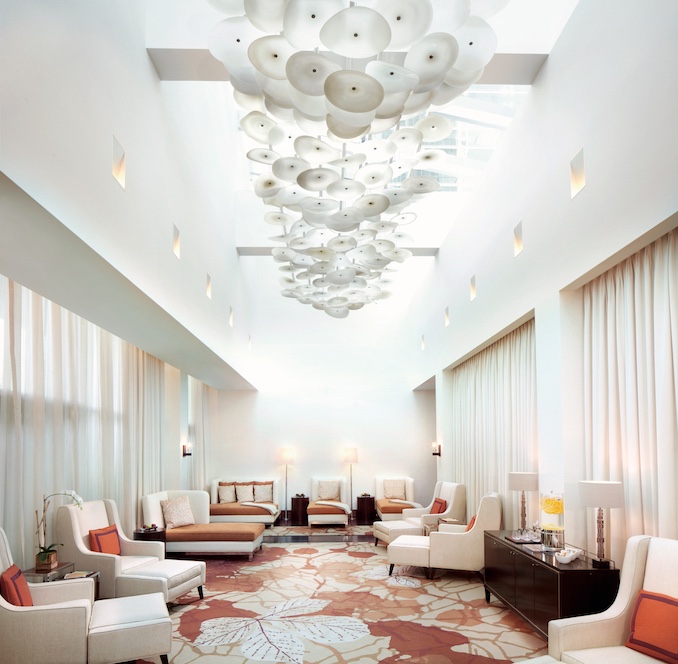 Discover an Urban Sanctuary
I put this award-winning spa to the test with one of its signature treatments – the 90 minute My Blend Perfect Complexion facial. Besides the treatment, I was curious to find out who was going to this day spa and what the atmosphere would be like in such a posh hotel.
The Ritz-Carlton Toronto is a grand luxury hotel, which might be intimidating to some people. However, the spa atmosphere isn't uptight or pretentious. No one is shushing you or eyeballing your accessories. You feel free to chat to other guests or not; to chat with spa attendants or not. Spa My Blend by Clarins feels removed from the scrutiny of downtown posturing; it's a welcoming and relaxing environment. The majority of spa guests are Toronto-based; working women and men who take time for themselves to unwind and rejuvenate. From speaking with spa staff it's clear they consider guests like family. Spa My Blend guests are described as loyal and engaged – staff and regular guests often carry on conversations and stories from visit to visit.
After one visit it was obvious to me why Spa My Blend by Clarins is a return destination. Everything about the spa promotes totally relaxation and self-care. It's advised you arrive at the spa one to two hours in advance to loosen up and rest before a treatment like a massage or a facial. Take a dip in the salt water lap pool and hot tub. Enjoy a stimulating water massage in the green tea infused vitality pool, and breath easier in either the traditional hot rock sauna or eucalyptus steam room. Before and after any treatment, laze in the one of the two relaxation lounges which feature complimentary treats like Sloane tea, lemon water, mixed nuts, fresh apples, mini muffins, dried fruit and sweet pretzels. You can also order food and drink from the hotel menu.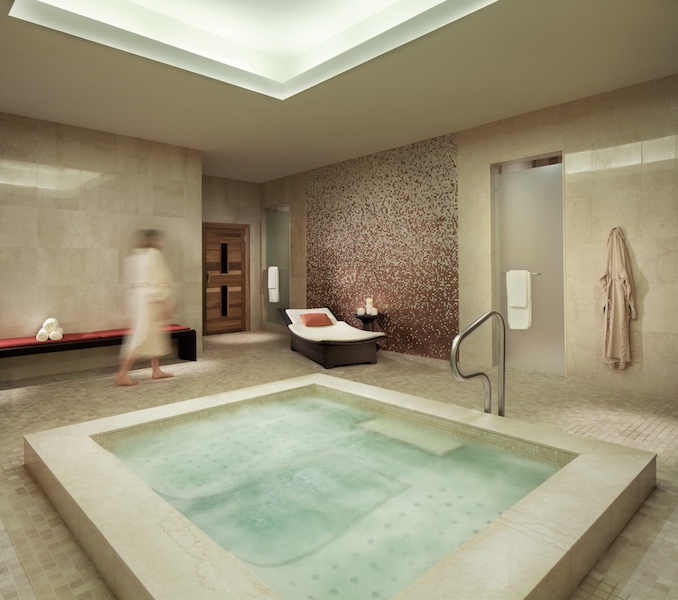 Here's What To Expect
After almost two hours of experiencing the many water features of the spa as well as the sauna, steam room and relaxation lounges, I was treated to a My Blend Perfect Complexion 90 minute facial. The treatment began with a lifestyle analysis, an exfoliation, followed by a series of anti-aging high-tech approaches along with traditional face, neck, arm, hand and foot massage. A wave machine was used to stimulate the face muscles and boost circulation. The vibrations of the machine oxygenate the skin and promote collagen production. Next step, LED light therapy to stimulate collagen production, kill bacteria and reduce fine lines and even skin tone. Followed by a cold/hot Cyrotherapy face and eye treatment to firm the skin and reduce fine lines. All the custom skin care used in this facial is from the exclusive My Blend product line; The Ritz-Carlton spa is the only place you can purchase My Blend in Canada. Post-facial, my face looked radiant and young! The results were instant, making this a perfect pre-event treatment – ideal for brides on their wedding day.
I absolutely recommend Spa My Blend by Clarins if you need an urban oasis of calm. I fell in love with the large, sunny sanctuary lounge. The spa team are dedicated to your total satisfaction and relaxation. They take customer satisfaction and personalized service to the highest level. You will feel welcome and pampered from start to finish at this Toronto day spa – discover it!
***
Check out these summer weekday spa specials! http://spamyblendtoronto.com/service/summer-weekdays-at-the-spa/ All treatments of 60 minutes or more receive a Complimentary Spa Day Pass which grants all-day access to the Salt Water Lap Pool, Hot Tub, Sauna, Experience Showers, Eucalyptus Steam Room, Green Tea Infused Vitality Pool, Fitness Centre, Men's & Women's Relaxation Lounge and Co-Ed Sanctuary.
To review the spa menu and book a treatment please visit: www.spamyblendtoronto.com.
About The Ritz-Carlton
The Ritz-Carlton Toronto is located in the downtown entertainment district. A top tier luxury hotel which features a 400-piece art collection, an award-winning day spa and fitness centre, and first class dining at TOCA restaurant and cocktails overlooking the CN Tower at the DEQ Terrace & Lounge.