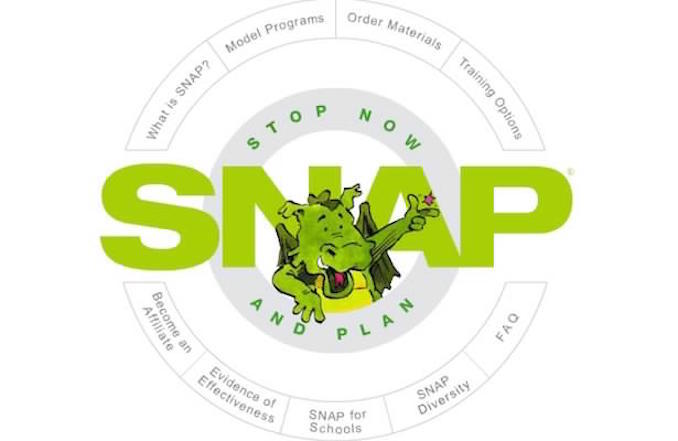 Stop Now and Plan – wise words for all of us, but particularly poignant for kids who experience disruptive behaviour problems. Using these four simple words the SNAP program for children was born nearly 30 years ago to address the needs of children aged 6 – 12 who had previously had contact with the criminal justice system. Now expanded to help children who may be at risk for future contact with the law due to disruptive behaviour, SNAP is continuing to make a significant difference in the lives of children and families across the city.
Built around the seemingly simple yet deceptively challenging core concepts of emotion regulation, self-control, and problem solving, SNAP gives kids the skills to manage life's stresses and challenges without resorting to disruptive or aggressive behaviours. Via a once-weekly 13 week program run at the Child Development Institute, SNAP uses a variety of evidence-based techniques to teach skills that can help keep kids from turning their distress inward in the form of depression or anxiety, or outward in the form of aggression and poor decision making.
The SNAP Boys and SNAP Girls programs provide gender-specific programming to effectively address the needs of children in a variety of situations. Importantly though, SNAP programs don't just focus on individual children, they focus on families, strengthening the skills of parents and siblings as well in order to facilitate family relationships and reinforce the new strategies that the kids in SNAP learn.
"While the kids are in their group their parents are actually in another room concurrently having a program as well. So they're learning the SNAP skills, they're talking about some of the same things that the kids are talking about," says Jill Noble at the Child Development Institute. "It's parenting support not only for themselves but so that at home they can carry through what their children have learned in their program. So it's not just drop your kid off at the door and he comes out an hour and a half later."
After the 13 week program, SNAP participants can continue to receive support via homework clubs, check-ins, and youth leadership programs. Some of the youth who participate in the programs go on to be counselors at SNAP's yearly summer camp, or to host impromptu drop-in sessions in the basketball courts outside of the CDI buildings, where kids who are currently participating in SNAP can come and hang out in a safe space where they can just enjoy themselves and be kids, rather than "troubled kids" or "bad kids." Just kids, because that's who they are, and who they deserve to be.
SNAP has now helped a generation of children grow up to be happier, better adapted, and to experience less contact with the justice system. But more than that, it has given children who may have been labeled as criminals in training a chance to show that they are more than their early choices and circumstances, and that they have the power to change the course of their lives.
If you think that SNAP might be a good choice for you or someone you know, or you just want to know more about this amazing program, please visit their site for more information.
Article by Judy Verseghy