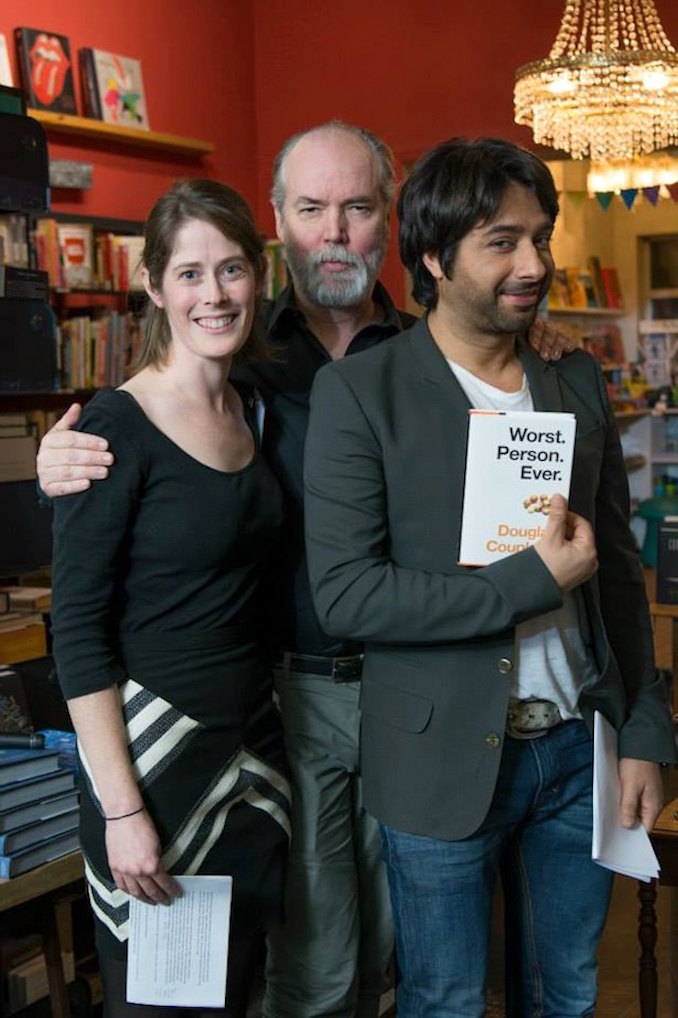 I got to chat with Erin Dann recently who is the Co-Chair of New Collection, the Toronto Public Library Foundation's young patrons' group.
The group organizes great literary events across the city which engage the next generation of  Toronto lit. supporters. Through the events they also raise money and awareness for the Toronto Public Library Foundation which funds many reading and literacy programs for youth and adults.
How long has New Collection been running?
New Collection launched in 2012. We're a members program offering young Torontonians (ages 19-45) exclusive access to the city's vibrant literary scene.
What does a young patrons group do? How much money is raised each year for TPL?
New Collection gives civically engaged, ambitious and creative Torontonians an all-access pass to events with prominent writers, artists and intellectuals – in support of one of the busiest urban public Library systems in the world – Toronto Public Library.
We host multiple events throughout the year; sipping cocktails and having conversations with amazing authors, venturing on field trips around Toronto and enjoying behind-the-scenes tours of library exhibits and collections.
Each year, we raise $100,000 for Toronto Public Library. We're a powerful endorsement of the Library's important work in growing a city of readers, developing a city of learners and connecting a city of creators.
Tell us about the partnerships with Penguin and Random House.
We work closely with Canada's largest publishers—including Penguin, Random House and Harper Collins—which ensures that our events feature top literary authors such as: Irvine Welsh, the author of the infamous Trainspotting; Kelly Oxford, social media maven and author of Everything is Perfect When You're a Liar; Conrad Black; Douglas Coupland; Jian Ghomeshi; Kevin Kwan and Jeanne Beker.
You have some great events coming up. Tell us how you came to get involved with Justin Trudeau and Lena Dunham?
Through New Collection, members have the opportunity to attend events, meet high-profile authors and network with other young professionals. Our events are located in cultural hot spots like Type Books, SOHO House, The Room at The Bay—and of course, our libraries. We also have access to the high-profile authors who are featured at the Bram & Bluma Appel Salon events, including Justin Trudeau and Lena Dunham. For both events, we're providing exclusive opportunities for our members.
Tell us about the prohibition themed party. Where did that theme come from?
Hush Hush is New Collection's annual bash in support of Toronto's Library. Hush Hush was inspired by the idea of doing the unexpected – and feeling a little illicit – in a public library, partying in the stacks after-hours! This year's theme for the party is a speakeasy. As Prohibition was a time of bathtub gin and sneaking around, it seemed like just the right fit.
Party-goers will enjoy a secret cocktail bar accessible only by password, delicious goodies from Rock Lobster, a live jazz band and DJ, an open bar, amazing prizes and Prohibition-themed performances and surprises all at the gorgeously renovated Bloor/Gladstone Library.
Purchase your tickets to Hush Hush here.
How do people become members and how much does it cost?
To become a member of New Collection, sign up at http://tplfoundation.ca/new-collection/
There are three membership levels:
-$300 Solo membership
-$500 Duo membership for two people
-$500 Solo with hosting privileges
Members can pay all at once, or through ultra-affordable monthly installments. All members receive a charitable tax receipt for the maximum allowable amount.
What privileges come from being a member?
Every New Collection member gets:
-Access to exclusive New Collection events throughout the year
-Private behind-the-scenes tours with curators of the Library's special collections
-Tickets to special lectures, programs, exhibits, and events presented by Toronto Public Library
-Discounts and perks at other literary inspired events such as the International Festival of Authors, Hot Docs and Soho House
-Charitable tax receipt for the maximum allowable amount
What are some of the biggest challenges for the TPL foundation and for New Collection?
Although many of us think that the Library is fully supported by municipal taxes—it isn't. Funds raised through New Collection are vital to help fund groundbreaking programs and services, innovative community spaces and exceptional book collections.
Also, in this digital age, some people believe Libraries aren't relevant anymore. That's simply not true (and ignores the fact that the Library makes computers accessible to all and has incredible and expanding digital collections)! In fact, 72% of Torontonians use the Library and 92% agree that it is an important resource for our community. The Toronto Public Library is one of the busiest urban public libraries in the world. Visit any of the Library's 99 local branches and you'll see a community hub where young and old, students, parents, new Canadians, professionals and the ever curious come to read, learn, connect and create! Supporting New Collection and the Toronto Public Library means supporting literacy, innovation and community building.
How can our readers help?
If you want access to Toronto's literary scene, meet top authors at exclusive events, and behind-the-scenes tours all while supporting Toronto Public Library, then join New Collection today. Help us make our Library great!
The group has some events coming up this week.
-October 25 – Hush Hush – Members receive a discounted price on tickets for the 2nd annual after-hours party in the stacks. Following the success of the inaugural party last year, the prohibition-themed event is not to be missed. Tickets are available at hush-hush.ca.
-November – Justin Trudeau: Members will mingle with the leader of the Liberal Party of Canada, who will talk about his candid memoir Common Ground, the experiences that have shaped him and his passion for Canada and its people.
–October 23 – Plus members have access to tickets for the Toronto Public Library's Appel Salon live events featuring notable individuals including HOB's Girls star/producer Lena Dunham.
Learn more about Toronto Public Library Foundation
Learn more about New Collection