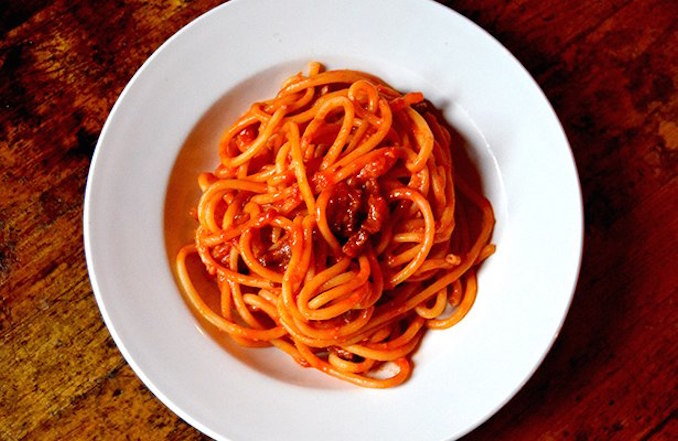 For National Pasta Day, Enoteca Sociale's Head Chef Kris Schlotzhauer has sent us two of their signature pasta recipes – the Bucatini all'Amatriciana and the delightful Spaghetti Cacio e Pepe. Enoteca's cuisine is renowned for its authenticity, achieved by creating dishes using simple, fresh ingredients. These two recipes showcase that not all food fit for gourmand's need be fussy. Try them yourself at home, or head into Enoteca Sociale at 1288 Dundas Street West to enjoy them prepared with Enoteca's fresh house-made pasta. Enjoy!
Bucatini all'Amatriciana
Serves 4 to 6
-1 tablespoon olive oil
-1/4 pound guanciale (or pancetta), cut into 1-inch slivers 1/4 -inch thick
-3 cloves garlic, minced
-1 teaspoon chili flakes
-3 cups canned crushed San Marzano tomatoes (about one 28-ounce can)
-Pinch of salt
-1 pound bucatini
-1/4 cup grated pecorino cheese (additional for serving)
Heat oil in a 12-inch skillet. Add guanciale (or pancetta) and sauté until barely beginning to brown. Add garlic, chili flakes and sauté over medium heat until lightly cooked.
Add tomatoes and cook for about 10 minutes, until the sauce has reduced by roughly half. Season with a pinch of salt and remove from heat.
Bring a large pot of salted water to a boil, add bucatini and cook until al dente, about 9 minutes. Drain and transfer to the skillet. Gently reheat contents of the skillet, folding pasta and tomato sauce together until they are heated through, making sure pasta is well-coated, about 5 minutes. Fold in grated pecorino cheese. Check seasoning and serve with more cheese on the side.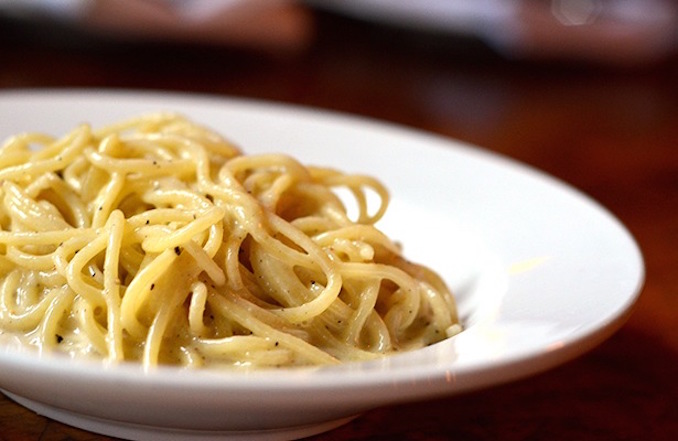 Cacio e Pepe
Individual Portion
-1/4 (125 grams) package dry spaghetti
-1 teaspoon black pepper
-1 tablespoon butter
-1/4 cup pasta water
-1/4 cup Pecorino Romano, grated
-Add salt to taste
Bring a pot of salted water to a boil then add spaghetti. While pasta is cooking, put the pan on medium high heat. Crack black pepper into pan and lightly toast, then add butter and melt.
Add 1/4 cup pasta water to the pan and swirl to create your sauce. Remove from heat. Once the pasta is cooked al dente, add it directly to the pan. Return the pan to the burner and bring it to a simmer. Gently toss in the pan while slowly adding the pecorino Romano. If the pasta is too dry add some pasta water. Season with salt if needed.