DOVA Restaurant shared with us this tasty Gamberi & Bottarga Pasta recipe, ideal to delight your guests on any occasion. Enjoy!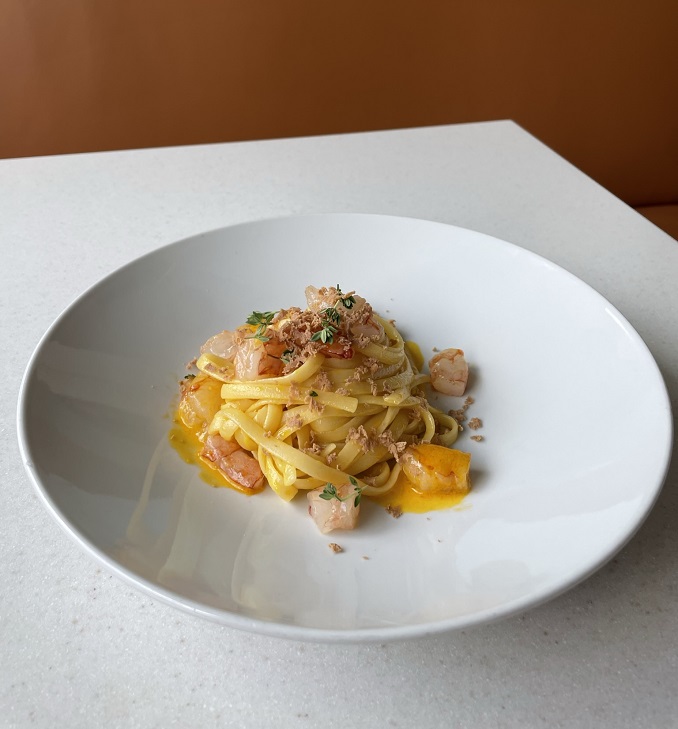 Gamberi & Bottarga Pasta
Ingredients:
• 90-140 grams of Linguine Pasta, try to find a high quality durum wheat pasta from Sicily or Italy
• 6 small cubes of Butter
• 1 tsp Chilli oil
• 100 gr. Tuna bottarga (cured tuna roe), shaved just around 10-15 gr per portion
• Lemon zest, 1/6 of one lemon
• Two small pinches of fresh lemon thyme
• Wild red shrimp, 3 pcs chopped (roughly 70 gr per portion)
Directions:
1. Boil a pot of water with a good amount of salt to season the water. This is very important as it is what gives flavour to the pasta. Add pasta to the water.
2. As the pasta is cooking, in a medium bowl, add half of the butter, shrimp, lemon thyme, chilli oil and around 4 tbsp of the boiling pasta water. Mix together.
3. When the pasta is cooked Al dente (cooked to the time the package), add to the bowl with other the ingredients. Mix them together. If it looks dry, add more pasta water and keep mixing together. The pasta will start to release starch, creating a nice saucier texture. Add in your remaining butter to make it creamy.
4. Use a nice large pasta bowl to plate, twirl one portion and finish with shaved bottarga, lemon zest and a few pieces of thyme on top.