Chef Gianluca Ruggieri shared with us his wonderful family recipe for his Tata's Panzanella, a refreshing take on an appetizer that reminds him of summertime growing up in Rome. It's a simple but magical mix of old bread soaked in water and then topped with squished tomatoes, olive oil, and a little salt, how his grandmother prepared it for him as a child, but with his own twist. Every dish Chef Gianluca makes is an example of how he crafts all of his recipes – with love and emotion.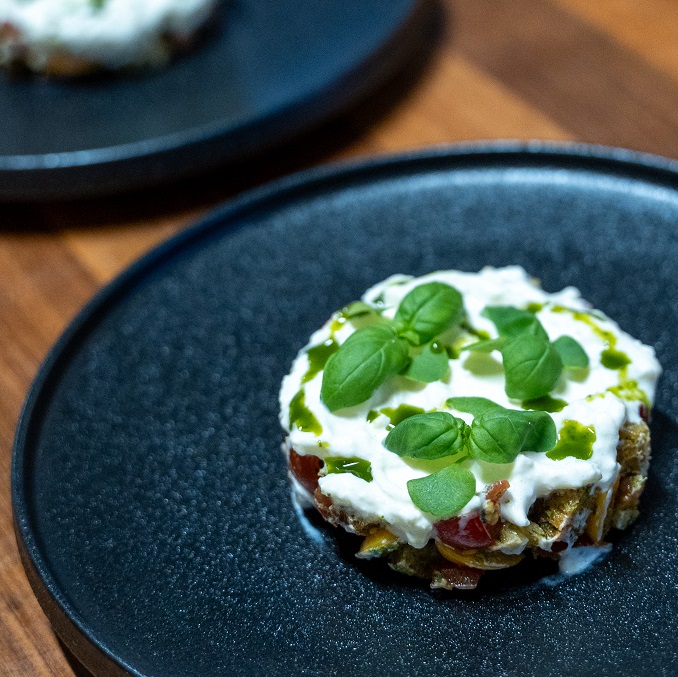 Tata's Panzanella
Yield: 2 Appetizers
Ingredients:
1 cup Sourdough Bread
1 cup Cherry Tomatoes
1/3 cup Red Onion
1/3 cup Goldenberries
1/2 cup Olive Oil
1 + 1/2 cups Fresh Basil Leaves
Salt and Pepper (to taste)
1 cup Fresh Stracciatella cheese
Directions:
For the Basil Olive Oil
1. Bring a pot of water to a boil.
2. Briefly blanch the Basil leaves for 30 seconds, then cool them immediately in an ice bath.
3. Remove the Basil from the ice and gently pat it dry with a paper towel.
4. Blend the Olive Oil and Basil with an immersion blender until smooth.
5. Prepare a larger bowl with ice water and place a smaller bowl on top.
6. Pour the Basil + Olive Oil mix into a coffee filter and let it sift in the smaller bowl. This step enriches the colour of the oil.
7. Keep the blended Basil on the side, as it will be used to season the Panzanella.
8. Store the Basil Oil in the fridge for future recipes.
For the Sourdough Croutons
1. Cut your Sourdough Bread into 1/2-inch cubes (preferably stale).
2. Toss the cubes with 1 tbsp of Olive Oil, Salt, and Pepper until evenly coated.
3. Bake the croutons in the oven at 375°F until they turn golden and crispy.
4. Allow the croutons to cool completely before using.
Final Assembly 
1. Cut the Cherry Tomatoes and Goldenberries into 1/2-inch cubes.
2. Bake the Red Onion cubes for 5 minutes at 375°F to mellow out bitterness and bring out a delicious sweetness.
3. In a mixing bowl, combine the Cherry Tomatoes, Goldenberries, Red Onion, Sourdough Croutons, 2/3 of the Basil Olive Oil, and half of the Basil reserved from the coffee filter. Mix until everything is well combined.
4. Season the mixture with Salt and Pepper according to your taste.
5. Use a 4-inch round cookie cutter to create a beautiful round shape. Fill half of the cutter with the mixture and gently apply pressure to compress the salad and give it a pleasing form.
6. Top the salad with the fresh Stracciatella cheese. The Panzanella will be so flavourful that seasoning the Stracciatella won't be necessary, but feel free to do so if you prefer!
7. Remove the cookie cutter, revealing the delightful shape and colours of the salad.
8. Finish off with a sprinkle of Black Pepper and drizzle Basil Oil for added colour (and flavour!). Buon Appetito!
***
About the Chef:
My name is Gianluca Ruggieri, and I am a Private Chef living in Toronto for the past four years. Although I was born and raised in the enchanting city of Rome, my culinary journey has taken me on a path I could never have imagined.
Food has always been an integral part of my life, as it does for many Italians – it runs in our blood. My culinary adventures began at the young age of 6 when I would eagerly help my Nonna prepare her incredible gnocchi or assist my Dad in rolling out his famous "Crostata Dough." Little did I know that these early experiences would ignite a lifelong passion for cooking.
By the time I was 11, I couldn't resist experimenting with food on my own. Instead of simply enjoying the dishes prepared by my parents, I felt compelled to create my own culinary delights. It was then that my true passion for cooking took root and began to flourish.
After completing high school, I chose to study Psychology at university, thinking that it might be my destined career. However, I soon realized that nothing brought me as much joy as preparing delicious food for my family, friends, and myself. Guided by the love and support of my parents, I decided to follow my heart and enrolled in a Culinary Academy in Rome, embarking on a culinary adventure that changed my life forever.
Working in various prestigious Restaurants and Hotels across Rome honed my skills and exposed me to the rich tapestry of culinary experiences. But my journey didn't end there; Toronto beckoned with its vibrant food scene and the promise of new culinary horizons.
Embracing the opportunity, I moved to Toronto and had the privilege to collaborate with incredible chefs, learning about diverse cuisines that enriched my culinary repertoire. My culinary story continued as I worked in different restaurants, and I even had the opportunity to serve as a Corporate Chef and Culinary Academy Trainer.
However, my passion and love for food led me to take the most significant decision of my career – becoming a full-time Private Chef. It was a defining moment that allowed me to focus on my craft, creating unique dining experiences for my clients and elevating the art of cooking to new heights.
Today, I present to you one of my most beloved dishes, a treasured creation currently on my menu, and adored by my clients. It embodies my dedication, creativity, and unwavering commitment to delivering unforgettable culinary moments.
My journey from Rome to Toronto has been a remarkable one, filled with culinary adventures, and it has allowed me to share my passion with those who appreciate the artistry of food. I'm humbled to be part of Toronto's vibrant culinary scene, and I look forward to continuing this exciting journey, sharing my love for food with each exquisite creation.