Brewfest returned to Toronto for a third year and it is safe to say that Toronto's biggest indoor beer festival is getting better with age.
Annually taking place at the Enercare Centre, Brewfest featured over 150 beers from Canadian Brewers, specifically from Ontario and Quebec. The great thing about the festival is that, sure, you'll find a few of your already established favourite local beers, but you'll also discover some new up and coming breweries with some delicious craft beer on offer. My favourite thing about the festival, however, was the special limited edition beers being offered by my favourite brewers. I have an enduring love for Oast House's Barn Raiser, so it was a delight to try their chestnut brown ale, which for me was my favourite craft of the festival.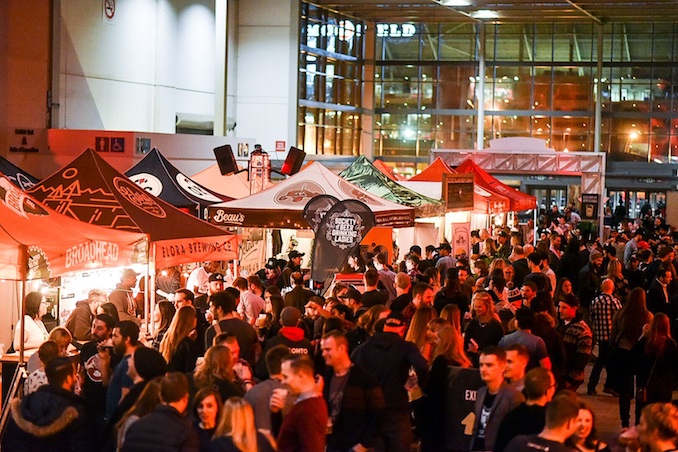 There was something for all beer lovers here, including a delightful array of sours, stouts and porters. A classic Left Field Sour won my tart vote of the evening.  Of course it isn't all beer, either. I tried a sweet and delicious Blood Orange Cider by Thornbury Village, and that was just one of many ciders on offer. Of course there were harder drinks available too, although really, who goes to a beer festival to drink Jack and coke? I guess we all have that one friend…
I came across the Cowbell Brewing Company when finding a home for my last few beer tokens, and I have to say, I wish I had saved more for them! Their Blueberry Box was a summery treat on a cold winter's night, and if I ever find myself in Blyth, Ontario, I'd be sure to pop in and grab a few cans and see what else they have on offer!
I very much enjoyed rounding off the night with a Coconut Porter from the Society of Beer Drinking Ladies as well as learning about their group and the event nights they run in the city. Honestly, that is one of the nicest things about Brewfest; it is more than just beer on offer; there is starting to become a sense of community amongst the beer lovers of Ontario. Brewfest doesn't need disco lights, DJs and pumping music; honestly in that respect it could afford to tone it down a little. All it needs is brewers who are passionate about their work and drinkers who are passionate about craft.
So what of the issues posed by previous years festivals? Well, this year I was pleased to see the prices for samples were much more affordable, allowing people to try more craft offerings, which really is what it is all about. The food truck game, in my opinion, still has a little way to go. $13 for vegetarian poutine is a bit much, and there were just 5 vendors to choose from, none of which I would describe as "gourmet", but peddling reasonably gourmet prices. I did enjoy a much more reasonably priced veggie hotdog from Sausage Party and my friend had a seemingly tasty meat pie from the North Shore Pie Company.
So, Brewfest? Good! Getting better by the year! Hopefully next year the growing sense of community will be even stronger!