Last week, I had the pleasure of sitting down with Brad Smith, whose latest novel Crow's Landing has been receiving rave reviews. This is Brad's second novel featuring beloved character Virgil Cain, who finds himself in a sticky situation when he fishes a cylinder of cocaine out of the Hudson River. Brad will be speaking on a panel of writers at the International Festival of Authors at the Ex next Monday, August 27th, at 5:30 pm in the Direct Energy Centre, Exhibition Place. We have 2 signed copies of his book to give away. Just check out our Twitter Link for details on how to get one.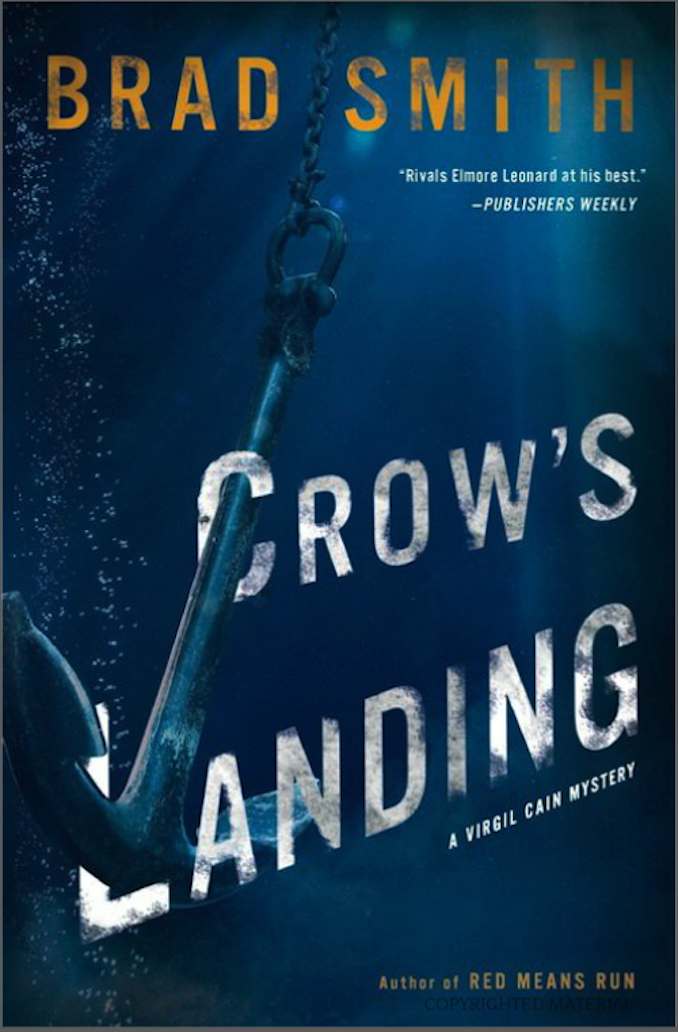 In a moment of sweet synchronicity, I read Crow's Landing while visiting Upstate New York. It really got me thinking about landscape and writing. I wonder if you might say something about how landscape influences your writing?
Crow's landing is situated where it is because of the predecessor, Red Means Run, which had a musical background to it. The main villain, if you want to put it that way, was a famous music producer who ends up killing a famous movie producer. So I needed to put it someplace that had a musical background. There's no place in Canada where that would work. I thought about Nashville, but I'd written a previous book, Big Man Coming Down The Road, in Nashville and it didn't quite fit what I wanted. So, I was looking around on a map and thought about Woodstock. Of course it's got all the great history of Bob Dylan, The Band, and Van Morrison lived that at one point. The famous Bearsville studio was there and the concert. It just seemed to be a really good fit. I drove down there and scoped the place out and just loved it. I said, okay, this is where Red Means Run needs to be, and so when it came time to write another one with Virgil Cain, I had this idea about the cocaine cylinder. It actually comes from a true story that happened here in Toronto. A Toronto cop told me it about ten years ago. Some guys were coming into the harbour here with a cylinder full of cocaine and the cops were there and they threw it out. Nobody's ever found it. So, when we're done the interview…
Yeah, I'm heading down to the harbour to try to fish out a cylinder… One-eyed Jacks was set in Toronto. Is that the only one of your novels that is set in Toronto?
Yes, and it was a period piece set in the 50s.
Did you draw on your experience of having lived in Toronto or was it more of a historical thing?
Actually, it was more of a cultural thing from the day. The music, the movies, I referenced "Some like it Hot" and the music big time. The female protagonist is a torch singer, and she sings Hoagy Carmichael and Irving Berlin and all those old and classic songs. Toronto in the 1950s doesn't exist anymore. I went through the back door and did all the cultural research to window dress the book, you know? The Cabbagetown, where the boxing gym was in One-Eyed Jacks, was a very different place back then. It was rough and tumble.
When you were in Toronto, what were your favourite haunts? Where did you like to hang out?
Jarvis House was still open; I used to go there a lot. I remember seeing Doug and the Slugs there. They were just sooo good. Doug Bennett just had this great voice, you know? I remember seeing Tom Waits at the Music Hall. It was one of the better shows I've ever been to. He had the entire rear end of a '62 or '63 T-bird on stage. The taillights would come off and on. He had an old gas pump up there and a streetlight. It was around the time of the around the time of The Heart of Saturday Night. It was an amazing concert.
Any Favourite CanLit authors? Bonus points if they're from Toronto.
Do they have to be from Toronto?!? I think the guy I like the best is probably Guy Vanderhaeghe. And older guys like Mordecai Richler.
I know you did a short film for Bravo and a television series? Are you interested in adaptations?
Yeah, All Hat was optioned. It was a feature film at TIFF in 2007. I've done quite a few screenplays. One-eyed Jacks was optioned a few times – Burt Reynolds tried to option it once. Busted Flush was optioned by Anonymous Content (who did Eternal Sunshine of the Spotless Mind). I've had a lot of stuff optioned. I am interested in it. I'm a real film buff. It's hard to do it and do it well, though. The stars all have to align, and sometimes even when the stars are aligned, it still won't turn out. My novels are very character driven and plot driven. So, I think they adapt well. It needs a sensibility of Tarantino or the Cohen brothers. All great dramas have comedy in them, and all great comedies have drama in them. Sometimes if you don't add that element, it doesn't work. How many days in your life do you not laugh?
Zero. I hope. So far so good. Do you have any words of wisdom for young aspiring writers out there?
You gotta read a lot and you gotta write a lot. Going back to the film world, how many young guys in their 20s wanna make a great film but haven't watched a lot of the great films? You gotta read a lot to see how it's done, not to copy someone's style, but to develop your own. And you gotta write a lot. Wayne Gretzky didn't become great by lying on his couch.
Something I'd like share about Crow's Landing. I've been getting a lot of good feedback for it. I think it works because I've got a really good bunch of bad people in it. They all play off each other. If I'm just gonna write Virgil Cain books over and over again, then you get to know him, but he has to have somebody to bounce off of in order for him to react. I've done the first draft of the third one. It's going to be about the movie business. Virgil has to work on a movie set.
Is that what you're working on now?
Yeah, I've got the first draft done. I've got to go down to New York State next month and do some more research. I basically just write about places where I want to go. I like to travel. The absolute best place to get information is the local bar. Just say, 'I'm working on something', and everyone wants to talk to you.
Article written by Laura McKinley