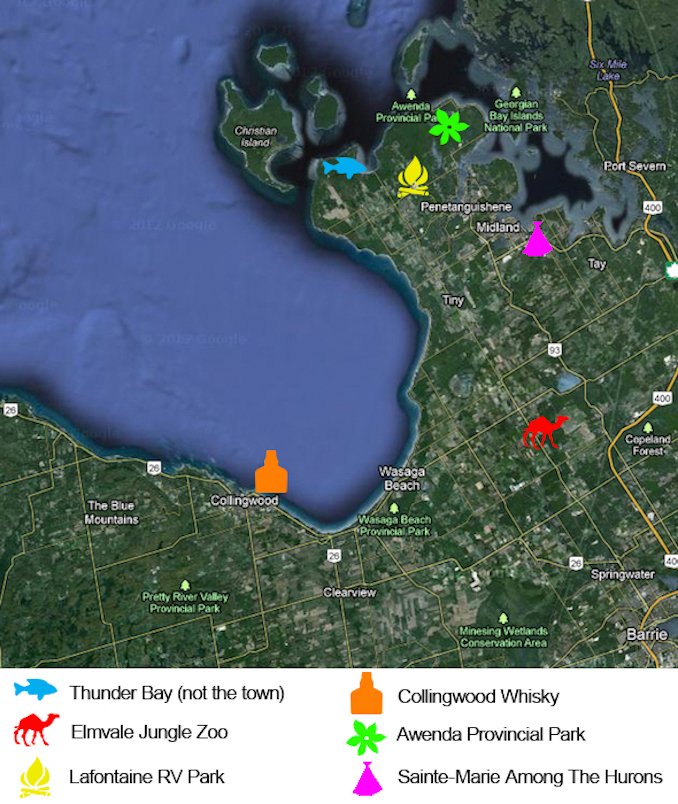 One of the great things about Toronto is that it is situated near some of the best destinations in the province of Ontario. The second largest and most populated province has many natural attractions with approximately 250,000 lakes and hundreds of provincial and national parks to be explored, as well as many small towns who all have their own unique history and draws. This past weekend I was able to get up to the Georgian Bay area to see the variety of options people visiting the area would have in terms of accommodation and attractions. Honda Canada was kind enough to hook us up with one of their cars for the journey up.
From Toronto to the southern most point of Georgian Bay it is about 150 km which would put you right at Wasaga Beach, a popular summer hangout and party town for weekend vacationers. Wasaga is about 10-15 km away from the town of Collingwood which is a popular summer and winter destination having Blue Mountain ski-resort as well as many caves and natural attractions to explore. We also found out that Collingwood Whisky was bottled with water from Georgian Bay so we brought a bottle of it along for the trip.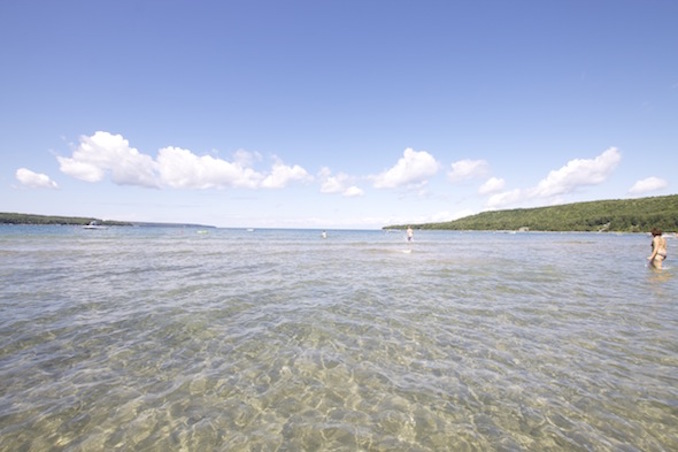 We were staying at a cottage 165 km away from Toronto on the edge of a bay called Thunder Bay (no relation to the town). We wanted a car with good fuel efficiency so we chose the Honda Fit which is one of the best non-hybrid gas cars with a 4-cylinder engine and a 10.6 gallon tank. After having detoured to the airport we arrived after only using a quarter of a tank. The whole weekend we used about one full tank of gas which cost around $50 to fill up from empty.
The lake where we were was clear, warm and was bordered in some areas by a rich white sand beach and in other areas by pebble and stone shores. In either instance it was obvious why so many public, and private, swimming locations existed in the area. One of these areas was along the shores of Thunder Bay (once again the body of water, not the town). The white sand and the calm water of the bay makes for a great cottage location. Much of this beach is taken up by private residences which upon arriving made us feel like we had arrived in the Hamptons. A small 30 foot wide area of the beach is preserved for the public.
Don't worry, if you are not a millionaire you can enjoy this area as well. I drove around on the Saturday to visit some of the camp grounds and parks in the area. The area is littered with provincial and national parks many of which have camp grounds ranging from electricity run cabins to unfurnished grounds out in the bush. The first place I checked out was Lafontaine RV Park which is located in Penetanguishene, Ontario. The park has lots for your RV as well as RV and Cabin rentals. The benefits of staying at a place like this is their amenities such as a pool, a hottub, playgrounds for kids, an arcade, a recreation area, bike rentals, fire pits and access to water and toilets with plumbing. Prices here will run as low as $30 a night with $3-$6 extra per person for the unserviced lots. You also have the option of renting a cabin for as low as $95 a day based on 2 adults and 2 children.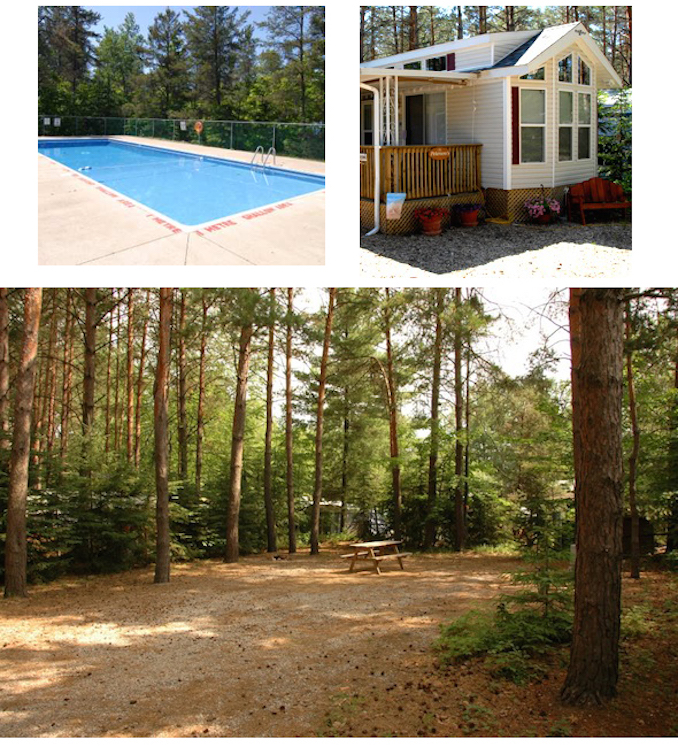 The second location that I visited was Awenda Provincial Park which was located just north of  Penetanguishene, Ontario. The park has over 300 camp sites, some with electricity and amenities close by, and others without such luxuries for the more seasoned camper. The park consists of Giants Tomb Island and the mainland portion of the park where the camp grounds are located. Kettle Lake rests in the centre of the park and is an ecological hub and focus of studies on the biodiversity of the region through the ages. Visitors can rent canoes and fish on this lake as well as take a hike around the 60 acre body of water. Fees for camping at this location range from $30-$46 depending on your level of commitment to unplugging.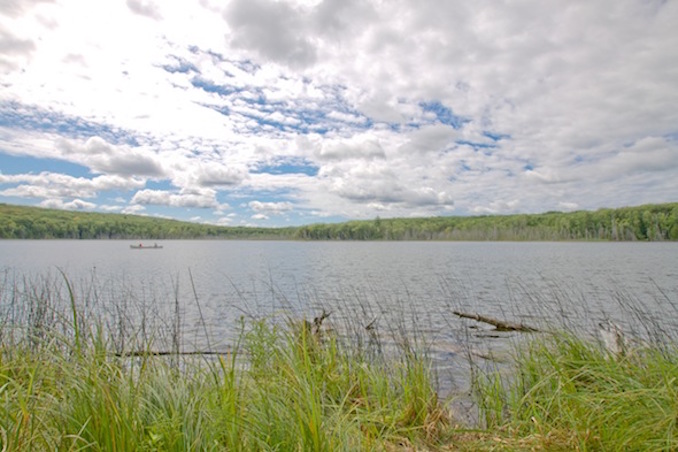 Southern Georgian Bay also has a unique assortment of attractions such as the Elmvale Jungle Zoo, Collingwood Whiskey, and Sainte-Marie Among the Hurons.
Elmvale Jungle Zoo has been in operation for 45 years and has a collection of animals ranging from flamingos to camels to tigers in its 25 acre enclosure. Only an hour outside of Toronto the park can be a great attraction for those wanting to do a day trip. Prices are also cheaper than other animal parks with prices ranging from $8.50 for children 2 and up and $16.50 for adults.
Collingwood Whisky was nice enough to provide us with a sample bottle for us to try out. The whisky is made in Collingwood with water collected from Georgian Bay. Collingwood is the only Maplewood mellowed Canadian whisky available on the market and has a non-complicated blending process using just two types of whisky, both produced at its home distillery. It is then maple mellowed prior to bottling. The result is a more flavourful and sweeter tasting whisky.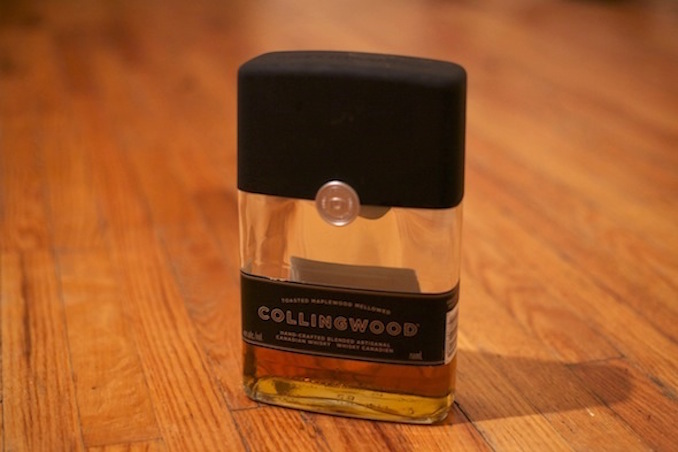 Sainte-Marie Among the Hurons is a National Historic Site of Canada and was reconstructed after archaeological digs discovered the ruins of the French Jesuit settlement that ran from 1639-1649. The site now serves as a live history museum reliving the ways of the French colonists who lived amongst the Wendat people who were native to the area.
Rural Ontario is also much about the people and the community. There were a couple places that I found that were great local hangouts. I came across a sign for a sports bar while driving back from Awenda park and I followed signs down a long private road past a rundown baseball diamond until I arrived at it. A large bar in the middle of a valley of trees with pool tables, good food, and a rental area for parties. If you are in the neighbourhood be sure to check out Maple Valley Sports Bar's Rib Fest happening Saturday, September 8th 2012.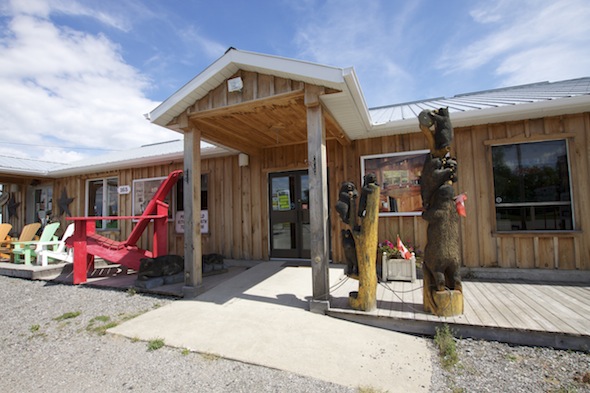 Every small town has their tuck or tackle shop. This town's store had giant Muskoka chairs and homemade Fudge. There were so many things to see and do and these were just a few. Check out some more of the pics from the weekend.