Brewfest is back and in a brand new location at the ever cool Evergreen Brick Works.
Now in its fourth year, Brewfest has fast become a Toronto winter festival favourite and the sense of occasion is increased in its new home which comes complete with fairy lights, an ice rink and a speak easy, if you can find it, that is.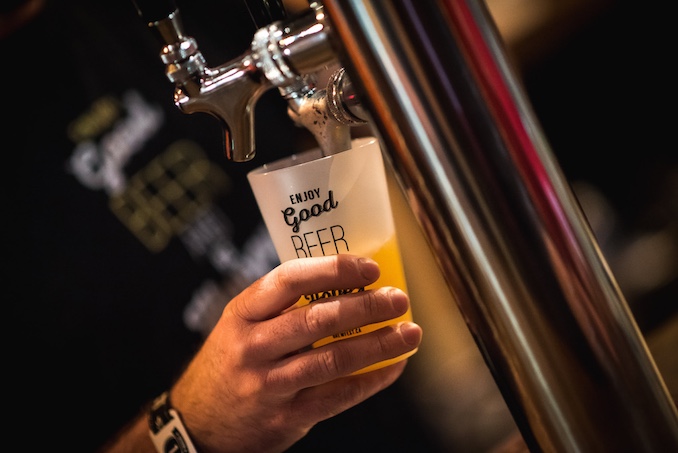 With 19 brewers on sight and a beer list of hundreds more, there is so much to try across the festival. This year, I am very happy to say, I feel like the price point was finally spot on. Entry to the festival will cost you just over $20, or $30 if you want ten tokens to spend on tasters. This year there are tasters available from exhibiting brewers for as little as $1 which is a massive bargain. My insider tip is that the exhibiting brewers tend to be more cost efficient and gung-ho with their pours.
There are so many lagers, ales, stouts, IPAs, all of it, that it seems almost pointless to tell you my favourites, but I will anyway. I absolutely adored both festival offerings (a coco nib stout and a fruity spiced sour) from Black Lab Brewery, an East End darling. I also very much enjoyed Nicklebrock's blood orange table beer and Oast House's chestnut ale. The winner of the evening though was Muskoka Brewery as a whole. Their prices were great and their beers delicious. I loved the Black  Raspberry Thunder, a 6% Milkshake IPA and the Ginger Brewed Man, which was a surprise to me as it wasn't on the original beer list.
Brewfest offers an Ecocup tasting glass with entry, but for those who want something a bit more commemorative there are glass tankards available for purchase, or as part of VIP entry.
Brewfest is obviously a place for beer lovers; there is even an opportunity to talk in depth with an expert onsite, but if you aren't into beer there are a good number of ciders as well as wines and spirits on offer too.
There are food vendors, although I would have liked a few more as towards the later part of the night the lines were getting pretty long and there weren't many areas to actually stand and eat your meal. I can recommend the vegan hotdog stand, but eating a hotdog with all the garnish whilst yielding a beer in the other hand is a pretty hard task and I think perhaps more tables were needed.
I wish Brewfest was offering Sunday day sessions as well as Saturday as I imagine the day session would be a slightly more chill affair. The evenings are a lot of fun with a pumping DJ and some impromptu dancing, but I can't help but think many people in the city may enjoy a slow amble with their stout so I would recommend more day options to the festival in future!
All in all I spent roughly $25 after admission and managed to taste 8 different beers and eat a hotdog, which I think is pretty great. Plus also supporting local brewers and a cool festival? Well that's priceless in my opinion.
Get your Brewfest tickets now.