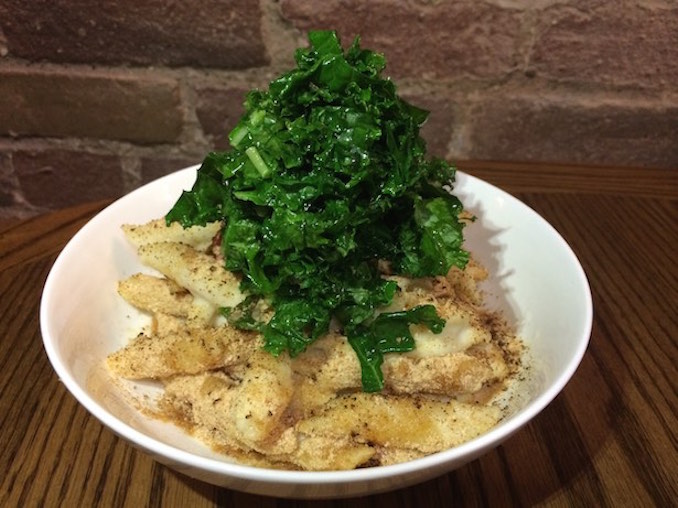 Intro from Chef Brent Richardson
This is a classic take on mac 'n' cheese with four cheeses. The main cheeses are all Swiss and complement each other nicely. I also like to add some goat cheese for a different texture and some surprise flavour. Also some cherry tomatoes which helps to add some acidity and mimic the classic ketchup flavour taste. It's paired with a side of sauté kale instead of the classic collard greens. The kale side is a nice modern option and it helps to off-set the rich and fatness of the mac n' cheese.
Ingredients
For the béchamel (Cheese Sauce)
4 cups whole milk
8 tbsp unsalted butter
1⁄2 cup all-purpose flour
8 oz Swiss Emmentaller cheese
8 oz Swiss Gryere
8 oz Swiss Appenzeller (sur choix/medium strength)
8 oz Ontario goat cheese
1 tbsp garlic powder
1 tbsp onion powder
1 tbsp mustard powder
salt and pepper to taste
To Assemble
1 lbs elbow macaroni
2/3 cups panko
1 cups cherry tomatoes
For Side Sauté Kale
2 cups green kale
1⁄4 cup shallots
1 tbsp olive oil
1 tsp garlic
salt and pepper to taste
Instructions
For the béchamel:
-Heat the milk in a medium saucepan over medium-high heat until it just comes to a simmer, then turn off the heat and set aside.
-In a large, heavy-bottomed saucepan, melt the butter over medium heat. Add the flour and spices and whisk constantly until the mixture turns light brown in colour, about 3 minutes. Remove from the heat.
-While whisking constantly, slowly add the hot milk to the flour mixture until evenly combined and smooth. (It will get very thick when you first add the milk, then thin out.)
-Return the saucepan to medium-high heat and add grated cheese while whisking constantly, cook until the sauce is smooth, and thickened and coats the back of a spoon, about 2 to 3 minutes. Add salt and pepper as desired. Remove from the heat and set aside.
To assemble:
-Bring a large pot of heavily salted water to a boil over high heat. Add the pasta and cook until it's almost al dente (just on the edge of being underdone), then drain and rinse with cold water; set aside. Heat the oven to 400°F and arrange a rack in the middle for the baking of the mac 'n' cheese with panko.
-Add the pasta to the béchamel, and fold in cherry tomatoes. Transfer to a 5-quart baking dish, sprinkle with the panko, and bake until bubbling and brown on top, about 25 to 30 minutes.
Side of Sautéed Kale
Heat olive oil in a large saucepan over medium-high heat. Add shallots and garlic and cook until soft, but not colored. Raise heat to high, kale and toss to combine. Cover and cook for 5 minutes. Remove cover and season with salt and pepper to taste. Remove from heat and set aside.