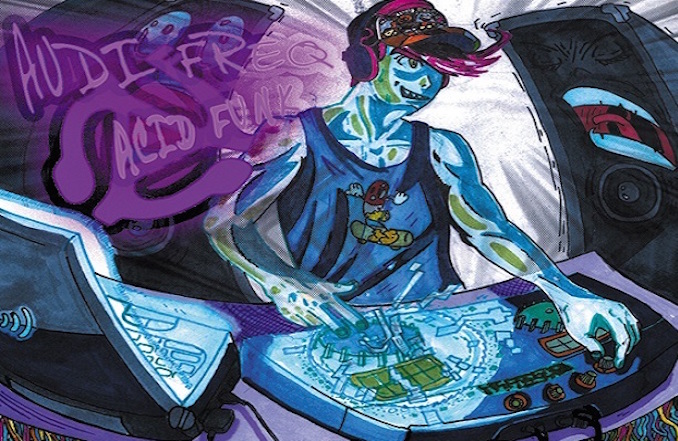 Although it's always fun to highlight some of the (many) talented DJs that come from and visit Toronto, it remains a personal favourite of mine to shine the spotlight on the promoters who make shows happen. I've thrown raves for long enough to know how hard and thankless (and expensive) a task it is, especially in the underground where we can't expect big corporate sponsors to write off all the costs for us.
One of the promoters who's been really building a strong following lately is Audi Étoffe, owner and founder of Acid Reign. Audi's been working his tail off over the past couple of years to build up Acid Reign while at the same time mastering his DJing, and his hard work is showing in how capable he's become and how smooth his events are.
Please keep reading for a  look at Audi's personal history, his passion for electronic music, and his dedication to the vibe. Enjoy!
When and why did you start throwing parties?
Initially joined up with Gil and Di Salle to throw events after freelancing for a while. Then, I broke away a few months later to join up with Trinurgy to forum Bass Tha F#ck Up. But that was plagued by a lot of internal strife, so last summer I took it over and gave it a new identity as Acid Reign. I have always had an obsession with the underground rave scene of the 90's – there's something magical about those parties, I want to bring some of that magic back to Toronto.
Before that, a decade ago I was a socially inept Otaku, on my way from my home town of Kingston, to Toronto for an anime convention, when my friends wanted to ditch to check out a rave – a term I hadn't event heard of before. I was 16 at the time and didn't even like going to school dances. But after one taste I was hooked. I had never felt so included, never experienced such energy. I tried to take the rave back with me, picked up some turntables and started practicing to bring raves to my small town. My fist gig was a school dance I organised as an "underground rave" until the principle had me remove every instance of the word "rave" from the event. By the time I moved to Toronto no club promoter in Kingston would return my calls. Anything outside mainstream EDM was an impossible venture at the time.
What sets your company apart from other promoters in the city?
A serious lack of style. And love for the community above all else, including money. A motley crew of unorganized ravers trying to throw the events we want to attend. Not even a crew, Acid Reign is just Zia and I.
How would you describe the musical talent at your events?
Varied to say the least. Last summer all of our events were showcases featuring a different style or label every week. Everything from Deep House to Hardcore. The events were a total mess but we got to feature so many amazing talents. Though we still have no clear aim in terms of style, I have shifted my focuses to Psychedelic electronic styles including Acid and Progressive Trance. Both in DJing and events. But we will still have our monthly featured events (and bi-weekly come summer).
How many people work with you on this project? Who are the others, if any?
Zia and I are Acid Reign. No matter how many people we have tried to hire in this past year, good help is impossible to find. Zia and I do the promotion, he has an amazing collection of talents available. I do the social media, venue booking, flyer and graphic design, and fund it all.
What is one achievement of which you're particularly proud?
I haven't achieved much to be proud of yet. But I am proud to be a member of the amazing Toronto underground rave scene. It's such a beautiful community.
What are your future ambitions?
I would like to be able to burn out at some point without going broke.
If you had to describe one of your events in just one short sentence, what would you say?
Can do it in one word: inclusive.
Is throwing events your primary purpose?
No, I would say right now I am evenly split between making/spinning music and throwing events.
What atmosphere do you seek to create with your events?
An open and inviting community that is all inclusive without the VIP attitude of modern clubbing. I want to raise the production value without raising the cost as well.
What inspires you?
All those that came before me and are to come. So many amazing DJs and promoters over the years, who I have seen give their all for the rave. Especially you Timmy. (Editors note:) Also my wonderful girlfriend June has helped pick me so many times now, Acid Reign wouldn't be here if it wasn't for her.
Are you involved with the rave community in other capacities?
Anything I do for Acid Reign I do for the other production groups that reach out to us, I print flyers, promote, rent gear, help with setup and deco. The rave community is a family affair.
What's the biggest challenge facing you as a promoter at this time in Toronto?
Fighting the stigma of words like "rave" and "psychedelic" is a big one.
How would you rate the toronto rave community in terms of awesomeness?
It's a really divided community right now, people are sick of the corporate rave scene.
What are the most important elements of a good party?
The vibe above all else, no one vibe is good for all parties but our events thrive on the vibe of love. A love for everyone who shows up, for the love of the rave.
Do you have a "home base" venue for your events?
Not really; Bassline is our go-to but I try to vary the locations as much as possible to reach a wider audience.
When's your next event?
We just secured a monthly the first Friday of every month at the Velvet Underground. These will be showcases of Psy-Trance, Techno and some Hardstyle.
Audi's next event is TONIGHT at Velvet Underground. You can also follow him on Twitter and Facebook.
———————————————————————————————————–
VIDEO RODEO: Tired of the corporate mainstream taking over raves? Well you're not the only one upset with mainstream EDM. Enjoy this video of Mozart taking on Skrillex in Epic Rap Battles of History!
ATTENTION: VIDEOS WANTED!  Did you have a great time at a rave or EDM event and managed to capture it on video? We'd love to showcase short clips of you and your friends having a great time with great music.  Reach out to us with your name, the name and date of the event, and a link to the video if you'd like us to consider yours!
————————————————————————————————————
Ready to kick off the weekend and party hard? You've come to the right place! Below is a sample of what you can find this weekend and next in the rave and EDM community around Toronto. For more EDM event listings and reviews, check out our friends at EDMTor.com!
UPCOMING EVENTS: Fireflies in February – Friday, Feb 6th @ 10 PM *TONIGHT*
Get your psytrance fix with Audi and a team of psychedelic all-stars bringing a steady diet of trippy beats at the legendary Velvet Underground (510 Queen West). Tickets are just $15 before 11 and this event runs til 4 AM, so get your most durable dancing shoes out and get ready to rave!
UPCOMING EVENTS: Sweethearts and Singles Speakeasy – Friday, Feb 13th @ 9 PM
Electro Swing TO is back in action with the swingin' speakeasy vibe at Revival Nightclub (783 College)! Get your electroswing fix and groove with a partner or find one there as we head into the Valentine's holiday. Featuring swing dance lessons, top electroswing DJs, and a live performance by A Little Rambunctious, this speakeasy beats the heck out of your usual Family Day plans! Tickets just $15 in advance, $25 for couples tickets.
UPCOMING EVENTS: NES Sessions – Friday, Feb 13th @ 10 PM
Who doesn't love classic NES? Royal Kiss breaks it down with an NES themed party at Nocturne (550 Queen West) including chiptunes headliner Touchboy playing on vintage video game gear and a Pokemon tournament in the second room. This event is free before 11 and just $5 after so check it out!
UPCOMING EVENTS: Synergy Sound Clash – Saturday, Feb 14th @ 9 PM
Join the lads at Future Perfect Synergy as they host a sound clash – two crews throwing down their finest for love of the music and the right to be called champion! Tickets are just $10 to party all night at Bassline (865 Bloor West) with Dungeon Kru Sound and Bass Driven Crew slamming the heaviest DnB you can take!
UPCOMING EVENTS: In The Game, Level 2: Smash Bros vs Mortal Kombat – Sunday, Feb 15th @ 9 PM
Video game raving seems to be on deck for the Family Day weekend, with In The Game Level 2 touching down at Nocturne (550 Queen) for a night of Happy Hardcore and DnB/Dubstep taking over the two rooms. Video game stations will be set up, and the best cosplay and kandie will win prizes. $10 for all ages and just $5 for 19+ admission; you've got Monday off, go out and rave hard!
Your bonus link this week: I just love all of the songs that this guy has made. Now you can love them too if you want.