One of the best events of the year at the globally-diverse cornucopia of dopeness that is the Harbourfront Centre, courtesy of Dalton Higgins and Co., is the yearly Soundclash Festival. Over 150 artists submitted their music for a chance to win up to $5000, and in this post-major-label, independent/Internet-phenomenon age, the sonic spectrum of Toronto has never sounded so satisfyingly stunning. A head-spinning array of artists rocked the small stage in the centre of the cultural hub as curious crowds gathered to dance, sing, sweat and ultimately select their favourite.
Spread across three days, (Friday, Saturday and Sunday), there was simply too many performances and possibilities for one person to absorb.
The Friday night festivities featured the always impressive audio culture experimentalists LAL, as well as newcomer/stunner soul singer Gyles, the eclectic Orchestre Poly-Rythmo de Cotonou, and the incomparably crazysexycool Maylee Todd. On the subsequent scorching hot Saturday afternoon, the Soundclash performers included a wild ass show by OPOPO (featuring a tied-up masked maniac nodding along on stage left, and rockstars making it rain Monopoly money), a smouldering session of magic soul by Chloe Charles and her accompanying 5-piece band, a I-Threes-and-Wailers-worthy blast of righteous rudebwoy reggae by Progress Negus and his back-up singers and gifted band, as well as the brilliant hip hop triple-threat Rich Kidd. It was hard to discern who the crowd cherished most, as the picture perfect summer heat, delicious food, glistening Lake Ontario backdrop and top notch performances by so many talented musicians. And having the radiant and bubbly sistren Tika Simone host the event was another layer of icing on the sweetness cake.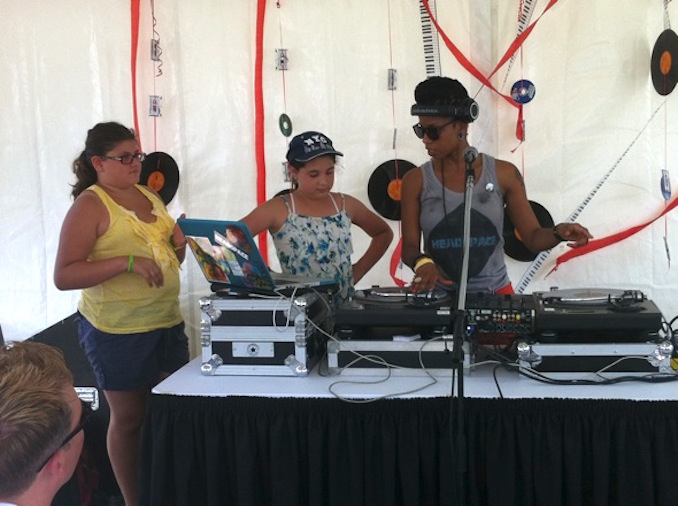 The DJ arts workshop, featuring the excellence of turntable veteran DJ L'Oqenz, taught participants mixing, scratching and the how-to's behind setting up a sound system, and had children of all ages coming up to the 1's and 2's, getting their first little zigga-zigga scratch on. The #1 Toronto mom-and-pop shop/musical institution Play De Record and owner/music lover Eugene Tam also blessed the venue with a music technology workshop, offering lessons on a variety of modern digital audio workstations, led by Seán Savage. On top of the always exciting and crowd energizing Braggin' Rights DJ Dance Battle that went down, Soundclash made sure that as many elements of the culture are represented as possible, because there is no limit to the artistic insanity Toronto is capable of creating, with its ever-expanding gallery of gifted culture creators.
The fun didn't stop there, though. Legendary Source scribe and real-life documentarian P. Frank Williams was also in the building, introducing a special version of 2 short docs he produced, one on Big Daddy Kane (for the popular 'Unsung' series) and another on Young Jeezy. Though there was some technical difficulties, it still ended up being an enlightening experience for the members of the audience, as many revelations about the Juice Crew and the South came to the surface in the subsequent conversations and Q&A session. As this was happening, DJ Tasha Rozez was outside, stirring up a quiet storm with Technics 1200's, and sending the Harbourfront massive into a bit of a frenzy by dropping dancehall jems and bombs. It was a great warm up to the mainstage headliners: first off, the uncomparable Freedom Writers collective, who came through on a mission to make Toronto listen. And listen, the people did, especially when they did a jackin'-for-beats remix of 'For the Change' with Frankie Payne's son holding placards of deceased rappers names while the group rocked beats from those lyrical saints the people praised. Big L, Big Pun, Tupac, Nate Dogg, Biggie Smalls and more, all were given immortal praise. Then they brought out the IceH20 representative and Toronto microphone mangler JD Era to smash a few beats before the night was done, and JD did the damn job proper.
The festivities began with happiness, continued with constant amazement, and ended on a very high note, with the rapt audience being blessed with a performance by one of Detroit's finest: Elzhi of Slum Village. With an appropriately amped DJ Nana playing selectah for Elzhi, the show was a magnificent display of brain-blistering lyricism and boom-bap brilliance. Not only was Elzhi spitting rhymes rapid-fire all damn night, but he was self-censoring his rawness for the delicate ears in the Harbourfront audience. If you know how intricate his wordplay is, you will appreciate the difficulty of this feat of conscious consideration. Rocking all the best songs from his modern day Nasty Nas-inspired classic "Elmatic", as well as some other catalogue gems of his, such as doing "D.E.M.O.N.S." acapella, and even taking a moment to cherish the co-operative Canadian crowd and appreciate the watercolors reflecting off the golden sun setting, Elzhi was the perfect end to a perfect day at the Harbourfront.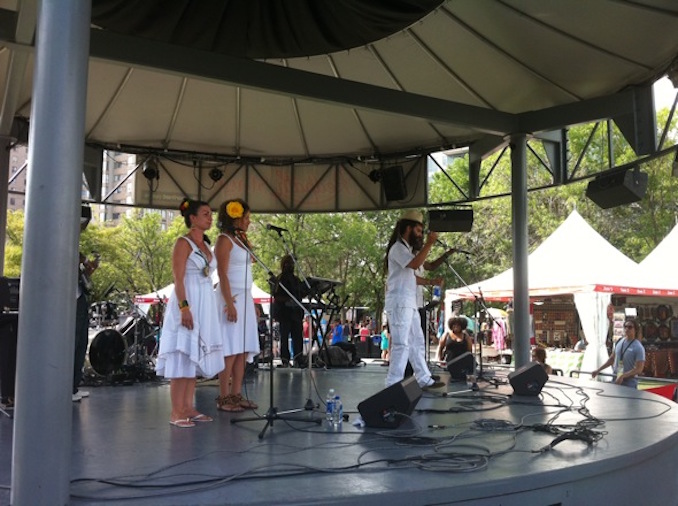 Mindbender loves you, Toronto.
http://www.harbourfrontcentre.com