Hieronymus Bosch; good God. Literally.
An intense 75 minute offering from Montreal choreographer, Marie Chouinard, left the audience questioning heaven and earth…and why a giant ball of yarn being birthed from a tent was so unsettling.  Drawing inspiration from famous Dutch painter, Bosch, Marie brings to life scenes from 1504 painting, The Garden of Earthly Delights. A garden of bliss, a scene of putrid hell and a scene of religious redemption; Chouinard took from Bosch's powerful images to create an even more powerful stage offering.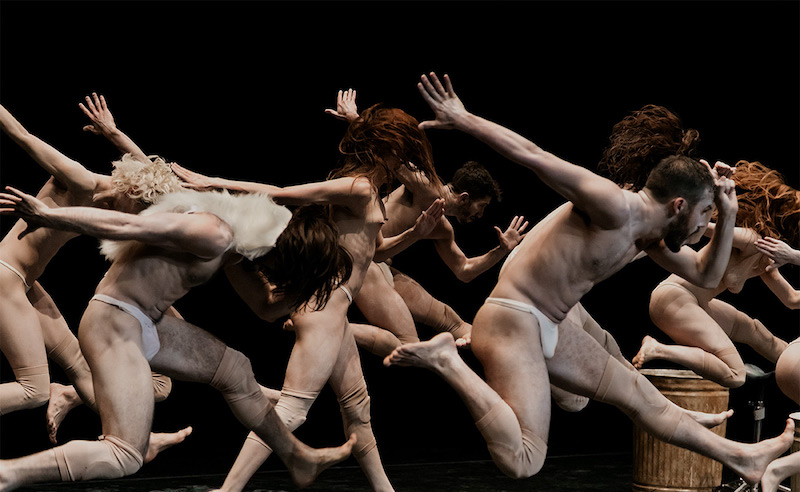 First act The Garden of Delights, taken from the central panel was by far the most enjoyable for the agnostic among us. Naked, carefree people having a lovely time relaxing on the grass, bathing in water, eating fruit, exploring…sounds like a lovely day to me! Things started to get a touch more tense as we journeyed up to focus on the top section of Bosch's central panel, depicting human development and advancement. By act two, we were in hell. Literally.
Hell was an interesting a place as Bosch presented in his Renaissance painting than it was on stage. Cleverly devised, there was a sense of sick play at work, and, despite the ear laborious ear splitting groans, was an enjoyable explosion of creativity. After some time, I began to think that my life is just one yellow wellington boot, strapped to a forehead, being repeatedly banged against a surface as a rudimentary drum.  I can see why one would turn to Jesus in act three. I would join a religious cult if it meant an end to the eternal banging.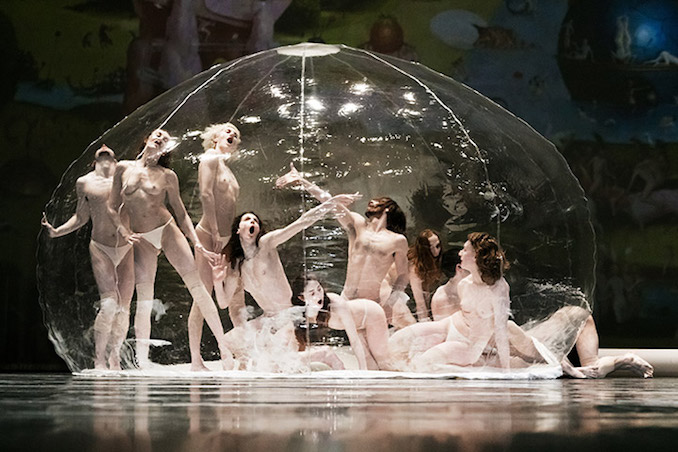 The real point of discussion here is the wildly talented dancers. It is always a treat to see bodies in motion and the bodies on display here were works of art in themselves. The way the troupe moved, flexed and contorted was endlessly impressive. While the solo and double motifs were impressive, the times that the piece became most captivating was when they moved together in unison.  The energy and the emotion truly radiated as the tribe created such engaging images. Obviously the dome moment was a huge crowd pleaser, too.
Like religion, this piece was somewhat arduous to experience, but it is culturally significant to Bosch's work and also a welcome display of talented dancers. It has to be said that my feelings towards the piece are largely tied up in my own personal feelings towards religion, but it does offer some thought provoking insight into man's relationship with environment and greed, and what that may possibly mean for ones future, be it in an afterlife, or the state of the earth if it continues to be abused for years to come.
Intense. Very intense.
If you get the chance to see this piece in a future engagement across Canada, then I would definitely recommend it as food for thought.
***
Visit their website for info and tickets for Hieronymus Bosch.