I was living in London, U.K when Chimerica premiered at the Almeida and essentially whipped up the city into a frenzy. Sweeping a Lawrence Olivier Award for Best New Play, Lucy Kirkwood quickly established herself as one of the U.K's most promising writers. All things considered, I was very excited to see what Canadian Stage and the Royal Manitoba Theatre Centre could do with this much celebrated new text.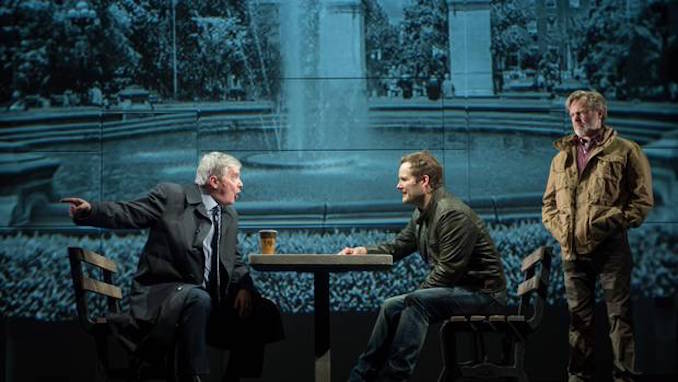 Let's get this out of the way with first, shall we? THE PLAY IS LONG. At just over three hours long, with an interval, it is important you have your wits about you, have some liquid and get comfortable. It is worth it though; Chimerica is a journey you want to go on.
Based on the infamous image of a protester, holding nothing but shopping bags and stepping in front of a military tank in Tiananmen Square, Kirkwood spins her tale of the photographer who took the picture and the profound affect that day in 1989 would have on him, and the Chinese friends he made, forever.
The production feels very authentic, with excellent snapshots of Beijing and New York providing juxtaposing backdrops to the action; both cities are busy, but one is forced to breathe in a murderous fog and labours under a communist government who will not allow for opinions to be voiced.
Evan Buliung and Paul Sun-Hyung Lee work well as photojournalist Joe Schofield and English teacher, Zhang Lin. Doug Mckeag and Laura Condlln make for good supporting actors, as do the rest of the diverse ensemble.
Director, Chris Abraham, and designers Judith Bowden and Decon Dawson, have responded well to Kirkwood's text. I particularly enjoyed Bowden's rotating set, which made the onslaught of scenes flow nicely.
Kirkwood reportedly wrote Chimerica over the period of six years. For a young writer, I can imagine she was very close to her writing indeed. There is no doubting that the production provokes deep debate about CHI-MERICA (inter Chinese and American relationships), however I think a little editing to the dialogue here and there wouldn't go amiss to help pick up the pace in a couple of areas.
Ultimately, Chimerica is a thought-provoking piece of theatre, executed well by Canadian Stage and Manitoba Theatre. Like the characters of Joe and Zhang, it is not 100% perfect, but it has a story to tell and an impact to make.
Chimerica runs at the Bluma Appel Theatre on Front St East until April 17th.