It's not every day that you get an invite to see a band you've never heard of that formed in 2001; it's even less common that upon listening to their most recent album, you find out that they are really great. Well that's exactly what happened last week, so I was intrigued to experience Autolux for the first time at Lee's Palace.
Sorry, I need to get this off my chest before we start. Lee, I hate to be the one to break it to you but this place is no "palace", nor has anyone ever been remotely fooled into thinking so. Where are the turrets, the gold leaf, the statues, the brash and uncompromising exhibition of wealth that only the super rich or leaders of our great nations can conjure up? At least paint a few cherubs on the ceiling or get some cardboard cutouts or something! Aside from the decor, Lee runs a pretty tight ship and I've seen some great shows here recently like when Viet Cong came to town.
Eureka the Butcher, great name by the way, provided the support. Who knew that it was Marcel Rodrigues-López, the keyboardist and percussionist of The Mars Volta? I would never have guessed from listening as this project sounds way closer to experimental dance music that progressive rock. He flittered between playing great keyboard lines and triggering live pads with real verve. Hiding under the most fantastic mass of hair, my favorite moment from the set was a track with heavily vocoded harmonizing vocals that got quite spooky. He gets a 'thumbs up' from me, but I would prefer to have seen him at 2 am surrounded by people dancing.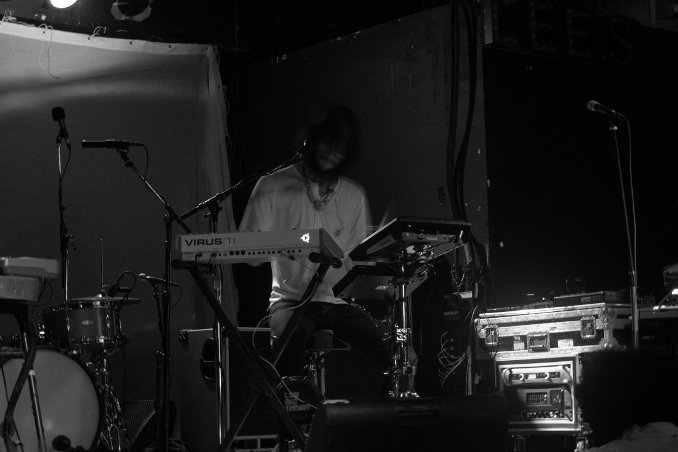 Autolux, which unlike Eureka the Butcher is not the most inspiring name for a band, came on shortly after as the crowd seemed to more than double. I wasn't really sure what to expect but had read a bit about Carla Azar (drums and vocals) and apparently she is quite the talent and has played in some of Jack White's side projects. Carla started by standing on her drum stool accompanied by Greg Edwards (guitar, vocals and keyboards) and Eugene Goreshter (bass, vocals and keyboard) building a really atmospheric opening.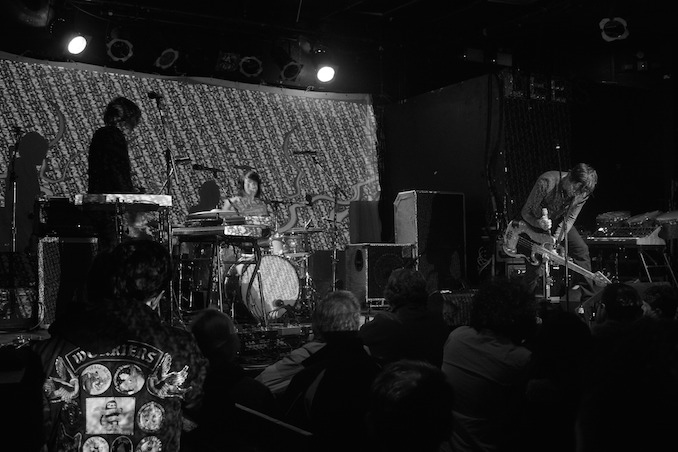 It wasn't long before the locked into some very krautrock guitar lines and grooves, with Eugene overlaying a subdued vocal. It was just about the most Sonic Youth thing that I have ever seen live. The atmosphere, for a crowd that was certainly not at capacity, was electric; that combined with their pulsating black and white visuals left me hypnotized in a daze of joy for a decent part of the show.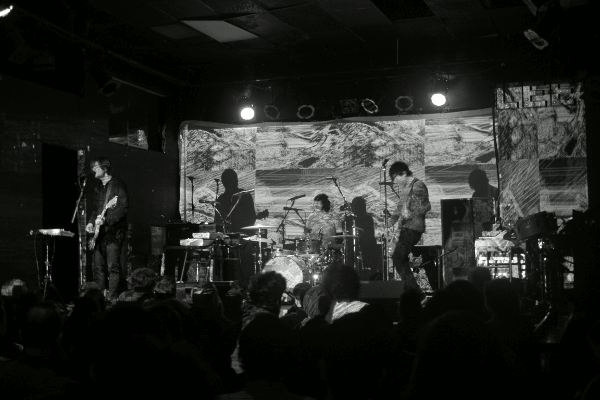 They've got a few strings to their bow, and in tracks like Change My Head they swerve towards a psych rock, almost Beatles-esque feel. Then they sway back to kraut rock before suddenly you're hit by a track like Soft Scene, which channels an awesome side of Radiohead (listen to Pulk/Pull Revolving Doors).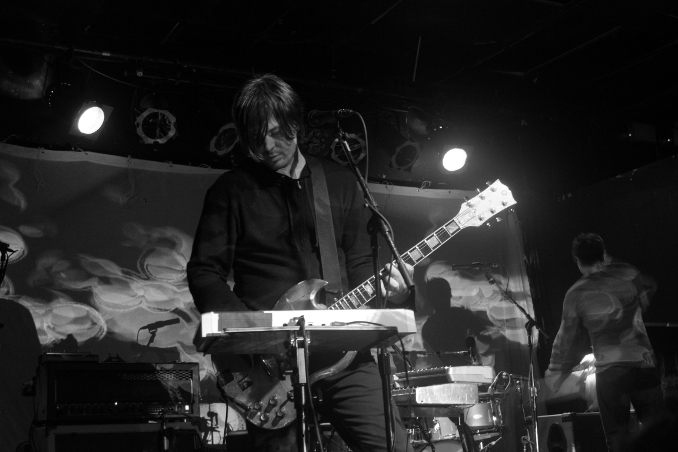 One thing I will say is that they did seem to fall a little flat towards the end as the intensity of the performance dropped slightly. Whether that was caused by the lack of diversity in the visuals, by the length or order of the set I'm not quite sure. Perhaps they partied too hard in New York? Don't be too distracted by my honest appraisal though – I'm like a schoolteacher always striving for perfection – it was a great show.
Read more about Autolux as they continue on their world tour. Their new album Pussy's Dead was released on 1st April 2016.