We've started to wonder what else we can do in the city. We've tried the escape rooms and throwing axes. We've floated in tanks and we've eaten in complete darkness. We've cuddled with strangers, driven in race cars and we've done sky diving…sort of. But what else can we do?
Toronto's Rage Room at Battle Sports Inc., located just north of Downsview Park in an industrial area, gives you about 30 minutes of stress releasing fun.  We've been taught all our lives to hold back and keep in control. At some point, some of us just need a break. Here's where you can do all the breaking your heart desires.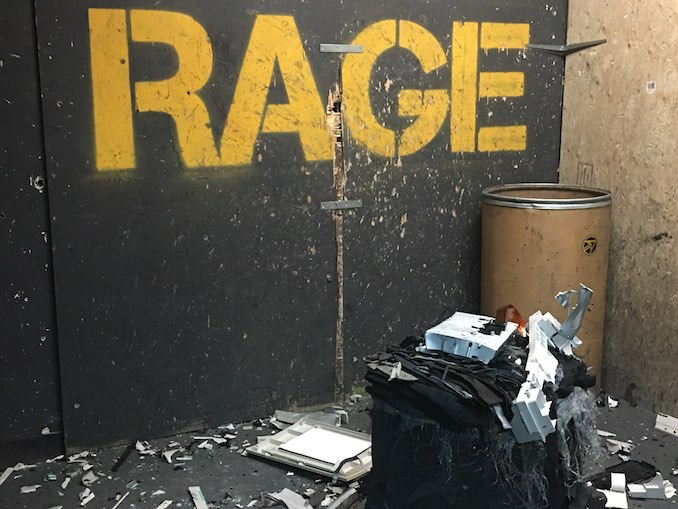 Had a bad day? Boss driving you crazy? Mean girls at the office judging you? Lost your smartphone? Got caught speeding on the Bayview extension…again? Collect all that angst and whatever irks you, channel your energy and fuggetaboutit all here.
What to expect? Safety first. The Rage Room staff suits you up with all the gear with face mask, hazard suit, safety vest and gloves (just remember to wear closed-toe shoes). Choose your weapon of destruction from their selection (crowbars, baseball bats).The room is small with no viewing area (that would be fun and hopefully they will work that in) but it's large enough for two people.
Depending on the package you select, there are categories of smashables. There are three packages options to choose from: Regular, Office Space, and a date night package for two. There are extras you can add on if you just can't get enough. Alternatively, you can bring your own stuff to smash ($10 fee per box/bag) – hmmm…so much went through my mind here. But you'll need to check if the items meet their safety requirements.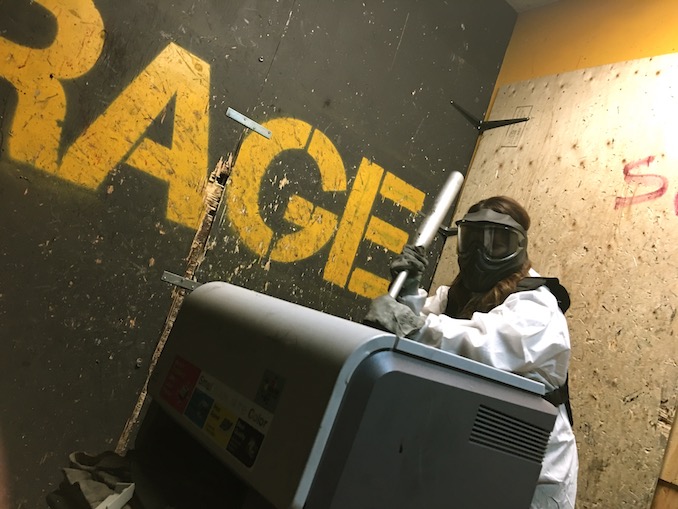 The most basic package includes a few glasses and beer bottles. It felt more like a warm up and I would strongly recommend moving up to something more substantial or bring your own since the glassware is too quick and while fun, isn't quite enough to get any frustrations out. We had a printer to rage out on and that was much better as it takes time to pound the shit out of it. About 15 to 20 minutes satisfied our rage.
One of the co-owners told us they got the idea when they were renovating the space (they also do archery and other activities here) and during demolition, they thought it would be a fun idea. Something different adult birthday gift (there's an age requirement), date nights, heck…even for a different kind of Mother's Day!  I booked this through experience-based site called lifeexperiences.ca that I've used before –They are reliable for offering a roster of great ideas for outings that range from driving super cars to private dining experiences, weekend getaways and even just city escapes. Great ideas when you're looking for something different to do, or for a gift idea for that person who has effing everything.
Check out the Rage Room website – http://www.battlesports.ca/rage-room