Linus and Co. is a Toronto small business that offers high-quality and unique pet products. We spoke with the founders, Sugandh Gupta and Linus (dog), to find out more about them.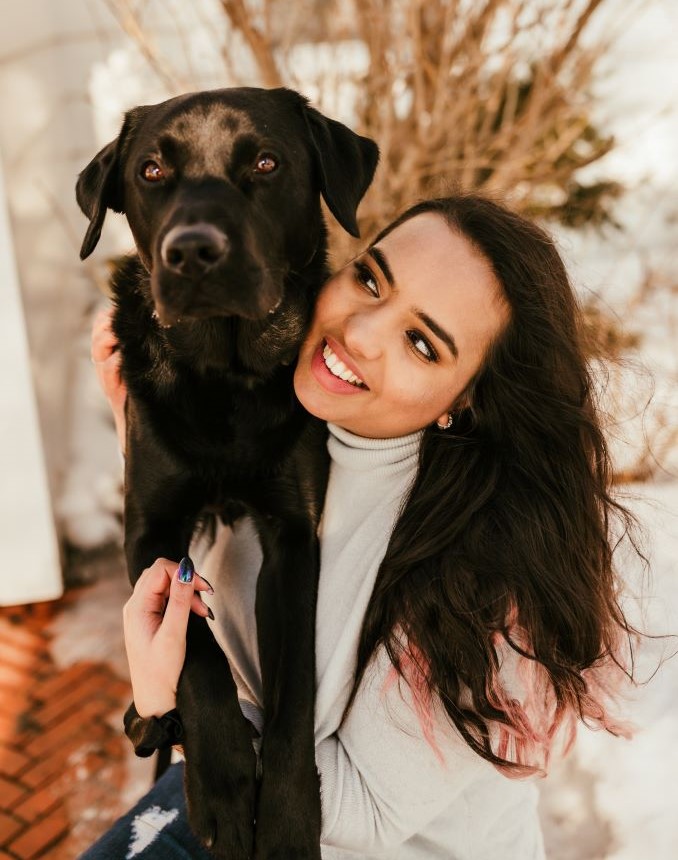 What is your business called and what does it do?
Linus and Co.
We are a small business, that is proud to offer high-quality, unique, custom products. Each item is custom and handmade for your pet, and I put lots of love and careful attention in each item. I currently sell custom bandanas, bow ties, pet portraits, and clothing and pins for pet parents. And I am continuously expanding our product line. Also, a portion of every purchase goes towards a charity, we have supported service dog organizations, rescues, POC and LGBTQ+ organizations, and hope to continue to help others as this business grows.
What made you want to do this work?
I started Linus and Co. in memory of Linus, my first dog, a foster, who was a service dog in training, so I didn't get to take care of him furever. I hit a rough patch in my life, and Linus was there for me, and always kept me going. So, I started this business because I wanted pet owners to be able to spoil and honour their fur babies the way I wanted to with Linus.
What problem did you want to solve with the business?
Pet owners are slowly starting to understand how much pets do for us, and they want to do everything they can for their pets in return. My business allows pet owners to spoil their pets, and it gives them the opportunity to have their pets be a part of every special moment in their lives.
Who are your clientele/demographics?
My clientele is every pet and pet owner. Anyone and everyone who loves animals and what's to share that love.
How does your business make money? How does it work?
We offer our customers various products with lots of options to allow them to purchase a special item, handmade just for them.
Where in the city can we find your profession?
While we are physically located in Mississauga, we prefer to say that we can be found anywhere and everywhere. In this new virtual world, we wish to be accessible to everyone.
What is the best question a prospective customer could ask a member of your profession when comparing services? Give the answer as well.
What differentiates you from other pet product businesses?
We are a one-woman, one-dog business, focused purely on ensuring the happiness of every pet and customer. I have been fostering animals for many years and have seen animals in the worst possible conditions. I want nothing more than to bring joy to an animal's life and maybe see a tail wag. That is why we not only want to spoil every pet but why we donate a portion of every sale towards various charities to help animals in need.
What is the best part about what you do? What is the worst part?
The best part of what I do is seeing the smiling faces of our customers, and the adorable pictures of their pets!
The worst part of this business is the people who try to take advantage of small businesses.
What is your favourite joke about your own profession?
I don't have a specific joke, but I love all the puns! Furever, purfect, pawsome, ruff, re-tail, pup-arazzi
Where can we follow you?
Website | Instagram | Facebook
PAY IT FORWARD: What is another local business that you love?
Serena Daub Pet Photography
Her website is currently under construction, but you can follow her on Facebook and Instagram. She is amazing at what she does