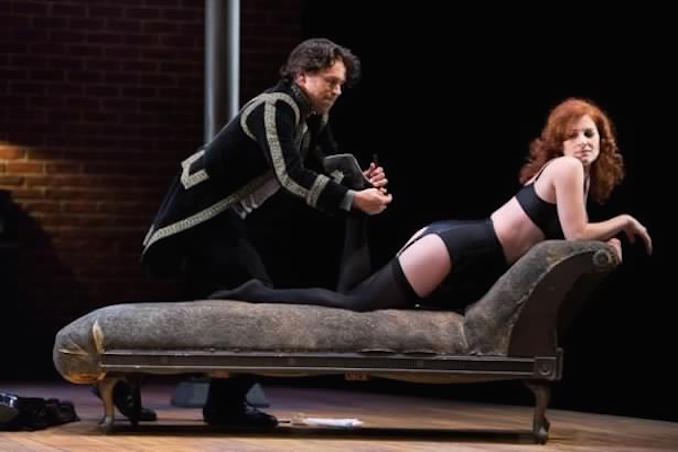 Venus in Fur, currently playing at Toronto's Berkeley Street Theatre, is a mesmerizing psychological roller coaster of role-reversal and wicked erotic humour, and then some.
Written by Davis Ives and directed by Jennifer Tarver, Venus in Fur tells the story of highbrow director Thomas and desperate aspiring actress Vanda. What develops in the ensuing 90 minutes constantly captivates, humours and seduces.
The play commences with Thomas trying to cast a female lead for his adaptation of Leopold von Sacher-Masoch's classic sadomasochistic novel Venus in Fur (note: Leopold's surname is the origin of the word masochism). From the moment the stage is set the power dynamic of dominance and submissiveness begins to unravel.
Thomas has spent the whole day auditioning uninspiring candidates and is just about to call it a day, when one more female comes barging through the door; this is Vanda. Upon arrival, she is late and disheveled and has to beg for a chance to audition. Thomas eventually, yet grudgingly, complies.
Vanda is brilliant and as her talents become revealed as the audition naturally flows into the play itself, with Thomas transforming from director into the male lead. As they read, the script gets deeper and more complex. The dynamic transforms into a power struggle between male and female perspectives of domination. As the audience becomes transfixed, it becomes increasingly unclear as to who is in control and who is being taken for a ride.
For such risqué S& M costumes and high sexual tension, Rick Miller (Thomas) and Carly Street (Vanda) act their parts with absolute confidence and pose, playing off each other naturally and with ease. They humour, seduce and challenge the audience to the point where everyone is transfixed, maintaining an unwavering expression of shock and fascination.
Raw, erotic and splashed with wit, Venus in Fur is definitely the showstopper of the season. Containing a smirk or chuckle is impossible. Exchanging a knowing look with your significant other is likely. My suggestion? Forget your traditional holiday musical filled with merry cheer, and get a little naughty this season. Check out what many are calling "the Other Nutcracker", as Venus in Fur is a must see.
You'll be in for a treat, and then some.
By David Ives. Directed by Jennifer Tarver. Until December 28th at the Berkley Street Theatre, Toronto