Who's the Best Person to Hire for Electrical Work?
We all know too well that electrical work shouldn't be handled by just anyone. The next time you're renovating your home and need some electrical work done, you'll need to find the right person. The first thing you'll normally do is to talk to a few friends and neighbours to find out if they have any referrals. Perhaps you'll do a simple online search for electricians near you. But do you know the difference between a licensed electrical contractor and a freelance electrician? Who should you hire in this case?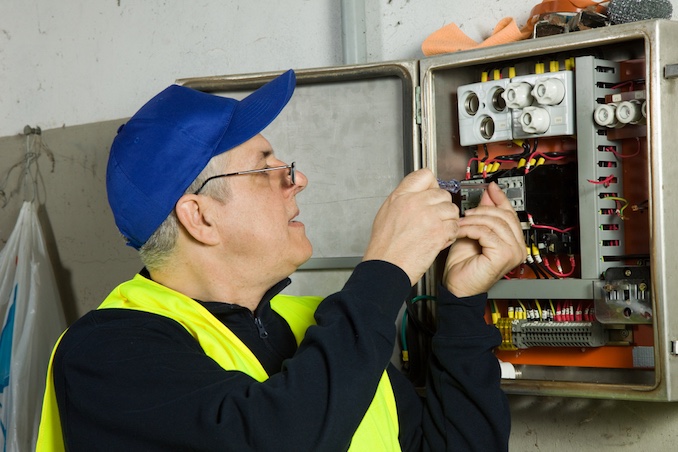 Licensed Electrical Contractor Vs Freelance Electrician
When searching for someone to do electrical work in your home, you should opt for a qualified electrician in Vaughan. According to Ontario law, you should only hire a licensed electrical contractor to do any electrical work in your home. Why so? Well, a electrician must pass an ESA exam that goes beyond technology and theory to cover occupational health and safety, the Consumer Protection Act, Workplace Safety and Insurance Board (WSIB) issues, permits, construction lien requirements and business practices. He or she must also be knowledgeable about the safety and approvals of electrical products on the market.  These licensed electrical contractors subcontract qualified electricians to get the job done. Therefore, your end goal should be to have a qualified electrician by partnering with a licensed electrical contractor.
Common Electrical Upgrades Needed In Home Renovations
When renovating a home, the services of an electrician may come in handy. Whether you have old wiring that you need replaced or you need pot light installation to add beauty and character in your living room, a qualified electrician can bring your dreams to life. It's important to plan for current needs as well as what you may require in the future. Below are some of the common electrical projects you may need in your home during the next renovation.
–          Electrical wiring
You may need an upgrade of your home's electrical wiring at some point especially if you have an older home. Most of these vintage homes were not built with wiring that's strong enough to fulfill the demands of today's electrical appliances and technology. Additionally, if you need to install a set of new electrical appliances in your home and the projects to be done during renovations involve breaking down the walls, it could be the perfect time to upgrade the electrical wiring while you still have access.
–          Replacing old electrical panels
Another common job that you'll need a qualified electrician to handle is a power upgrade. Power upgrades are simply done by replacing the old electrical panel. When this is done, it increases the capacity of the existing electrical service. This means that your new home appliances will be able to perform better because the electrical panel is now able to handle the increased demand. A service panel upgrade may also be required if the technology you currently have is outdated.
Getting rid of other fire hazards
When investing in kitchen renovations think of fire hazards that you probably need to work on. A good example is the plugs that fall out of place because the clip that was holding it has worn out. Plugs that slip or fall to the floor need to be replaced because they can cause sparking and in more dire cases, a fire. You may also need to install safety devices such as Ground Fault Circuit Interrupters which are normally placed in bathrooms and kitchens to prevent the electricity from coming into contact with water. This may even be a code requirement depending on your area.
Increase the number of outlets
Another common reason to get an electrician during a home renovation is to increase the number of outlets in your walls. For instance, you may need extra outlets in the home office or outdoor spaces or even in the kitchen when you buy extra appliances. Avoid using extension cords or multiple power strips too often because they can be a fire hazard. Call in a qualified electrician to install additional outlets during the renovation and you'll save yourself the nuisance of having to remove certain appliances before plugging others in.
How To Find Out If You're Hiring A Licensed Electrical Contractor?
First and foremost, you need to ask the contractor to show you proof that they are indeed licensed to offer their services in Ontario. They should provide you an ECRA/ESA license number. You can check for this license number on their estimate. It is also usually visible on their cars and business cards.
Secondly, ask the licensed electrical contractor if they will provide you with any certificate after completing the work. If they are indeed LECs, they will give you a Certificate of Inspection from the Electrical Safety Authority. This is a document that shows all the work done is according to industry standards.
Lastly, confirm if they will help you sort out other aspects of the electrical project such as getting the required permits and inspections. LECs hold an electrical contractor's license which most handymen and freelance electricians do not have.
Why You Need To Hire A Licensed Electrical Contractor?
Electrical work can be extremely dangerous, and you don't want to put yourself or your family at risk by getting it done by someone who doesn't possess the required licensing. Licensed electrical contractors not only posses the extensive skill to handle electrical work but also come with the experience, equipment, and training needed to get the job done quickly and safely. When you hire an unqualified electrician, you risk property damage and even loss of life.
Though hiring a freelancer electrician who doesn't have licensing may appear to be the cheaper way out, think of the real cost if something went wrong. Furthermore, if your insurance company finds out that the contractor you hired was unlicensed, the claim may be denied.
Licensed electrical contractors offer the following benefits:
They are fully insured

They will do all the legwork for you including arranging for the necessary permits and inspections

They are qualified to perform a specific type of electrical work required in your home

They'll give you a Certificate of Inspection once the work is complete which is an assurance that it has been properly done

They can provide you with references whom you can call and find out more about the contractors before hiring