When Chloe first came to us she was in rough shape and in lots of pain! Our medical team got to work on her right away, but recovery was going to take some time. Even with medication, there was a lingering pain that really soured her mood. Poor Chloe was not a happy camper! She really wanted someone to take her home, but she so upset about her pain that she didn't like saying hi to people who came to visit her!
Since then Chloe has gotten much better! No more pain! With it gone, the snuggly little sweet pea has come out purring! She loves making people swoon by rolling around on her back and asking for tummy and chin scratches. Wand toys and jingly bells have nothing on a human's lap!
Chloe thinks the phrase, ?curiosity killed the cat' is silly because she is very curious and she is doing just FINE. She really loves watching people come and go outside her special room! If only they were here ALL the time instead of only during the day! She wishes someone would come take her home because she then she could people watch from all the best windows!
Chloe is the kinda gal who knows what she likes and what she doesn't like. She's not a huge fan of cats! She's aware that she's a cat. But in her opinion, she's the best cat! She also doesn't like dogs or other pets in general! She loves people, and would prefer to live in a home with people, and no pets!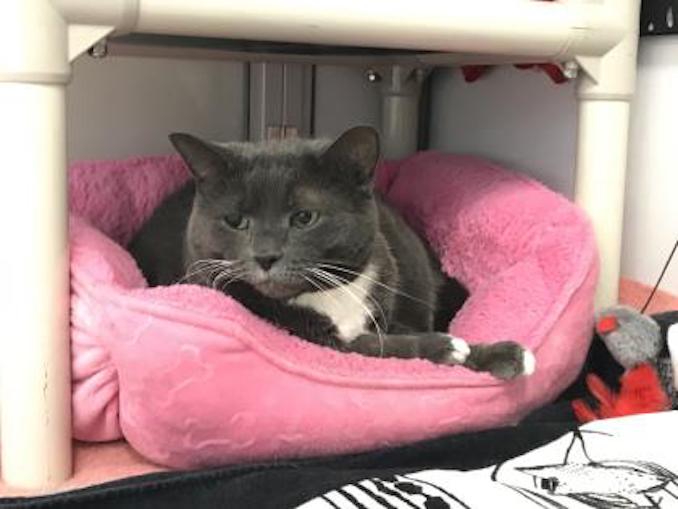 Age: 7 years 5 months
Sex: Female
Size: Medium
Colour: Grey/White
Spayed/Neutered: Yes
Declawed: No
In order to ensure a smooth and successful adoption, please remember to check all the basic requirements for adopting before coming in to the shelter.
About this column:
Each week we feature animals available for adoption from local shelters in the Toronto area with the hopes that our readers will assist in finding good homes for them. If you, or someone you know, has the resources to take care of one of these animals, please do get in touch with the appropriate shelter via the links provided.