There is something to be said about ice skating trails that go beyond the usually hockey rink oval. A twisting path with scenery, obstacles and a bit of creativity are more likely to get people out and are more enjoyable once they arrive.
The past few years has seen an increase in ice skating rinks and trails just like these. A few years ago we covered the ice skating trail at Arrowhead Provincial Park and hoped that something of the sort would come to our city.
In 2018, here are the ice skating spots in Toronto and its suburbs that are stepping up their game.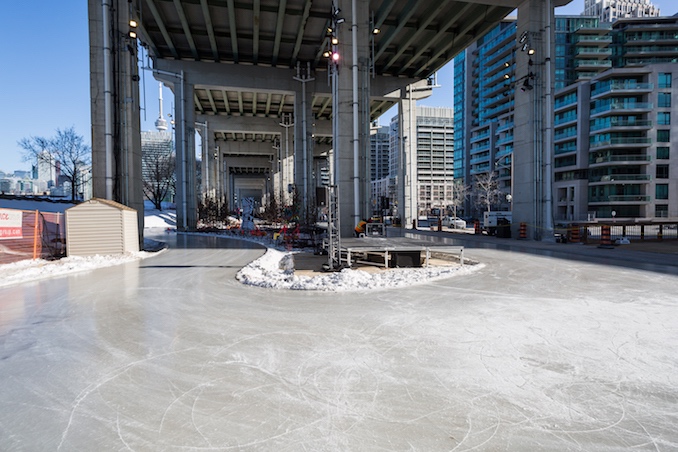 The Bentway
The Bentway Skating Trail located below the Gardiner Expressway opened in the New Year and already attendees are excited about that new attraction close to the Liberty Village neighbourhood. The trail runs a figure 8 path and has DJ skate nights and art installations throughout the course. It is located right at the entrance to Fort York at 250 Fort York Blvd in downtown Toronto.
***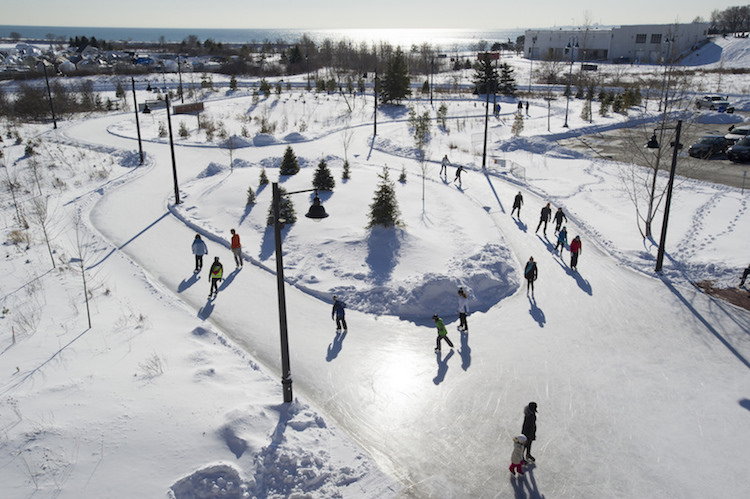 Colonel Samuel Smith Park
The Colonel Samuel Smith Park is located along a stretch of wooded shoreline in the Kipling and Lakeshore area. It is home to a variety of plants, trees, birds and other wildlife, and is also home to this network of frozen paths that connect the city's first ice skating trail (in a figure-eight shape). The pleasure ice skating trail is located next to the Power House Recreation Centre (65 Colonel Samuel Smith Park Road).
***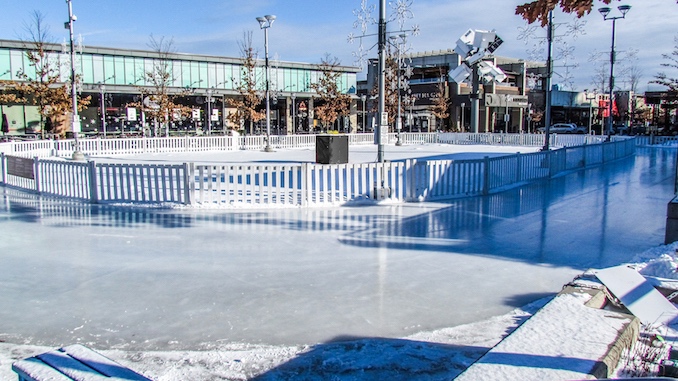 The Shops at Don Mills
Lace up your skates and take a twirl on CF Shops at Don Mills' very own skating oval. Bring your friends and family out for some fun in the fresh air…all for FREE! A great addition to a day of shopping with friends and family while you skate their white picket fenced track.
***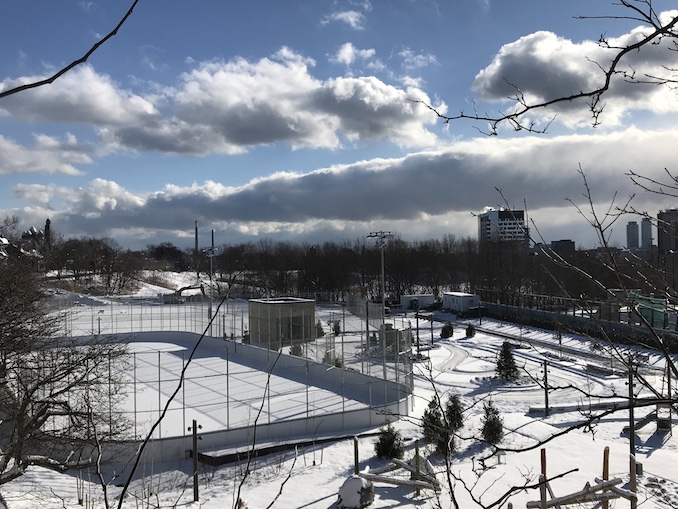 Riverdale Park East Rink and Trail
There is now more than just an open rink at Riverdale Park East in Toronto. The popular winter destination for sledding and ice skating now has a skating trail with trees and islands to skate around. The addition makes the pleasure skating much more enjoyable by offering more for our senses to absorb.
***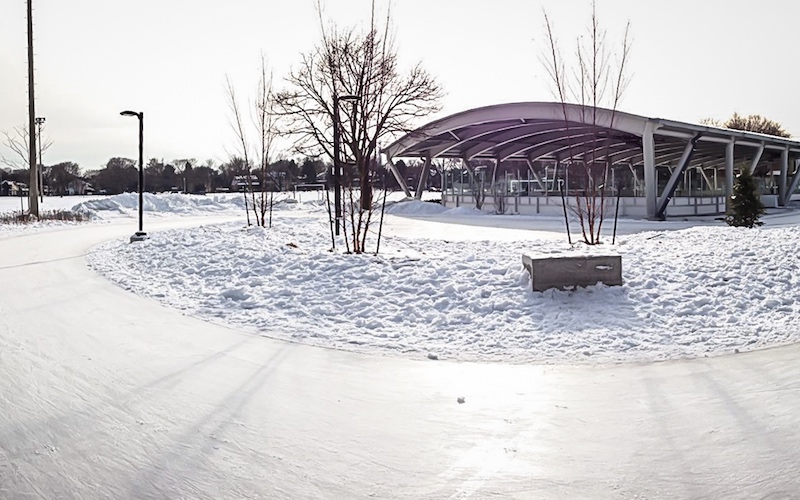 Greenwood Arena
Greenwood Park has the City's first covered outdoor artificial ice rink. It is available in winter for skating, and used for ball hockey in the summer. There is also a pleasure ice skating trail located beside the ice rink, one of a growing number of skating trails found within the City of Toronto
***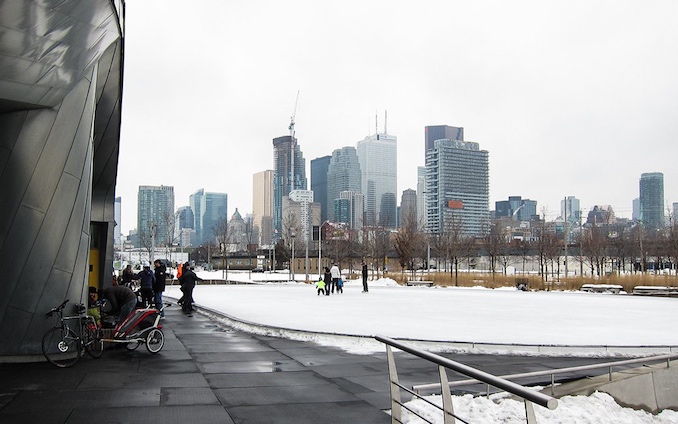 Sherbourne Common
The Paul Quarrington outdoor Ice Rink, located at 61 Dockside Drive, provides a lovely waterfront view while engaging in physical activity. Enjoy a leisurely or brisk skate while taking in the city's wonderful skyline. After, enjoy a stroll around Queens Quay, a great destination with seasonal opportunities and fun for all ages.
***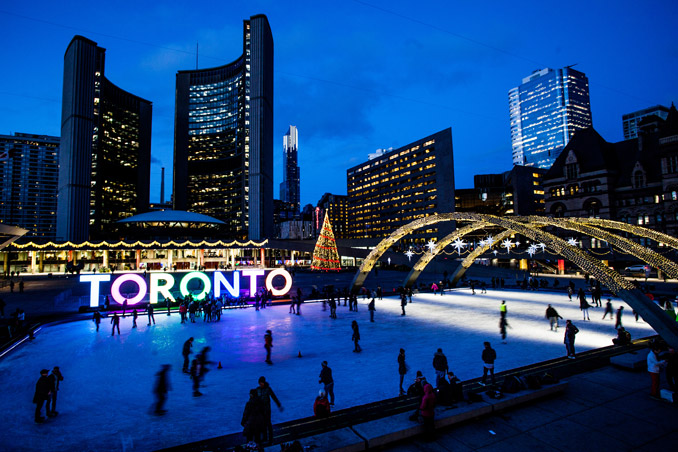 Nathan Philips Square
Right in the centre of the city is Toronto's landmark used for hosting major city events such as the Cavalcade of Lights festival, Nuit Blanche, and weekly children's events. In the winter months, the reflecting pool becomes a skating rink, with skates available for rental. Ice skating runs from mid-November to mid-March each year. Be sure to get your photo with the Toronto sign and city hall.
***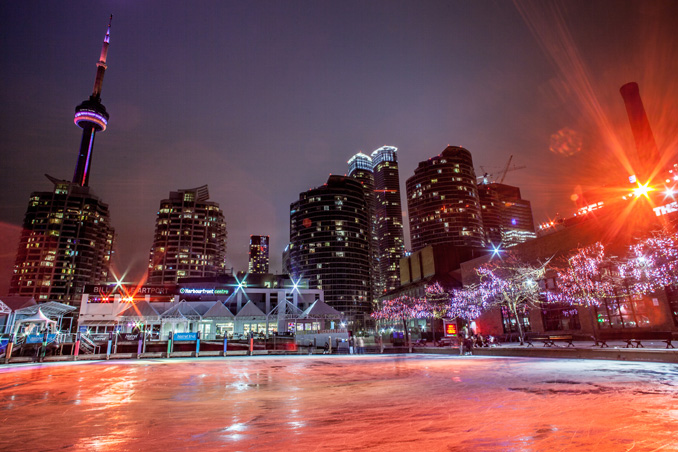 Natrel Rink
Located at the Harbourfront Centre with views of the Lake Ontario shoreline, this is one of the city's most scenic outdoor skating experiences. It is free, and hot food and drinks are available at the rink-side restaurant, Boxcar Social.
***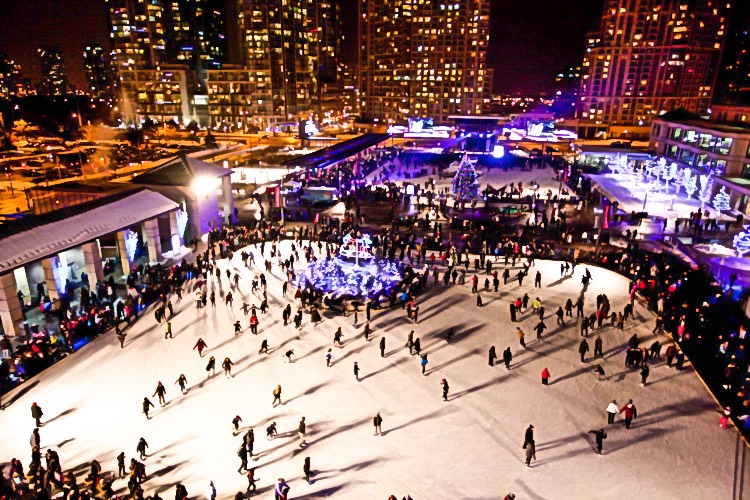 Mississauga Skate on the Square Celebration Square
In the suburb of Mississauga, Celebration Square gives a similar experience to our Nathan Philips Square and is located in the heart of downtown Mississauga. This award-winning public square is one of the most unique in the GTA with a very festive scene surrounding the square rink.
***

Chinguacousy Park Skate Trail
Located just outside Toronto, in the City of Brampton, is the Chinguacousy Park Skate Trail. Designed in the shape of an irregular 'canal' style skating track, it features bends configured for skaters with different abilities without disturbing the general flow of skaters. There are also winter seating and warming areas along the trail.
***
Know any other awesome outdoor ice skating trails? Let us know!