Introduction by Audrey Ferron (girlfriend):
Photographer Giulio Cosmo Calisse was born in Rome, Italy and grew up in the United States and in France where he grew an interest for cameras and video making. His passion for cameras brought him to study at the Toronto Film School where he fell in love with the city (its cold weather aside!). Between long and frequent travels, Giulio's main focus is cityscape photography, loving to give his viewers an adrenaline rush from great heights.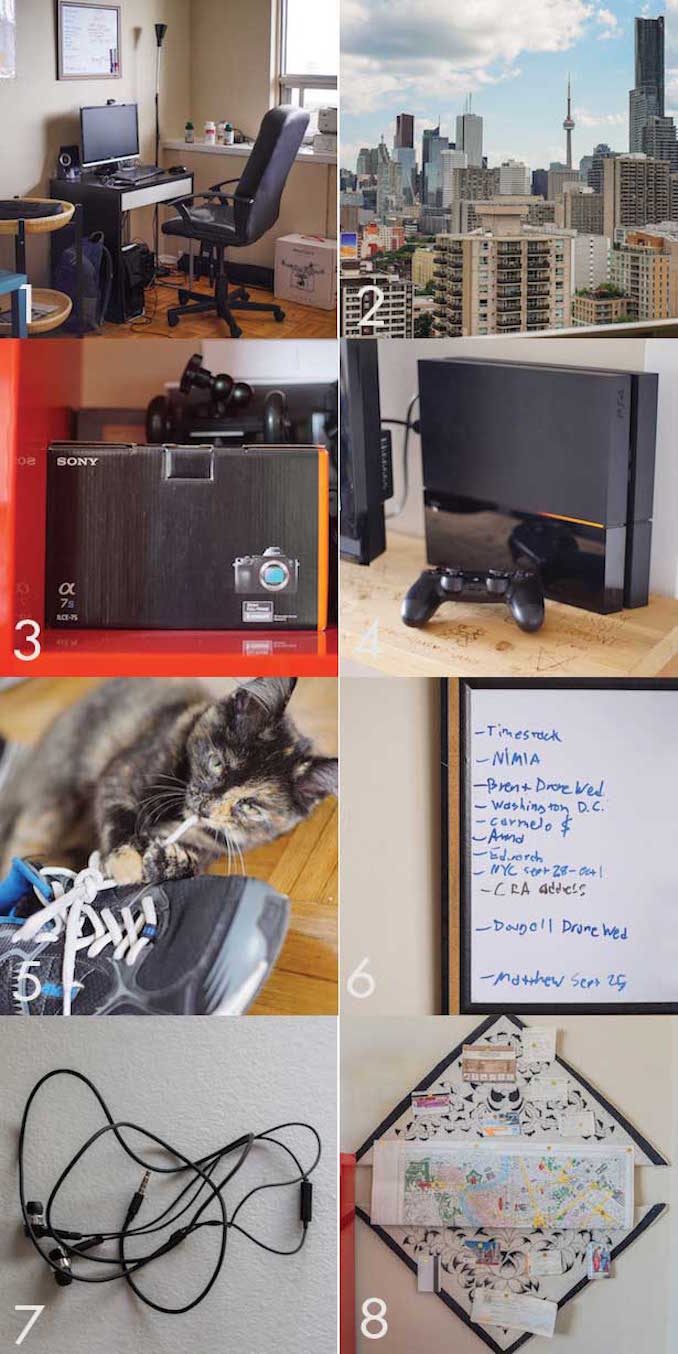 Pics:
1 – Workstation. This is the corner of the apartment where I spend a lot of my time
2 – Lookout. I always wanted an apartment with a big city view, I feel like it helps keep things into perspective.
3 – Shotgun. My A7S is what keeps me alive at the moment. I always keep the original boxes to my equipment so I can sell things more easily.
4 – Inspiration. Some of the world's most talented artists and designers work in the videogame industry. This is an endless source of inspiration, and of course Netfilx!
5 – War. My shoelace has no intention of losing this battle.
6 – My to-do board. Often ends up being a list of people that owe me $$$ for gigs, but luckily for them at the moment it's just events and gigs.
7 – Knowledge. Following numerous podcasts about science, history and the world is much more enriching than the mind-numbing Netflix documentary section about how America sucks.
8 – Travel. My girlfriend puts together souvenirs from our travels like bills, tickets, maps etc on these boards in our living room. This one is from a trip to France and Italy.
***
Where do you live?
I just moved into a new apartment at Church & Wellesley! The gaybourhood offers tons to do at any time of day, and it's not too expensive. Yet.
What do you do?
I freelance in Photography, Motion Graphics and Video, which means lots of working from home but also shooting at all kinds of locations for all kinds of clients. Every day is different really.
What are you working on?
Today I'm assisting on a commercial shoot for a Samsung laundry machine and as soon as I get home I'm finishing up editing some photos to promote the St. Lawrence Market neighbourhood for a local condo construction project.
Where can we find your work?
My website if www.gvfx.net, but most people just follow my photography work on Instagram at @cosmocalisse.