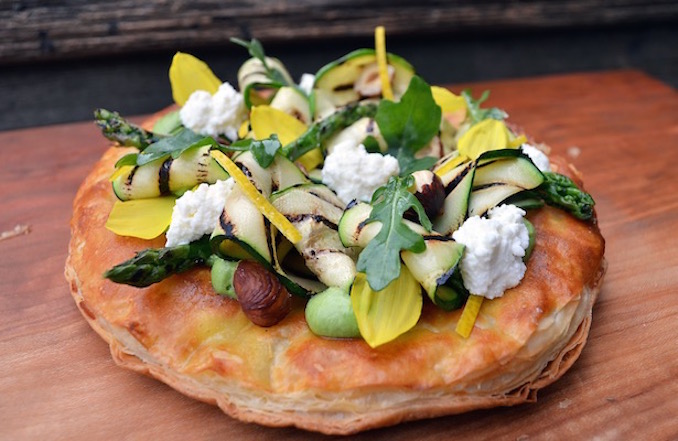 Provisions Catering Chef Kevin Castonguay sent us this awesome recipe for Grilled Zucchini Tart with asparagus, ricotta and hazelnut dressing to share with our readers.
-Puff Pastry-
Ingredients
-Store bought puff pastry x 1 box
-Egg Wash: Egg yolk x 4, Milk x 20g, Salt x 4g
Directions
-Preheat oven to 375C
-Roll out puff pastry 5mm thick and cut into 4 large rounds using a small side plate as a reference.
-Whisk egg yolk, salt and milk. With a pastry brush apply egg wash to puff pastry and place into the fridge, wait 40 min and then apply second layer of egg wash.
-Bake in oven for 8 to 10 minutes or until caramelized on the surface, cool on a resting rack.
-Hazelnut Dressing-
Ingredients
Hazelnuts x 40g
Grape seed oil x 80g
Sherry Vinegar x 30g
Lemon juice x 20g
Hazelnut oil x 80g
Dijon mustard x 40g
Salt and ground black pepper to taste
Directions
-Preheat oven to 325C
-Place hazelnuts onto baking tray and place on the middle rack of preheated oven for 8 – 10 minutes
-Place hazelnuts, sherry vinegar, lemon juice and Dijon into a food processor and turn the machine on.
-While the food processor is running slowly pour grape seed oil and hazelnut oil into the mix until well incorporated.
-Adjust seasoning with salt and pepper
-Buffalo Milk Ricotta Spread-
Ingredients
Buffalo milk ricotta (or regular ricotta) x 200g
Spinach x 1 bunch
Grated fresh Parmesan x 50g
Nutmeg x pinch
Extra virgin olive oil x to taste
Salt and pepper
Directions
-Using a large pot, bring water to a boil, add salt to taste.
-Wash 1 bunch of spinach with cold water and set aside to drain.
-Once water is at a rapid boil blanch spinach for 1 min then drain into colander.
-Once spinach has cooled, squeeze out all excess water.
-Using a food processor place the ricotta, blanched and drained spinach, fresh grated nutmeg, grated fresh Parmesan and turn machine on.
-While food is processing pour in oil and mix well, 5 min.
-Stop the machine and add salt and pepper to taste.
-Grilled Zucchini Salad Assembly-
Ingredients
-Zucchini x 2pc
-Buffalo milk ricotta (or regular ricotta) x 250g
-Asparagus tips x 1 bunch
-Baby arugula x 1 bunch
-Nasturtium leaves and peddles x 1 bunch
Directions
-Slice zucchini using a Japanese mandolin about 3mm thick and set aside.
-Trim and peel asparagus tips and set aside.
-Heat up grill on high heat and grill asparagus and zucchini and set aside.
-In a large stainless steel mixing bowl place grilled zucchini, grilled asparagus tips and arugula. Mix with hazelnut dressing and set aside.
-Gather your puff pastry discs and pipe buffalo milk ricotta spread onto the base.
-Carefully arrange grilled zucchini and grilled asparagus onto tart.
-Using the left over ricotta, spoon little dollops onto the tart.
-Garnish the tart with nasturtium peddles, leaves and arugula
-Zest half a lemon per tart and enjoy.