Listening to ladies struggle while working in her mom's swimwear shop, Danica Salajko wanted to take the stress out of swimsuit shopping and create fun, quality swimwear that they could custom to suit their style and body. She began her whole operation in the basement of her home, which continued there until the opening of her shop a few months ago. Bathing Belle (355 Roncesvalles Ave.) offers her playful, ready-to-wear swimsuits for the whole family (men, women and children) – whereby they can choose their own fabric and have a design made for them, or hand pick a suit from the shop and have it custom fitted.
The boutique has a really cool, apartment feel, with a palm tree entrance, calypso music, a separate large comfy flamingo wallpapered dressing/fitting room – a space in the back where she designs/makes all the suits – and a great large rooftop patio. You truly feel like you've switched into holiday mode as soon as you step into the door.
We had a chance to chat with Danica about her custom swimwear business:
What are the most common concerns you've heard from women when they are looking for a bathing suit?
We all have those areas we would like to hide, everyone is different. Some are looking for supportive tops, others full coverage one pieces, and the list goes on. We work with each client to design a swimsuit with their needs in mind. We want to make them the swimsuit that will give them confidence they can take to the beach!
What should be on our bathing suit shopping checklist?
When you go bathing suit shopping, the following should be on your check list:
1. Wear a bikini or thong type bottom when trying on swimwear. You'll be able to determine what sizes and styles fit best.
2. Bring along any old swimsuits or bras you like the fit of, it gives us an idea of what you've enjoyed wearing in the past.
3. Bring along an open mind! Sometimes trying something new can be good! It's amazing how many times I've heard people say "I could never wear that"! I say, "try it on, and then tell me you hate it!" 8 times out of 10, clients are pleasantly surprised with our suggestions.
It seems like you're changing the whole bathing suit shopping experience, making it more fun. Tell us about this dream come true business of yours?
I want everyone to have memorable experience when they visit Bathing Belle. The experience begins when you are greeted with our palm print stair case entrance, giving you the feeling you are going through the jungle to get to our swimsuit shop. You are welcomed by sweet smells and tropical music as you browse our beautiful showroom of ready made swimwear, and gorgeous cover-ups and beach accessories. You can try on our selection of swimwear in our stunning and private flamingo print change room – and we work with you to ensure the suit fits properly, making adjustments as needed and/or offering a custom suit designed to perfectly match your style, figure and lifestyle. Many of our clients tell us, "it's so refreshing to try on swimwear that actually fits real bodies."
Custom bathing suits! Hooray!  What's that process?
Yes, we do custom swimwear! Client will come in and we'll chat about what they are looking for in a swimsuit. We then try on different styles to see what works and what doesn't. The client selects the fabric and we make it for them! The custom swimsuit is ready in about a week. Clients will come back for a fitting where we will fine tune the fit! We also offer swimwear for health related needs such as mastectomies and ileostomies.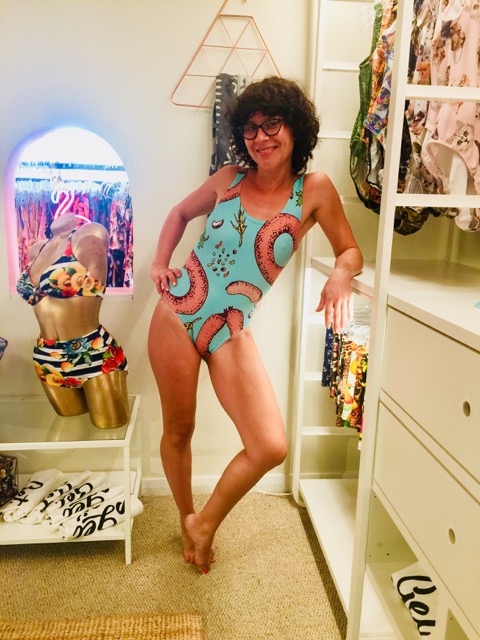 Your styles are clean lines but with super fun patterns. Tell us about where you source your fabrics and tell us about your designs?
When I was starting out with Bathing Belle I was selling on-line and to a few boutiques in Toronto. I knew my styles had to be simple, and definitely fun! But now that I have a brick and mortar store I'm able to offer custom made swimwear, and show off all the other cool things I can make! Our fabrics come from all over the world! Some are even custom printed.
What's the best way to care for your bathing suits?
The best tips on caring for your swimsuit:
Always rinse out your swimsuit in cold water after wear, and hang too dry.
Avoid hot tubs and the dryer, the heat breaks down the elasticity in the fabric.
What else should we know about your swimwear line?
Custom swimwear doesn't cost and arm and a leg! Our ready made and custom swimsuits start at $169 and go up from there. It just depends on the style and fabric you select. All swimsuits are made on the premises and are ready in approximately a week.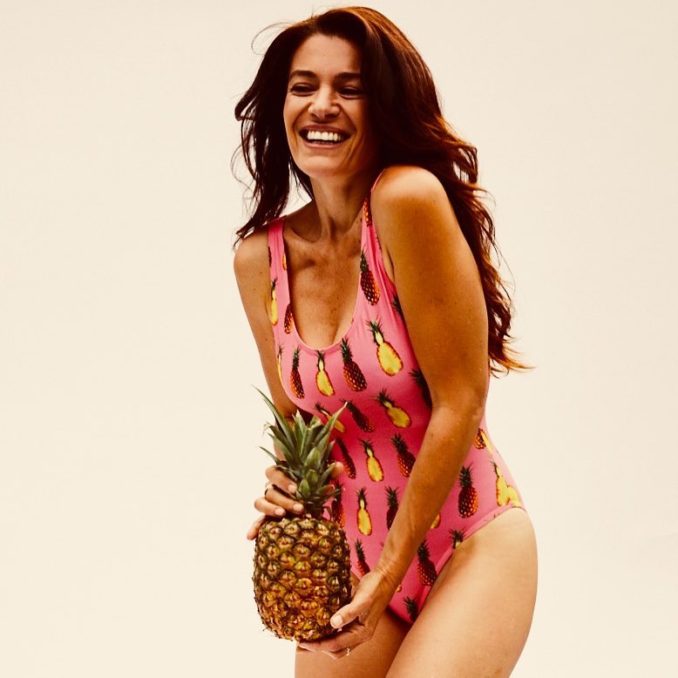 Because Bathing Belle is located upstairs (of The Old Country Shop) we are easily missed! But we like that! It's like we are a speak-easy or something! We have a small window, and always try to display something eye catching! But if you see our sandwich board on the sidewalk, come up and say "hi!"
BATHING BELLE is located at 355 Roncesvalles Avenue and is also available online at www.bathingbelle.com