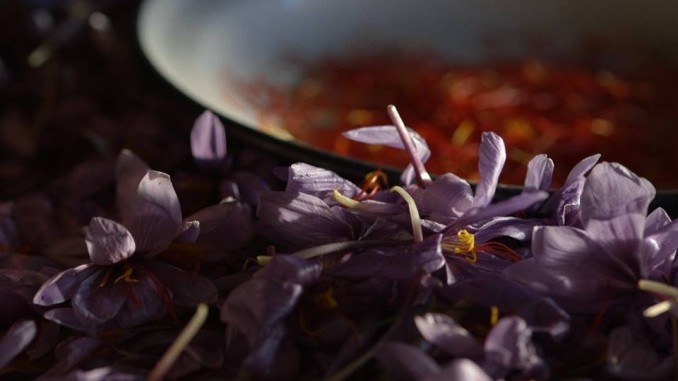 If you're like me and obsessed with food and everything about eating so much that the saying "Netflix and Chill" means binging on shows like Chef's Table or Girl Eat World, then you will be interested in the upcoming Food On Film Series at the TIFF Bell Lightbox.
For the fifth season, this very popular series brings together chefs, food experts, and film lovers to enjoy the best in culinary cinema. From March 2 to June 29, the series presents six events that each feature a screening followed by a delicious discussion…and the line up looks tempting for this year…(trailers attached)
***
On MARCH 2, Executive Vice President of the James Beard Foundation Mitchell Davis kicks off the series with a presentation of The Cook, The Thief, His Wife and Her Lover — considering the power and history of food on film in the context of Peter Greenaway's controversial classic about food, desire, class and murder.
Mitchell Davis is a renowned influencer across the world's culinary landscape. Cookbook author, journalist and scholar, Davis has worked for over two decades with the James Beard Foundation creating and overseeing many of the organization's initiatives including the JBF Annual Food Conference and the JBF Chefs Boot Camp for Policy and Change.
The Cook, The Thief, His Wife and Her Lover
dir. Peter Greenaway | UK/France 1989 | 124 min. | R | 35mm
Set in a luxurious London restaurant, The Cook, the Thief, His Wife and Her Lover chronicles the fateful affair between the wife of a vicious crime boss and a quiet, well-mannered intellectual, which Greenaway transforms into an idiosyncratic allegory about the clash between cultural refinement and capitalistic barbarism.
***
On MARCH 23, Farm-to-table chefs and restaurateurs Michael and Nobuyo Stadtländer discuss the inspiring and thought-provoking documentary The Singhampton Project, which follows their collaboration with French landscape artist Jean Paul Ganem.
Michael and Nobuyo Stadtländer established Ontario's Eigensinn Farm in 1993, which has since become an internationally celebrated destination for gourmets and home to many projects promoting sustainable food and localism. Michael made his mark in Toronto as a chef at Scaramouche (along with colleague Jamie Kennedy) and is founder of Stadtländer's and Nekah. Born in Okinawa, Nobuyo worked at Liberty Restaurant in Toronto and Sooke Harbour House in British Columbia before establishing Eigensinn Farm.
The Singhampton Project directed by  Jonathan Staav | Canada 2014
This engaging documentary follows Canadian farm-to-table chefs Michael and Nobuyo Stadtländer and French landscape artist Jean Paul Ganem as they collaborate on an ambitious project: to create seven gardens from which they will grow, harvest, cook and serve a seven-course meal every night for 20 days for hundreds of lucky guests.
***
On, APRIL 27, Lucky Peach Editor-in-chief and Zero Footprint co-founder Chris Ying presents Barry Levinson's beloved coming of age classic, Diner. Following the screening Ying will discuss the many ways in which restaurants, chefs and customers can lead the charge for culinary collaboration and environmental causes.
Chris Ying is the editor-in-chief of Lucky Peach, a quarterly food and lifestyle magazine. Prior to launching Lucky Peach with Momofuku owner David Chang and food critic Peter Meehan in 2011, Ying worked for McSweeney's as a designer and editor before eventually becoming publisher. He is a partner in the digital publishing outfit YingHorowitz & Quinn, the co-author ofIvan Ramen and Mission Chinese Food Cookbook, and the designer and editor of the first McSweeney's cookbook, Mission Street Food.
Diner directed Barry Levinson | USA 1982
Six buddies in 1959 Baltimore face the hard facts of employment, marriage, and maturity, in this classic comedy-drama.
***
On MAY 18, Chef and restaurateur Andy Ricker of Pok Pok fame discusses how our senses of smell and taste are directly connected to memory, place and culinary innovation, following a screening of Academy Award nominee Kim Nguyen's explorative and insightful documentary The Empire of Scents.
Andy Ricker is owner and chef at Michelin-starred Pok Pok NY in Brooklyn, and owns seven other restaurants in New York, Portland, and Los Angeles. He is also the founder and owner of drinking vinegar company Pok Pok Som, and is a partner in the charcoal-importing enterprise Pok Pok Thaan. He is a bestselling cookbook author and two-time James Beard Award winner for excellence in cuisine, culinary writing, and culinary education.
The Empire of Scents : directed by Kim Nguyen | Canada 2014
Academy Award nominee Kim Nguyen (Rebelle) directs this immersive, globe-trotting documentary about how the sense of smell connects directly to our cultural, culinary and emotional lives.
***
On JUNE  8, Food activist, journalist and author Danielle Nierenberg discusses recent global innovations in sustainable agriculture following a screening of Good Things Await, the inspirational documentary about Danish biodynamic farmers battling government bureaucrats.
Danielle Nierenberg is the President of Food Tank and an expert on sustainable agriculture and food issues. She recently spent over two years travelling to more than 60 countries across Africa, Asia, and Latin America to consider environmentally sustainable ways of alleviating hunger and poverty, and also served as a Peace Corps Volunteer in the Dominican Republic.
Good Things Await  directed by Phie Ambo | Denmark 2014
Director Phie Ambo follows biodynamic farmers Niels and Rita Stokholm as they defend their farm against government bureaucrats whose rigid interpretation of European Union laws is endangering an entire philosophy of sustainable agriculture.
***
On JUNE 29, Whiskey expert Heather Greene presents a screening of Ken Loach's award winning caper comedy The Angels' Share and discusses the role that whiskey has played in the history of cinema.
Heather Greene is a world-renowned spirit expert and a go-to thinker on the topic of brown spirits. She is the author of Whisk(e)y Distilled: A Populist Guide to the Water of Life, shortlisted in The New York Times and selected by Tales of the Cocktail as one of the 10 best spirits books of 2015. Greene was the first woman to win Whisky Magazine's American Young Ambassador of the Year award and the first American woman to serve on the Scotch Malt Whisky Society in Edinburgh.
The Angels' Share directed by Ken Loach | Ireland 2012
A Glaswegian ne'er-do-well concocts a get-rich-quick scheme to make off with a case of extremely rare malt whiskey, in this light-hearted comedy-drama from British master Ken Loach (The Wind That Shakes the Barley).
***
For more info, please visit the Food on Film website – http://tiff.net/winter2016-subscription-series-food-on-film