In February, when most of the would like to become bears and hibernate, we musicians are at our busiest – drudging through the snow, with our instruments in tow, in an effort to keep the city's soul awake.
Somewhere There holds its 2nd annual Creative Music Festival at the TRANZAC February 21-23. Featuring performances by over 60 performers and composers over five shows, they are certainly packing a big punch into just three nights. Perhaps they are trying to make up for not having their usual continuous series. Currently without a home, the collective was chased out of their first Parkdale home due to rising rent, and then later from the Bloor/Lansdowne area due to noise complaints.
In their own words: When in operation, Somewhere There featured performances nearly every night of the year, including regular artist residencies, concert series, and visual art shows. The studio has become a community hub for improvising musicians in Toronto, and has hosted thousands of concerts since it's founding in 2007.
Here's hoping they find another home soon and continue to keep creative experimental music alive and well in the city.
Along the lines of 'experimental,' I had the pleasure of hearing Pifa Duo last night (Thursday, February 6) at Gallery345. Having played together for over fifteen years, oboist Caitlin Broms-Jacobs and cellist Sybil Shanahan presented a concert almost entirely of repertoire stolen from other instruments.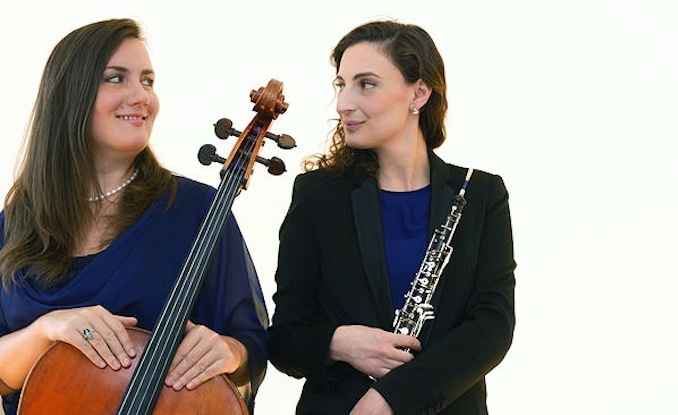 Their opening piece, the notoriously flashly Handel-Halvorsen Passicaglia for violin and viola, took on a slightly tamer form, closer to Handel's original harpsichord suite that the piece is built on. Within just a few bars, I could hear the subtle nuanced bending of the seams that is the generous nature of chamber music.
An unlikely but pleasant combination, Shanahan's lush sound envelopes the lyrical tone of Broms-Jacobs. Most unusual about last night's presentation was the inclusion of all four instruments of the oboe family: Oboe, English Horn, Oboe D'Amore, and Bass Oboe. The English Horn/Cello combination was particularly gentle on the ears, and the folky nature of Bartok's Hungarian Peasant Suite was excellently interpreted through the unpretentious timbre of the oboe d'amore.
The duo was lively and engaging, refreshingly humorous in both their approach to conversing with the audience and in their studied arrangements. We were presented with a warm, casual evening of quality live music, much in line with the rest of the series at Gallery345.
Gallery345, housing a concert grand piano in a hard loft setting, has become a venue of choice for many musicians. In the coming week, the gallery hosts two Toronto-based string quartets: the Ton Beau String Quartet presents a pairing of Haydn and Toronto-based Silberberg at Sunday at 3pm; and the Tokai Quartet presents a program including the dramatic "Kreutzer Sonata" by Janáček (inspired by Tolstoy's novella of the same title, which was, in turn, inspired by Beethoven's sonata no.9 dedicated to Rodolphe Kreutzer) on the evening of February 12th.
A bit later this month, on February 21st, the gallery hosts the Thin Edge New Music Collective, with a program of music for piano and strings written in the past 20 years entitled "Through Closed Doors."
And, if you're looking for the newest of new, young, green music, the Toy Piano Composers present the world premiere of five new pieces by five young Canadian composers tomorrow night (Saturday, February 8th) at Heliconian Hall.