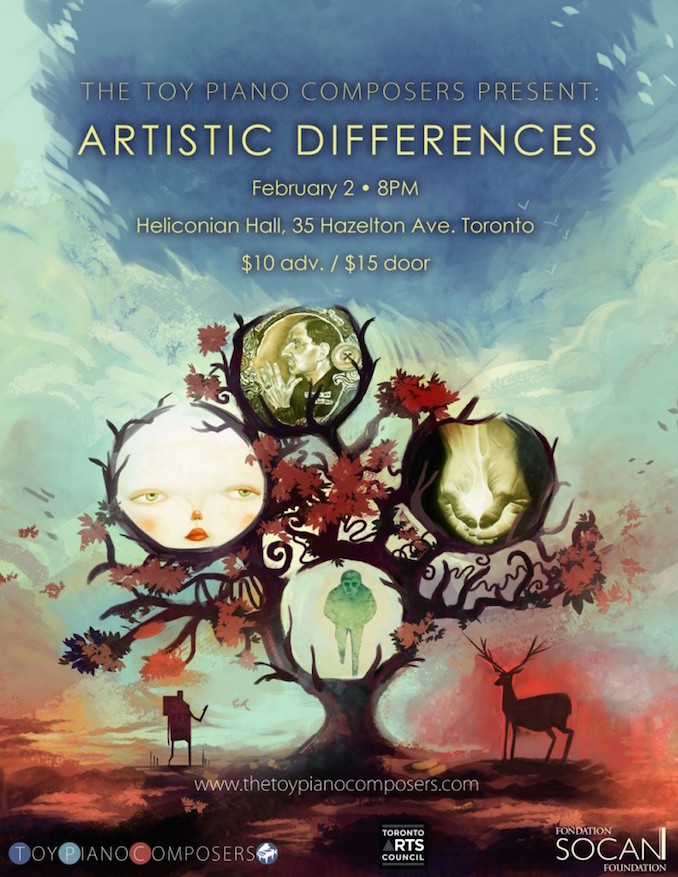 Meet Monica Pearce, Chris Thornborrow and Elisha Denburg, Co-Artistic Directors of Toy Piano Composers, a collective of composers based in Toronto.
Founded about five years ago by Monica and Chris upon completion of their Master Degrees in composition at the University of Toronto as a means to continue having their work performed without the support system of the school network (performance students, uses of the school's rehearsal and performances venues), the Toy Piano Composers have since put on about one hundred premieres.
The idea of having a collective was a no-brainer to everyone involved- clearly, as a collective, the composers could produce a more substantial body of work and pool a larger audience base.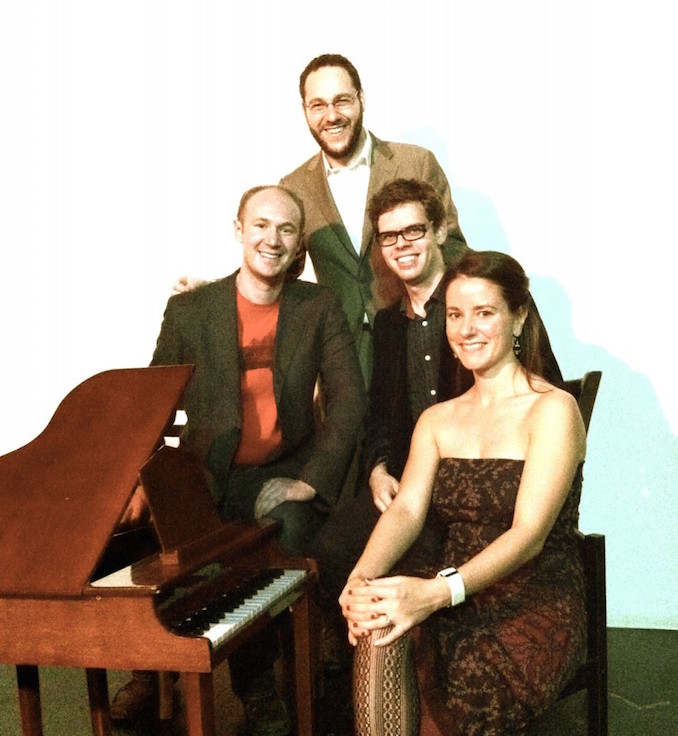 When asked how they settled on their name, the three Artistic Directors chuckle. "I had just bought a toy piano," Monica explains. The collective's first concert was for two toy pianos and two regular pianos, and the toy piano has remained a central identity of the playfulness of the group.
Even when not scored for the concert, a toy piano is, at times, still present for the audience to tinker with during the intermission.
The composers enjoy programming concerts around other ideas as well (not just Toy Pianos). Their next concert, Artistic Differences, presents music inspired by art. Free to choose any Canadian work of their liking, the composers' artwork compilation for the show includes animation and video game, as well as traditional canvas art.
I asked why they had chosen to write on visual art, and Chris immediately responded that it didn't have to be visual art- it could have been dance, or film, or anything else, really. "We always try to reinvent ourselves in some way to keep things fresh.. It pushes our boundaries a little bit. It gives us inspiration so we're not writing into a vacuum, it guarantees the concert has some kind of cohesiveness, and it gives a hook for the audience."
When not programmed around an idea, the Toy Piano Composers are usually writing with an ensemble in mind.
They're currently working on a collaboration with Montreal-based Ensemble Paramirabo, who will take the collaboration to Banff, Calgary, (possibly Regina), Kitchener, Toronto, and back to Montreal, marking the TPC's largest cast net with any single program.
Already a familiar face in the Toronto new music scene, TPC has also collaborated with the 40+year strong ensemble Arraymusic, and the percussion quartet TorQ in a program that explored kid-friendly music for a young audience.
Earlier this season, the Toy Piano Composers created an ensemble of their own, and presented their first concert with them titled "We Started a Band." Their next show, "Artistic Differences" creates a clever arc in program titles, with the season finale being titled "Threshold."
Artistic Differences
Feb 2, 8pm, Heliconian Hall, 35 Hazelton Ave.
10 Advance/ 15 Door