Of all the things to pack a crowded concert hall on a Toronto evening in 2023, a two-and-a-half-hour Catholic epic is not the first thing that jumps to mind. That Bach's Mass in B Minor (1749), which took the composer nearly a quarter-century to compose – and which only premiered in full performance one hundred years after his death – still brings in audiences is a testament to its extraordinary musical quality. While likely never intended to be performed in Catholic mass (not least because of its length, not to mention Bach's own Lutheran faith), this work of profound religious devotion is as engaging for modern secular audiences as it would have been to churchgoers a couple centuries ago.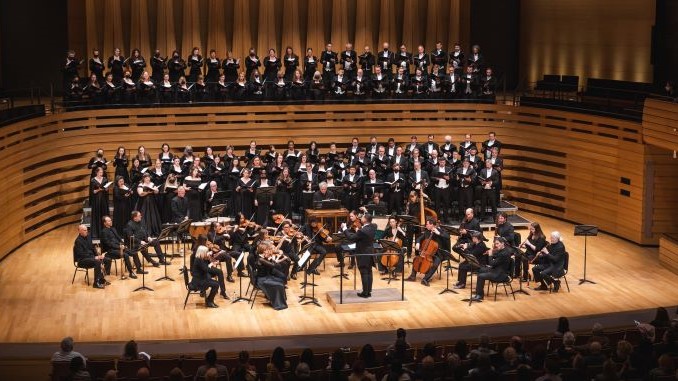 The Toronto Mendelssohn Choir is a singular entity in the Canadian, possibly even North American, musical landscape. Founded in 1894, its perennial success makes it one of the longest-running vocal ensembles in this country, with a core of about 20 professional singers backed by well over one hundred amateurs drawn from all walks of life. The Choir's international reputation has seen it invited to perform across Canada, the United States, and Europe (notably making an uncredited appearance on John Williams's soundtrack for Schindler's List).
Under the baton of recently appointed artistic director Jean-Sébastien Vallée, the Choir's upcoming season will see it perform Handel's Dixit Dominus and Bach's Christ Lag In Todesbanden at Tafelmusik's home venue the Trinity-St. Paul's Centre, Verdi's Requiem at University of Toronto's George Weston Recital Hall, and a highly anticipated Carmina Burana at Roy Thomson Hall.
For now, the Choir is rounding out its 2022-2023 season with a free conducting symposium – May 5th, book your entry here – and a recent performance of the Bach Mass in B Minor at Koerner Hall.
Under the musical direction of Vallée, the Mass proved a wonderful musical evening, with the main ensemble as stellar as ever. From the opening Kyrie eleison ("Lord, have mercy") through the closing Dona nobis pacem ("Give us peace"), there was hardly a false note from the 100+ member choir.
The same could not be said, unfortunately, for the various soloists – ten in total – who took turns in the spotlight for the Mass's solo portions. In general, we found the soloists rather timid, either too quiet or not emotive enough – weaknesses that risk undermining the intense passion of the deeply religious text. It's not just opera that requires a certain flair for performance: even (or perhaps especially) religious performances require us to, in a sense, believe that the singers believe in what they're singing. While admittedly complicated by the context – a Catholic mass performed by a secular choir in a decidedly secular space – we nevertheless sometimes felt that the meaning of the Mass was being lost.
That said, we'd congratulate the handful of soloists who really stood out for us. Rebecca McKay, soprano & Nicholas Nicolaidis, tenor combined on a Domine Deus ("Lord God") that was lyrical and touching, their voices matched marvellously. Nicolaidis in particular had an interesting range that saw him drop to near-baritone levels before rising to the tenor highs required of his part. Speaking of – we also quite enjoyed bass-baritone Neil Aronoff's Et in Spiritum Sanctum ("And in the Holy Spirit") which marked roughly the three-quarter point of the program. Having a baritone sing a bass part is usually a guarantee of a more lyrical quality to the performance, even if it sacrifices some of the profundo aspects that a true bass might bring to the part.
Kudos too to the purpose-built Baroque Orchestra, pulled together for this concert from across the Toronto music scene. We recognized several familiar names and faces from Tafelmusik, Mooredale, and other local concert series. One lovely aspect of the Mass is that it affords many instruments the opportunity to shine, either in solo sections or what are effectively duets with the singers. Standouts included concertmaster Cristina Zacharias (Tafelmusik), principal cellist Keiran Campbell (Tafelmusik), and the entire wind and brass sections, which each had several solo or quasi-solo portions.
Though in a certain sense exhausting – two hours of religious music with a half-hour intermission – the Mass was never anything less than compelling. We're grateful to have an ensemble like the Toronto Mendelssohn Choir, and can't wait until their next season.
*
For tickets and a list of all upcoming performances of the Toronto Mendelssohn Choir, check out their website here.