Hidden away on a strip of Dundas West is a modern trattoria by the name of Café Bar Pasta. Just recently, co-owner Tom Bielecki alongside his his wife/designer/co-owner Christine Vieira celebrated the one year anniversary of their space being open.
For myself, I use to reside just a hop, skip and a jump away from Café Bar Pasta and remember when the windows were still papered up and Café Bar Pasta made it's launch into the world. The resto offered free coffee to the sleepy Little Portugal community and had a lot of heart and charm.
But a lot has changed in that one year and exciting things have been coming out of the kitchen of Café Bar Pasta. Namely, Chef Jay Scaife helped turn things around and offer up something creative and new that other restaurants weren't doing: make Italian not be quite so well, Italian.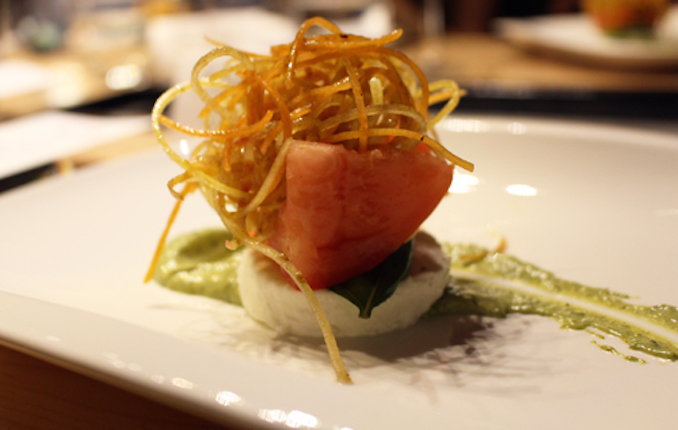 Stripped down to the core, Café Bar Pasta went to its roots and was serving up good Italian food with a twist. On the night in question, where I attended a media tasting, we were served up wonderful renditions of hearty classics. In the photo above, this Buffalo Mozzarella salad was twisted with black garlic vinaigrette and arugula aioli. Simple and beautifully presented, the dish was well thought out and well executed.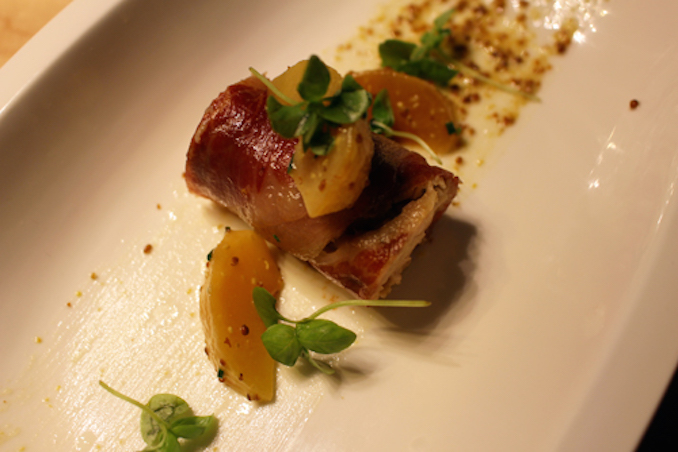 Next up, Chef Scaife prepared a lovely sweetbreads dish with roasted plums and mustard seeds wrapped in prosciutto. The dish (which popular in Italian cuisine, also nods to Turkish and Latin American), Chef Scaife explained was changed seasonally to accomodate the fruit pairing. Typically sweetbreads are juicy and tender, however I found these a bit overcooked for my liking.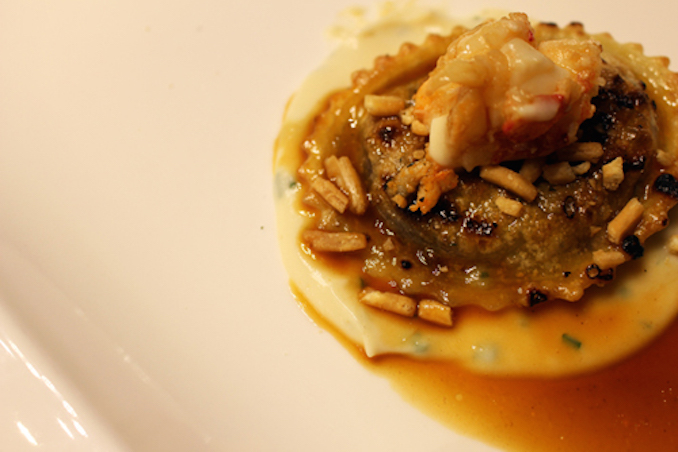 One of the most unforgettable dishes of the evening was the Ravioli (stuffed with beef cheek) with a brown butter sauce, lobster and parsnip puree. Given a flash fry at the end, everything about this dish was pure sin and I wanted more.
The next unforgettable dish of the evening was the "Pillows" of buffalo rosemary ricotta with roasted chanterelles and white truffle oil. Truffle and truffle oil seem to be big this season and I'm not complaining. The dish was light, airy and could have you eating second or thirds.
At the end of the meal, Cafe Bar Pasta is presenting delicious and different dishes that span Italian cuisine and beyond. It's been a great first year for Cafe Bar Pasta (with Chef Jay Scaife just recently winning Now Magazine Best Chef of Toronto) and the restaurant hosting new fun events. For example, on November 21st they held the ReUnited Chef Series with Jay Scaife and Chef Michael Pataran. Congrats to them on a successful first year and more delicious eats in the years to come.